Red Sox
Morning Sports Update: Red Sox among teams most interested in Carlos Beltran
The Blue Jays, Yankees, and Astros are also on the short-list.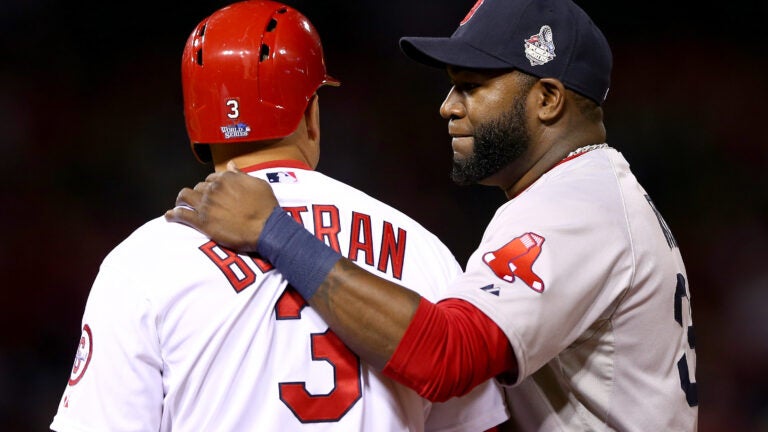 All three local teams had the night off Tuesday, but the US Men's soccer team fell 4-0 to Costa Rica in a World Cup qualifier.
Source: Carlos Beltran's decision may be coming down to Red Sox, 3 other teams: The Red Sox are reportedly among four American League teams with interest in designated hitter/outfielder Carlos Beltran. The Red Sox, are joined by the Yankees (his former team), Blue Jays, and the Astros, with Houston seen as the frontrunner. The Red Sox seem inclined to wait out the new Collective Bargaining Agreement before signing players, when they will better know the luxury tax. (WEEI)
Patriots cheerleaders, broadcasters, and fans join Mannequin Challenge:
Game day at Gillette Stadium. #MannequinChallenge

Posted by New England Patriots on Tuesday, November 15, 2016
Another Red Sox organization coach departs:
Sources: Alex Cora hired as #Astros bench coach.

— Ken Rosenthal (@Ken_Rosenthal) November 15, 2016
USA Men's soccer needs major overhaul after pathetic loss to Costa Rica: After losing to Mexico on Friday, the USMNT lost another World Cup qualifier last night, falling to Costa Rica in an embarrassing 4-0 rout. The US was considered the favorite, so the surprise blowout brings questions about whether the personnel or coaching should be changed. Last night was the worst shutout loss for the team since 1957, and the first back-to-back losses in qualifiers since 2001. (NESN)
Rob Gronkowski responds to Earl Thomas' well-wishes:
The respect is mutual man, you got the best of me on that one. The grind is real, you showed the fans a real football hit. https://t.co/p57PLVQZ3C

— Rob Gronkowski (@RobGronkowski) November 16, 2016
The Bruins youth movement is for real this time around: The Bruins missed the playoffs again last season, and while it was hard to see them bucking that trend after a mostly quiet offseason, the Black and Gold are playing like a team that can make a run. Some of their success this season has to be attributed to rookies and developing players, such as Brandon Carlo, Austin Czarnik, and of course David Pastrnak, and still awaits the return of the promising Frank Vatrano too. (CSNNE)
Jae Crowder practicing, but not expected to play against Mavericks: The Celtics are in desperate need of a win to avoid falling below .500, particularly with Golden State looming past Dallas, but the Celtics may still be without two key contributors. Jae Crowder is finally well enough to practice on his injured ankle, but has been ruled out for tonight's game, and while Al Horford seems closer to a return, the forward/center still has not said whether he will play either.
Bart Scott says Bill Belichick only cares about 'core five' players:
https://twitter.com/BenVolin/status/798671292245213184