Red Sox
What the stats say about Clay Buchholz's Red Sox career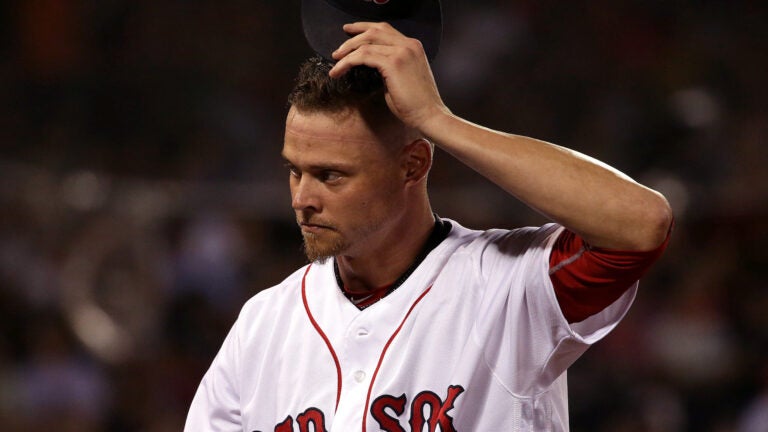 COMMENTARY
Love him or hate him, Clay Buchholz pitched for the Red Sox for quite some time. As Chad Finn detailed on Tuesday, he was always teasing us with his potential for greatness, yet rarely achieving said greatness, at least for any extended period. Nevertheless, he's still an important figure in Red Sox lore, so I thought it would be fun to take a trip down memory lane and see just how his statistics stack up throughout Red Sox history.
First, there's his aforementioned tenure. Buchholz pitched for the Red Sox in 10 seasons. Only four pitchers have pitched for the Sox in more seasons: Tim Wakefield (17 seasons), Roger Clemens (13), Bob Stanley (13) and Ike Delock (11). Joining Buchholz at the 10-season mark is Bill Lee and Mel Parnell. Despite this, Buchholz only ranks 28th in franchise history in terms of innings pitched. Among those with more innings pitched than Buchholz include Babe Ruth, who only played for the Red Sox for six seasons. Two other pitchers who only pitched in six seasons for the Sox — Bill Dinneen and Dutch Leonard — also pitched more innings for the Sox than did Buchholz.
Buchholz was one of just 42 pitchers to toss 1,000 or more innings in Red Sox history. He certainly could have started more games, and a look at Parnell gives a hint. While Buchholz started 188 games for the Sox, good for 16th-highest in team history, Parnell — who again, also pitched for the Sox for 10 years — started 232 games. Buchholz never started 30 games in a season. His three best seasons were 29, 28 and 28 games started, which are totally fine totals, but from there he dropped down to 21, 18 and 16 (twice). Parnell, on the other hand, had three seasons with more than 30 starts, and three others with at least 27. Oh, what could have been.
The lament of what could have been shows up in his overall value. Curt Schilling's 98 Red Sox starts were worth more WAR (15.0) than Buchholz's 188 starts (14.1). Buchholz ranks 28th in innings pitched, but only 33rd overall in WAR. Two other pitchers who tossed fewer than 1,000 innings for the Sox — Wes Ferrell (877.2 IP) and Howard Ehmke (989.2) — were worth more WAR than was Buchholz. Jonathan Papelbon, who only tossed 429.1 innings, was worth nearly as much WAR as Buchholz (13.9).
Still, there are plenty of pitchers in Boston history who can't equal the value that Buchholz delivered. Among them are Oil Can Boyd (11.9 WAR), Babe Ruth (12.3 WAR as a pitcher), Red Ruffing (12.7 WAR), Mike Boddicker (9.0), Daisuke Matsuzaka (7.5), Frank Viola (6.7), Eddie Cicotte (8.6) and Bronson Arroyo (6.2).
Only 10 pitchers in team history struck out more batters than did Buchholz. You've probably heard of all of them: Clemens, Wakefield, Pedro Martinez, Jon Lester, Cy Young, Josh Beckett, Luis Tiant, Bruce Hurst, "Smoky" Joe Wood and Bill Monobouquette. Given one more average Buchholz season, he likely would have passed Wood and Monobouquette to move into ninth place.
Of course, a big part of why fans couldn't stand Buchholz had less do with his actual performance and how grating his outings were. In the PITCHf/x era of 2008-present, there have been 1,642 starting pitcher seasons with at least 50 innings pitched. Of them, the two that rank as the slowest in terms of Pace — the time between pitches, which is one of the few things that a starting pitcher controls almost exclusively — are Josh Beckett in 2011 (26.9 seconds) and Clay Buchholz in 2011 (26.7). Just another reason why the 2011 season was such a bitter disappointment for the Fenway faithful.
It wasn't just that season that Buchholz took forever to throw the ball. His fastest season on record was in 2013, when he took 24.3 seconds between pitches, which is still a really long time. In the PITCHf/x era, there have been 261 qualified starting pitchers, and Buchholz's 25.2 Pace is tied for dead last with Matsuzaka. So, yeah, he took his sweet time, which was especially frustrating when he wasn't on, and he seemed to take even longer once runners got on base.
In other respects, there wasn't much remarkable about Buchholz in either a good or bad way. He was rarely bad enough to be awful, the first half of 2016 excepted, and he was rarely good enough as to be commendable. From 2008-2016, ostensibly the full seasons of his career, his best season by WAR was 3.2 in 2015. Among Red Sox starting pitching seasons in that timeframe, it ranks 12th behind five Jon Lester seasons, three Josh Beckett seasons, and a Rick Porcello, David Price and John Lackey season.
That seems as fitting a coda for Clay Buchholz as possible. He pitched for the Red Sox for a long time, and he'll certainly be remembered, but his overall body of work seems unlikely to be one that's remembered fondly.