Red Sox
From Pedro to Sale: Ranking the Red Sox' starting rotations of the past 20 years
The Red Sox will have a deep and talented group of starters in '17. But how do they matchup the Pedro years and more?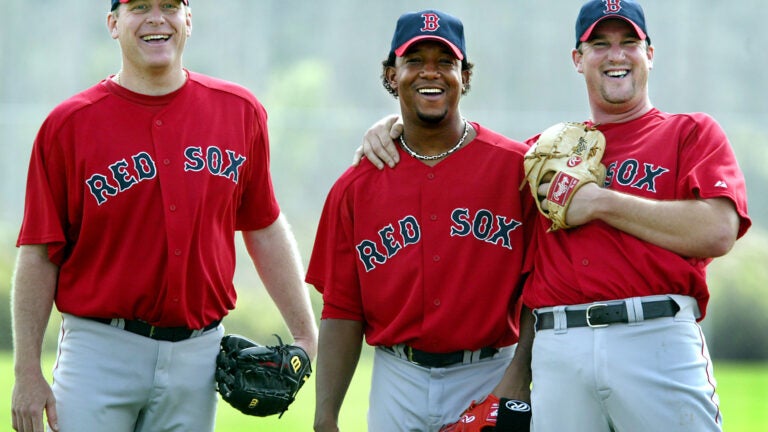 COMMENTARY
Red Sox pitchers and catchers are scheduled to report to spring training Feb.  12 – hey, it's not that far away! – and oddly enough, they will arrive with more suspense about the latter than the former.
While we try to determine whether the go-to catcher for the season's long haul will be Sandy Leon (was his 2016 season a revelation or a mirage?), Christian Vazquez, or Blake Swihart, matters of the pitching staff – at least regarding the starting rotation – are mostly settled before spring has come to Ft. Myers.
Chris Sale, acquired Dec. 6  from the White Sox for primo prospects Yoan Moncada and Michael Kopech plus two other kids, joins David Price and Rick Porcello to form a front three that has combined for 10 top-six Cy Young finishes – including two victories – and five top-20 Most Valuable Player finishes since 2010. In some series, their No. 3 starter will be more accomplished than the opposition's ace.
A few weeks later, after nine-plus occasionally exciting and often exasperating seasons with the Red Sox, Clay Buchholz was dealt to the Phillies for a fringe prospect, his departure being greeted with a perfectly fitting chorus of "good riddance!" and "they didn't get enough!" An enigma until the end, ol' Clay. Philadelphia is going to adore him.
So where does that leave the Red Sox rotation in the weeks before 2017 spring training begins in earnest? With an obvious top three that makes them the envy of the American League, and some intriguing options – knuckleballer Steven Wright and lefties Drew Pomeranz and Eduardo Rodriguez – duking it out for the final two spots.
The consensus is that this has a chance to be the Red Sox' best rotation since … well, since when? We can't really know until we see the results of this one; it's all a reality-based daydream until the games begin. But it should – should – be one of the best of the last 20 Red Sox seasons (1998 to 2017).
Why the last 20? Because if we're going to count them down, worst to best – and that's exactly what we're going to do with this project – it's both wise and appropriate to begin with the arrival of another ace, the ultimate ace, before the '98 season. The arrival of Pedro Martinez was a game-changer in Red Sox history – as we learned through the years, so many good things start with him. But one man does not make a rotation, as we'll be reminded of in our rankings, which begin ignominiously with …
No. 20: 2012
The one-and-done Bobby Valentine debacle. The Red Sox didn't have a starter with an ERA below 4.56. (Clay Buchholz.) The ruination of Daniel Bard (6.22 ERA) was efficiently and cruelly completed. Daisuke Matsuzaka won a game. Josh Beckett escaped to the Dodgers. Aaron Cook somehow got 18 starts, allowing 15 homers in 94 innings. Even Jon Lester (9-14, 4.82 ERA) was infected. Let's just move on.
No. 19: 2006
Here's a miserable case-study in the perils of how a season can go off the rails when a team doesn't have enough replacement-level pitching depth, let alone actual quality. The '06 Sox won 86 games, but by the end it had the vibe of a 100-game loser due to a collapse (they went 9-21 in August) caused by attrition, underperformance, and too many starts by inept pitchers. They gave 37 starts to five pitchers who finished the season with an ERA above 6.00 – Matt Clement, Kyle Snyder, Jason Johnson, Lenny DiNardo, and David Pauley. The supposed (and future) ace, Josh Beckett, had 5.01 ERA in 33 starts during his adjustment season in Boston. Jon Lester made his MLB debut and went 7-2, though he had a 4.76 ERA before his season was shockingly abbreviated with his August cancer diagnosis. No, it probably was not a good idea to trade Bronson Arroyo in spring training – he had a 3.29 ERA in a National League-high 35 starts and 240.2 innings for the Reds.
No. 18: 2015
In spring training, the narrative that the Red Sox did not have an ace became loud enough to reach the ears of the members of the rotation who weren't presumed worthy of such status. So Clay Buchholz took it up himself to have t-shirts made that read "He's The Ace'' for his fellow starters – Justin Masterson, Rick Porcello, Joe Kelly, and Wade Miley – as a unifying gesture. Talk about good intentions gone wrong. The t-shirts ended up as a lazy  sportswriter's punchline (hi there) when it turned out that the Sox rotation was not only devoid of an ace, but of much competence altogether. Buchholz was their best starter (3.26 ERA) when he was healthy, but he made just 18 starts. Young Eduardo Rodriguez emerged as a promising prospect (10-6, 3.85) and Rich Hill had a 1.55 ERA in four starts in September on his way to an extraordinary career revival. But there wasn't much else. Porcello and Miley were below-average innings eaters. Porcello would emerge as the ace a year later. He didn't need a t-shirt to prove it.
No. 17: 2001
Dan Duquette did try to get a legitimate front-end starter and complement to Pedro Martine before this season, but Mike Mussina, revealing he  was born with a bubbling black hole where his soul should be, chose the Yankees instead. Manny Ramirez was a more-than-satisfactory consolation prize, but he was an aid to Red Sox pitchers, not a Red Sox pitcher, and so the usual Duquette-hoarded sad parade of has-beens (Hideo Nomo, David Cone, Frank Castillo) and never-will-bes (Tomo Ohka, Paxton Crawford) followed Pedro. Or should I say, followed Pedro for the 18 starts in which he was healthy, before Duquette and know-it-all interim manager Joe Kerrigan shamefully tried to make him pitch through a shoulder injury and the whole season collapsed into a heap of burning embers that would have made a dumpster fire seem charming and quaint.
No. 16: 2014
Jon Lester was very good through 21 starts, and then he was traded to the A's at the July 31 deadline. John Lackey was very good through 21 starts, and then he was traded to the Cardinals at thedeadline. The lost season – they'd finish with 71 wins and one brutal championship hangover – wasn't so much due to rotation struggles; Mike Napoli was second on the team with all of 55 RBIs. But the fallout from the brutal summer – they were 48-60 at the end of July – was to see their top two starters dealt off, Lester as a free-agent-to-be and Lackey as a teammate angry to see Lester go. Jake Peavy, who won just 1 of 20 starts, also was traded, to the Giants, where he'd win his second straight championship. How bad was the scene they left behind? Allen Webster finished second among the remaining starters with five wins, Brandon Workman won 1 of 15 starts, and Clay Buchholz, he of the 5.34 ERA, led the staff in innings pitched (170.1).
No. 15: 2005
This has got to be the least likable Red Sox rotation of the 2000s, if not this entire exercise. Pedro and D-Lowe departed during free agency, and maybe Theo Epstein was right in shaking things up to avoid post-championship complacency. But it didn't work – it's sort of a miracle that the '05 Sox won 95 games given that the whole season felt like a giant hangover. And speaking of giant hangovers, Epstein essentially replaced Pedro with David Wells (a surprisingly graceful pitcher, an oaf of a human), with Matt Clement (a dubious '05 All-Star whose career was derailed by injury) taking Lowe's spot. Tim Wakefield (16-12, 4.15) and ascending Goo Goo Dolls roadie Bronson Arroyo (14-10, 4.51) ate up plenty of mediocre innings. But Curt Schilling (5.69 ERA) was never right after his ankle injury, and the Sox were doomed in the postseason the minute Clement  took the ball in Game 1.
No. 14: 2009
Josh Beckett and Jon Lester were a fine 1-2 punch, combining to go 32-14 with a 3.64 ERA while splitting 64 starts evenly. Clay Buchholz and Tim Wakefield were a decent 3-4 combo (18-9, 4.42 ERA in 37 total starts). But after that … well, maybe they should have just gone with an old-school four-man rotation. These Red Sox – probably the most forgettable of their six playoff teams in that decade, no? – required a total of 55 starts from Brad Penny (5.61 ERA), John Smoltz (8.33), Daisuke Matsuzaka (5.76), Paul Byrd (5.82), Junichi Tazawa (7.46), and Michael Bowden (9.82).
No. 13: 2000
Pedro's 1999 season was MVP worthy. His 2000 season might be the best a modern starting pitcher has ever had – in fact, by one measure, it was the best. Pedro's adjusted ERA that season was 291, the second-best single-season ever, trailing only Tim Keefe's 1880 season. Yes, 1880, not 1980. It was so long ago he predated even Julio Franco. That was the year Pedro's ERA (1.74) was nearly two runs better than the runner-up for the ERA title, Roger Clemens (3.70), and more than three runs better than the league average (4.91). But after Pedro? The next four starters in terms of innings were Jeff Fassero, Ramon Martinez, Pete Schourek, and Rolando Arrojo. Their respective ERAs: 4.78, 6.13, 5.11, 5.05. Let's just say there were no reincarnations of Tim Keefe in that crew. Pedro carries 'em.
No. 12: 2011
They get a lot of retrospective grief for that greatest team ever hype, but they were pretty great for a good part of the summer, in part due to the contributions of Josh Beckett (13-7, 2.89 ERA in 30 starts) and Jon Lester (15-9, 3.47, 31 starts) at the head of the rotation. They were 31 games over .500 (83-52) at the end of August. Unfortunately, the season does include September, and you know what happened: An epic collapse that included a season-ending dual walkoff – by the Orioles, who finished off the Red Sox, and the Rays, who sneaked into the postseason on the last day. Subpar starting pitching was a main culprit for the 7-20 September. Andrew Miller, who was basically the opposite of what he is now, had an 11.70 ERA in five appearances (two starts) that month. Kyle Weiland had a 7.36 ERA in five appearances (three starts). Even Lester let them down (1 win with a 5.40 ERA in six starts). In the end, the prematurely anointed greatest team ever had a case as the greatest underachiever ever, and the pitching was complicit.
No. 11: 2010
The best thing about this team? Adrian Beltre's Boston cameo. Somewhere much farther down the list ranks the starting rotation. It was durable enough for this 89-win team that missed the postseason, with six starters combining for 158 starts. The problem was that only two were above average. Jon Lester had his second straight strong year (19-9, 3.25, fourth in the Cy Young race), and Clay Buchholz delivered the best season (or the biggest tease) of his Red Sox career (17-7, 2.33 ERA, sixth in the Cy Young race). But no one among the other four (John Lackey, Josh Beckett, Tim Wakefield, and Daisuke Matsuzaka) had an ERA lower than 4.40. Beckett was especially complicit in the disappointing season, making just 21 starts with a 5.78 ERA. By the way, if you remember Scott Atchison started a game, well, thank you for reading, Scott Atchison. It's appreciated.
No. 10: 1998
Welcome, Pedro. In his first season with the Red Sox, Pedro Martinez won 19 of his 33 starts, which would tie for his career-high (1996, 2004), and reminded us, a year after Aaron Sele started on opening day, of what an ace looks like. Tim Wakefield was helpfully mediocre, winning 17 games with a 4.58 ERA, and 34-year-old Bret Saberhagen, his shoulder held together with Big League Chew, was very good, going 15-8 with a 3.96 ERA. That's not a bad 2-3 in the peak summer of the PED era. But capable depth remained an issue with those Dan Duquette teams. How much of an issue was it here? Steve Avery, John Wasdin, Robinson Checo, Jin-Ho Cho, Brian Rose, and Butch Henry combined for 47 starts. Woof. Also: Arf.
No. 9: 2003
This was Pedro's last brilliant season (14-4, 2.22 ERA, 9.9 K/9 in 29 starts), a sad event to realize but a wonderful event to reminisce about. Derek Lowe fell off from his All-Star '02, but still won 17 games and pitched a team-high 203.1 innings – an inning more than Tim Wakefield, who went 11-7 with a 4.09 ERA in 32 starts. Junkballer John Burkett was the theoretical fourth starter with 12 wins, but his ERA was high (5.01) and his radar-gun readings were low. Casey Fossum (5.47 ERA) and Jeff Suppan (5.57 ERA after coming over from Pittsburgh) also participated. Byung-Hyun Kim is remembered poorly, but he was a huge help after arriving in a May trade for Shea Hillenbrand, though after five starts he was called upon to rescue a flammable bullpen. From what I've heard, Grady Little never entirely learned to trust it, even after Scott Williamson came aboard. I forget the details.
No. 8: 2016
Ah, you know how it went. It's still fresh, right? Rick Porcello was steady at worst and efficiently dominating at his best, winning 22 games (thanks in part to huge run support) and the AL Cy Young award. Price, in his first season in Boston, wasn't the top-three-in-the-league starter that he had often been in Tampa Bay, Detroit, and Toronto, but he still won 17 games with a 3.99 ERA and pitched 230 workhorse innings. Steven Wright was an All-Star knuckleballer but a hapless pinch runner, earning 10 of his 13 wins in the first half. Midseason acquisition Drew Pomeranz was disappointing (3-5, 4.59 ERA) after an All-Star first half in San Diego, while Buchholz, Eduardo Rodriguez, Joe Kelly, and Henry Owens all had an ERA of 4.71 or higher. How bad were the depth issues at times? The Red Sox gave four starts to journeyman Sean O'Sullivan, who has had a 5.49 ERA or higher in six of his seven partial MLB seasons. Good thing Porcello and – you better believe it – Price combined for 453 innings.
No. 7: 2008
Terry Francona has said that this team, which fell a win short of a second straight trip to the World Series, might have been the most complete roster he had during his eight years here. I'm not sure I see it. Dustin Pedroia won the AL Most Valuable Player award and Kevin Youkilis finished third, but David Ortiz hit just .270 with 89 RBIs, Manny Ramirez was traded to the Dodgers, and Jason Varitek hit just .220. But the main issue is that the rotation was good, but not as great as in '04 or '07. Jon Lester did emerge as a front-end starter (16-6, 3.21 ERA), but Tim Wakefield had a quintessential Tim Wakefield year (10-11, 4.13 ERA in 30 starts). Worse, presumed ace Josh Beckett also had a quintessential Tim Wakefield year (12-10, 4.03). Daisuke Matsuzaka delivered the most aggravating 18-3 season one could imagine, averaging just over five innings per start in a masterful managerial performance by Francona. Rookie Clay Buchholz was a colossal disappointment (2-9, 6.75) while beginning his own long and exasperating run. Then there was the enigma that got away: Oh, to remember the fleeting moment when Bartolo Colon (4-2, 3.92 ERA in seven starts) was ours.
No. 6: 1999
Pedro didn't win the MVP. But he was the MVP, and you know it deep in your soul, Ivan Rodriguez, just like you know there was really only one Pudge. Pedro led the league in pretty much everything that matters to a pitcher: wins (23), ERA (2.07), strikeouts (313), K/9 (13.2), FIP (an insane 1.39), and so on down the line. Bret Saberhagen had his last healthy/decent season, posting a 2.95 ERA, but in just 119 innings. The Nos. 2 and 3 starters in terms of innings pitched were Mark Portugal (7-12, 5.51 ERA) and Pat Rapp (6-7, 4.12). There were some moments of brilliance in Dan Duquette's tenure – without his knack for acquiring superstars and cornerstone players in savvy deals, for instance, 2004 never happens. But his early failure to find a true high-end, innings-eating No. 2 starter to take some of the burden from Pedro was exasperating. Still, Pedro's singular magic alone carries this one into the top-10.
No. 5: 2002
This was the quintessential Dan Duquette team – stacked to the top of the Green Monster with stars (Nomar, Pedro, Manny, culture-changing free-agent pickup Johnny Damon, midseason acquisition Cliff Floyd), but severely short on quality depth. The rotation behind Pedro (20-4, 2.26) was more well-rounded than it had been in recent seasons, largely because Derek Lowe came out of nowhere (well, the bullpen) to win 21 games with a 2.58 ERA, finishing third behind Barry Zito and the once-again-hosed Pedro in the Cy Young voting. Tim Wakefield (11 wins, 2.81 ERA in a swingman role), Casey Fossum (3.46 ERA in 13 starts), and John Burkett (13-8, 4.3, but 7-3, 3.80 before the All-Star break) were all adequate or better. This time around, only one rotation spot dragged them down – the one occupied by Frank Castillo, who went 6-15 with a 5.07 ERA for a 93-win team that missed the playoffs. For some reason, Duquette loved Frank Castillo more than he loved watching Roger Clemens testify before Congress.
No. 4: 2017
I mean, if it all works out according to plan, right? And a merely reasonable plan at that. Which means Sale, Porcello, and Price stay healthy and win 55 to 60 games between them, E-Rod emerges as a reliable above-average starter, Steven Wright baffles hitters often enough, and Pomeranz (a talented lefty still in his 20s) thrives in a swing role. But until we see it, we can't elevate them above any of the champs of this era.
No. 3: 2007
Arguably the most complete team of the Red Sox' three champions so far this century, in part due to a redeemed and enhanced rotation. In his second season in Boston, Josh Beckett emerged as an ace, winning 20 games with 3.27 ERA, dominating in the postseason, and finishing second to CC Sabathia in the Cy Young balloting. Daisuke Matsuzaka arrived to much hype, and while that went mostly unfulfilled, he did win 15 games and pitch a team-high 204.2 innings in perhaps his least exasperating season here. Lester returned to win all four of his decisions and lock down the win in the World Series clincher. Only eight pitchers started games, with the top five (Beckett, Dice-K, Tim Wakefield, Curt Schilling, and Julian Tavarez) accounting for 140, and the four others (Lester, no-hit flash Clay Buchholz, Kason Gabbard, and Devern Hansack) all acquitting themselves fairly well.
No. 2: 2013
The 2013 Red Sox, as likable and unexpectedly excellent team as any in post-1967 franchise history, ultimately ended up being a story about community and the players' genuine bond with Boston. But it was about redemption, too, after a couple of disappointing seasons, and that was especially reflected in the work of the pitching staff. Jon Lester (15-8, 3.75, and extraordinary in the postseason) stoically redeemed himself for his personally disappointing season under Bobby Valentine. Clay Buchholz (12-1, 1.74), for a half-season at least, was as good as he can be, and high-strung, good-hearted White Sox refugee Jake Peavy (4-1, 4.04) picked up the slack for him when he was injured. The oft-jeered John Lackey (10-13, 3.52) endured lousy luck during the regular season and was exceptional when the stakes were highest. Even Ryan Dempster (8-9, 4.57), who had mediocre numbers in his final major league season, was important, starting fast when the Red Sox needed an early boost. It wasn't the most talented rotation the Red Sox have had. But it might have been the most interdependent, and that was something to savor, all the way to the parade.
No. 1: 2004
For years, the Red Sox never had a suitable solution as a No. 2 starter to Pedro. As it turned out, when they finally won it all, he was the No. 2 starter, though I doubt he saw it that way. Curt Schilling, who belongs in the baseball and blowhards Halls of Fame, arrived to much fanfare (remember that hubristic truck ad where he says, "I'm going to Boston to break a curse"?) and then delivered on all of it, winning 21 games and taking some of the burden off a subtly declining Martinez (16-9, 3.90 ERA in a season statistically similar to David Price's 2016). This rotation is lauded for its durability – Schilling, Martinez, Derek Lowe, Tim Wakefield, and Bronson Arroyo combined for 157 starts – but it did have some regular-season hiccups (Lowe had a 5.42 ERA) that were redeemed during the glorious and transcendent postseason run. If this isn't your favorite Red Sox rotation of all time just based on what they collectively accomplished in October, I must assume you sleep in pinstriped jammies.