Red Sox
David Price or Chris Sale: Who's the Red Sox' true No. 1 ace, and does it matter?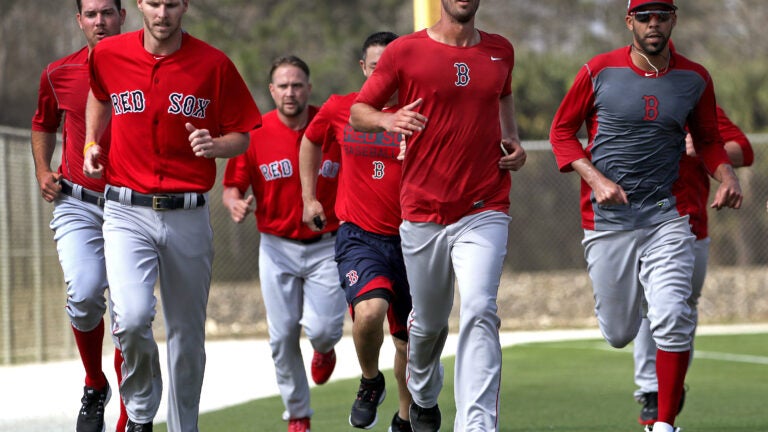 COMMENTARY
Jon Lester had Felix Doubront. Bruce Hurst had John Tudor. Mel Parnell had Chuck Stobbs, Lefty Grove had Fritz Ostermueller and Babe Ruth had Dutch Leonard.
Which is to say the Red Sox have never had anything like they will beginning in 2017.
There may be a historical precedent for why Boston has never gone as lefty-heavy as they might this season, with Chris Sale, David Price, Drew Pomeranz, and Eduardo Rodriguez potentially enveloping righty Rick Porcello in the starting rotation. Fenway Park's Green Monster has long welcomed — and teased — right-handed hitters, perhaps creating a fallacy that left-handed pitchers might struggle when calling the place their home turf.
Lester has a 3.59 career ERA at Fenway, slightly higher than his career mark of 3.44. Likewise, Hurst's 4.14 ERA in Boston was slightly higher than his career ERA of 3.92. In his first season with the Red Sox, Price had a 4.11 ERA, 3.88 on the road. And while Sale has a career ERA of 3.00, it's 3.63 over six games at Fenway Park.
It's not exactly a place where lefties go to die or — maybe worse — become Matt Young.
But for the handful of stalwart lefties that the Red Sox have employed over the past century, there has never been a southpaw duo at the forefront quite like Price and Sale, a pair of bona fide aces who just happen to pave the way for the defending Cy Young Award winner, the third-best pitcher on Boston's starting staff.
Manager John Farrell may give Porcello the Opening Day nod due to his 2016 season. But he's clearly the No. 3 man.
That leaves the No. 1 slot wide open with two candidates vying for the throne.
Sale, whom the Red Sox acquired in December from the White Sox in exchange for No. 1 prospect Yoan Moncada and hard-throwing righty Michael Kopech, was 74-50 with Chicago, and at the age of 27, remains one of the biggest bargains in the game, making $12 million in 2017. Conversely, Price, who was inconsistent during his first season in Boston, is slated to pull in a whopping $30 million this season as a portion of the $217 million deal he signed with the Red Sox last offseason.
With that kind of cash invested in him, Price, 30, figured to be the ace in Boston for many years, even if he was at the same age that seemingly scared the Red Sox off from re-signing Lester, now a Cubs World Series hero. Then, October came around and Price did what he normally does at that time of year — implode (2-8, 5.54 ERA career in the postseason) — while Lester added another layer to his stellar postseason resume.
So, here comes Sale, the new ace?
Sale has never pitched in the postseason, so let's not go ahead and tab him the No. 1 starter for the ALDS quite yet. But he and Price have pitched to similar stat lines through the age of 27. Price was 71-39 with a 3.19 ERA at that point in his career, with a Cy Young to his credit. He made 147 starts; Sale has made 148. Price had a 3.06 strikeouts-to-walks ratio. Sale's is an impressive 4.78.
Sale has finished in the top-five in Cy Young voting each of the last four seasons. Price finished second two seasons ago, as close as he's gotten since winning the award in 2012. Sale won a career-high 17 games in 2016, but seemed destined for much bigger things, particularly after the White Sox were surprisingly competitive in the first two months of the season. The lefty went 14-3 with a 3.38 ERA over the first half of the season; 3-7 with a 3.28 ERA over the second half.
Price won the same number of games with the Red Sox and was overwhelmingly deemed to be a disappointment. Even before his five-run blunder in Cleveland during 3 1/3 lackluster innings during Game 2 of the ALDS.
That's bound to happen when each win will cost twice the price as Sale's will.
Price's WAR in 2016 was 3.0, the same as Trevor Bauer and CC Sabathia. Sale's was 4.9, seventh-best in the AL. But only two seasons ago, Sale's 3.3 was the same as Danny Salazar. Price was second in the league with a 6.0 WAR.
Can Price's 2016 struggles be attributed to an adjustment season in Boston, much like Porcello's two years ago? Thus, should Red Sox fans expect much of the same from Sale in his first season with his new Sox?
"I think he kind of knows what he's getting into. He's not going to treat it any differently. He's going to be Chris Sale. Don't try to be anybody else," Price said this week in Fort Myers, Fla. "He knows Chris Sale is good enough for us. We all know what he's capable of doing, that's for sure."
Capable, sure. But Price proved last season that's only a small part of the equation.
Sale is younger, but not necessarily better than the Red Sox' $217 million guy.
But much like Pedro Martinez and Curt Schilling more than a decade ago, the constant merry-go-round debating which one is the true ace this season is going to inspire some fascinating one-upmanship.
"I expect a lot of myself. I have very high expectations of myself. I demand a lot from myself, so I don't think it will be anything different," Sale said. "Not worried about that."
Sale, Price, and Porcello.
Not much to worry about at all.