Red Sox
David Price might already be a broken-down mistake for the Red Sox
After one uneven season, he's got an appointment with Dr. James Andrews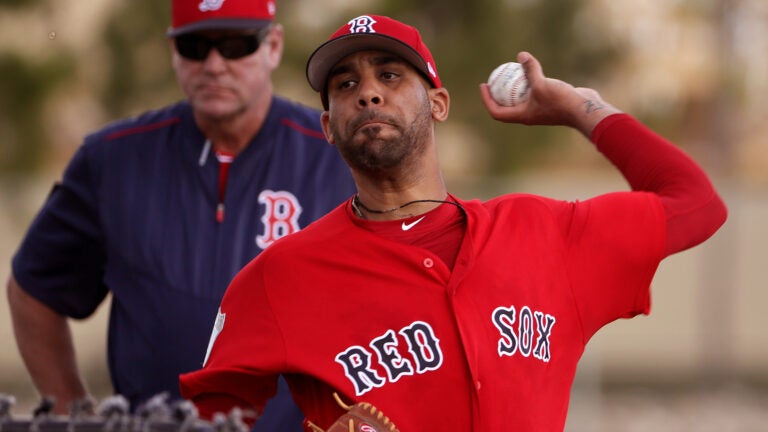 COMMENTARY
There may come a point in time when Red Sox fans could, possibly, find some level of regret stemming from Boston's decision to trade punching-bag pitcher Clay Buchholz to the Philadelphia Phillies during the offseason.
This isn't it.
That unlikely conclusion might only be reached by still improbable happenstance: Buchholz winning the National League Cy Young Award, for instance, or a new rule stipulating that all baseballs be manufactured with a heavy sheen of Bullfrog sunscreen.
The possibility of the Red Sox losing ace David Price for the 2017 season doesn't take away from the freedom from the maddening Buchholz.
Still, the pitching-rich Red Sox had reason to worry when manager John Farrell announced on Thursday that Price has been scratched from his spring training start this weekend due to elbow soreness. At the time, the team was awaiting the results of an MRI performed on his left elbow, but Price was already said to be seeking a second opinion from renowned specialist Dr. James Andrews, otherwise known as the guy who may soon be confirming John Henry is shelling out $30 million this season for what could just as soon be characterized as a broken-down mistake.
Nothing good ever comes from a visit with Dr. Andrews. The Red Sox only need to look as far as third baseman Pablo Sandoval, on whom Andrews performed shoulder surgery early last season. Price's teammate, Carson Smith, is attempting to come back this season from Tommy John surgery a year ago.
What if it's Price's turn this time around?
"We're concerned," Farrell told reporters Thursday morning in Fort Myers, Fla. "We're taking every precaution."
Typically, Farrell treats such moments of impending doom like Lt. Frank Drebin waving his arms in front of an exploding fireworks factory. Nothing to see here.
For him to become seemingly candid about the situation that Price faces can't be mistaken as a sign of encouragement.
"He's gone through some soreness in the forearm, elbow area in previous spring trainings," Farrell said. "But this one's got a little bit more intensity to it."
Swell.
Price was 17-9 with a 3.99 ERA and a league-leading 230 innings during his first, mostly-uneven season with the Red Sox, who gave him a seven-year, $217 million contract the previous offseason. The deal included a possible player opt-out after the 2018 season, a possibility that the Red Sox can now probably depend on about as firmly as Tom Bolton stepping in to replace Price on the mound this season. Not after possible, major arm surgery.
Of course, the Red Sox signed Price as the antidote to losing Jon Lester to the Chicago Cubs, finally capping the amount that they were — at that time — willing to give to pitchers over 30 years old. The durable, 33-year-old Lester will collect a third World Series ring next month when the Cubs begin their season at Wrigley Field. Price will turn 32 in August.
Guess they showed us then.
"You're concerned anytime any of your pitchers have a sore elbow," Red Sox president of baseball operations Dave Dombrowski said. "To what extent, at this point, we'll have to wait until the doctors see him. But you never like to see a guy step down, no matter what, as far as missing any time is concerned."
It was Dombrowski, of course, who helped the Sox sign Price to what could turn out to be, even after only one season, considered among the worst contracts in franchise history. Even Carl Crawford came at a $75 million discount.
If Dombrowski hadn't made the splash of the offseason in landing ace lefty Chris Sale from the White Sox, the prognosis for 2017 might be a little more muddied. Even if Price ends up sidelined, the rotation still boasts major potential with Sale, Cy Young-winner Rick Porcello, Eduardo Rodriguez, Drew Pomeranz, and Steven Wright. ESPN's Buster Olney already suggested on Thursday that free agent Doug Sister could serve as a replacement for Price, while also wondering if Dombrowski might be willing to surrender minor league third baseman Rafael Devers (one of the last prospects of any worth in the system following the costly deals for Sale and Pomeranz) in exchange for Chicago's Jose Quintana.
Eh. Quit whining. There's a draft every year.
If the second opinion on Price's elbow isn't a good one, the Red Sox will have paid $3.5 million per win for Price over the course of his first two seasons in Boston. He'll be 36 when the contract ends in 2022, making $32 million.
If he faces surgery and a lengthy recover, the three-year window with Price has suddenly turned into an albatross.
"Yes, we are concerned. As we would be with any player," Farrell said. "We've got a little bit of history here with David and what his progression through spring training has been. He's battled this, seemingly, in every spring training. We will acknowledge that this one's got a little bit more intensity to it. That's why we're taking every step."
According to ESPN Stats and Info, Price's average fastball velocity (92.8 mph) and maximum fastball velocity (96.3) last season were both career-lows. Which could make one wonder exactly when this discomfort actually began. Was it sore during some of his erratic outings last summer? Or was it this week's simulated game that really, truly, brought on the ouchies?
If Price is gone, the margin for error with the Red Sox' starting staff turns razor thin, in regard to injury. Wright is still trying to come back from his Farrell-induced dive to second base last season. Pomeranz is coming back from an elbow injury, and Sale could be one jersey-slashing episode away from giving himself a deep cut on his pitching arm. Losing any of them would open the door for a guy like Henry Owens to cement himself in the rotation for the bulk of the year.
Yet, you still won't miss Buchholz.
No matter what happens with Price.
"We will acknowledge that this one's got a little bit more intensity to it," Farrell said. "That's why we're taking every step."
Adding Sale was one step forward.
Losing Price would be a $30 million stumble.