Red Sox
Red Sox ace Price says too early to tell when he'll pitch
"I'm not going to put a timetable on it."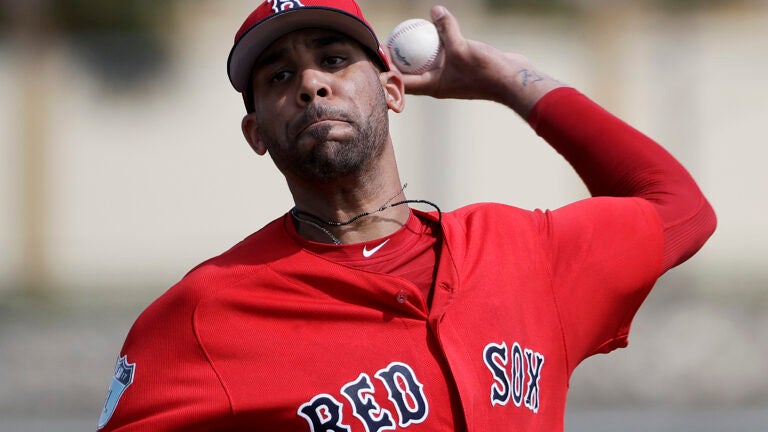 FORT MYERS, Fla. (AP) — Boston Red Sox ace David Price says it's still too early to tell when his ailing left elbow and forearm will heal enough for him to pitch in a game.
Price was told this week that he won't need surgery or an injection. The team said he will be shut down for seven to 10 days, take anti-inflammatory medicine and be re-evaluated after that.
"I'm not going to put a timetable on it," Price said Saturday. "If it doesn't get better in a certain time period, it's something we're going to have to talk about again. I don't think it will get to that point. We have a longer spring training this year (because of the World Baseball Classic). It kind of works in our favor. I'm very confident I'll be back out there."
"They already said seven to 10 days. If I'm not out there in 10 days, I'm sure that's going to be the next story. If I'm out there in five days, that'll be the next story, as well. There is no timetable. There is no seven to 10 days. Disregard that," he said.
Price got the news on Friday, after meeting with noted orthopedists James Andrews and Neal ElAttrache in Indianapolis, where the doctors were taking part in the NFL Combine.
Price said he was "very" relieved to hear the diagnosis.
"They were like, 'Your elbow is extremely unique. It's found a way to kind of heal itself,'" Price said. "I've heard that before, but not from guys that have done the surgeries that they've done and looked at as many elbows they've looked at. Just to hear it from those two guys felt good."
"They expected it to be a lot worse than what it was. That was both of them. They said it multiple times: 'We expected this to be a lot worse than what it really is.' … I don't feel like that meeting could have went any better."
It was welcome news for the Red Sox, who are counting on Price to be one of their big trio of starting pitchers, along with 2016 Cy Young winner Rick Porcello and left-hander Chris Sale, acquired in a December trade with the White Sox for four top prospects.
"Anytime you have any of your guys with a sore elbow, even if you're hopeful, it's a relief when you hear that news, sure," Red Sox president of baseball operations Dave Dombrowski said.
"He'll take his medication and in a week to 10 days, it's up to him. I heard in his briefing over there that if he felt today instead of how he felt a couple of days ago, he wouldn't have said anything. The doctor said we're not going to put a time frame on it," he said.
The 31-year-old Price felt discomfort on Wednesday morning, a day after throwing a two-inning, 38-pitch simulated game. He was scratched from his first scheduled Grapefruit League start, Sunday against the Braves.
Price is entering his 10th major league season. He wouldn't say whether he expects to pitch in a spring training game or whether he thought he would be ready by opening day.
Red Sox manager John Farrell said the diagnosis was "probably the best-case scenario that could have come out of the exam."
"But we also have to remain with some cautious optimism because he's in a shut-down period and it'll be great to see when he finally puts a ball in his hand and begins that process," Farrell said. "Initially, that's really good news."
"The shutdown is the focal point," he said.
Dombrowski didn't speculate on whether Price is likely to start the season on the disabled list.
"We haven't even discussed that," Dombrowski said. "We've been careful not to get into that. That's not the most important part. The most important part is to get him throwing again."
Price went 17-9 with a 3.99 ERA in a major league-leading 35 starts last season, his first in Boston. Many, including Price, considered it an off-year for the 2012 AL Cy Young Award winner. He is entering the second year of a seven-year, $210 million contract.
Price led the majors with 101 starts over the past three seasons and is tied for second with Sale with 14 complete games from 2012-2016.
The lefty doesn't believe the injury affected him last season.
"No, this was something that's happened over a long period of time," Price said. "It's not something that just happened on Tuesday or whatever day I threw the sim game."
"This is something that's happened over the course of my career, and I've continued to be able to (pitch) at a high level. That was something (Andrews and ElAttrache) talked about. If I wasn't still pitching at a high level, it's something that might be a little bit different. If I was 25 or 26 years old, it might be a different scenario," he said.