Red Sox
Breaking down the Red Sox' likely Opening Day roster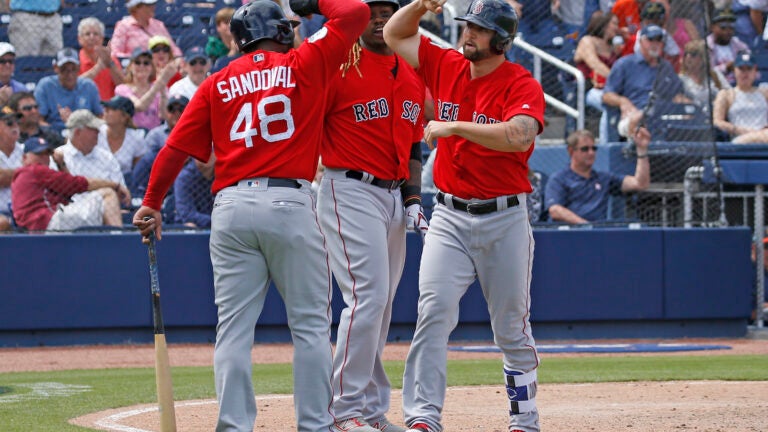 COMMENTARY
With less than a month until Opening Day, the Red Sox's 25-man roster is beginning to take shape. Here's a look at the players the Sox are likely to bring north at the end of the month, as well as the few spots that are still in flux.
Note: player ages listed below are as of June 30, 2017.
Catchers
Starter: Sandy Leon, 28, switch-hitter
Backup: Christian Vazquez (26, righty) over Blake Swihart (25, switch)
The plan coming into spring training was for Leon to start and Vazquez to back him up, while Swihart returned to Triple-A for further development. That is likely to remain the plan at the end of camp, as well, in part because Swihart is the only one of the three who isn't out of minor league options. However, there is significant potential for change in that hierarchy as the season progresses.
Start with Leon: He took over as Boston's primary catcher in July of last year and finished the season with a robust .310/.369/.476 line in 283 plate appearances. A $1.3 million arbitration settlement in January seemed to solidify his position as the team's starter. However, major league history is littered with career backup catchers who hit like Mickey Cochrane over a random half season and never recapture that form; and there's nothing in Leon's history to suggest he won't add his name to that list. A career .238/.325/.330 hitter in the minors, Leon hit .187/.258/.225 in 209 major league plate appearances with the Nationals and Red Sox prior to last year, and .243/.315/.339 in 130 plate appearances in Triple-A last year prior to being called up as an injury replacement for Ryan Hanigan in early June. He also hit .200/.274/.271 in 96 PA between September and October (playoffs included) last year. The Red Sox will give Leon a chance to prove his two and a half hot months at the plate weren't a fluke, but they likely were, which could find the projected starter the odd-man-out before the season is over.
Swihart is Leon's most likely successor as Boston's starting catcher, but the organization would rather see him continue to work on his defense in Triple-A until Leon proves he needs to be replaced. Having soured on Swihart's play behind the plate after the 2015 seasons, the Red Sox tried to move him to left field last year, but a season-ending ankle injury in June cut that experiment short, and the team has put him back behind the plate this spring. Swihart is clearly a better hitter than Vazquez (and most likely Leon, as well), while Vazquez is clearly the superior backstop. Neither of those things will change, but the Sox hope Vazquez can hit enough to justify giving Swihart the extra time in Triple-A and that Swihart's defense will improve enough in the meantime that he'll be a viable full-timer by the time Leon has played his way out of the job.
Infield
1B:  Mitch Moreland, 31, lefty
2B: Dustin Pedroia, 33, righty
SS: Xander Bogaerts, 24, righty
3B: Pablo Sandoval, 30, switch
DH: Hanley Ramirez, 33, righty
Backup: Brock Holt, 29, lefty
Third base is the big question mark here, but the slimmed-down and surgically-repaired Sandoval has thus far shown enough for the Red Sox to expect him to break camp as their starting third baseman. After losing the third-base job in camp last year, despite being in the second year of a five-year, $95 million contract, then having his season ended by left shoulder surgery after just three regular-season games, Sandoval spent the offseason getting in shape and working on his right-handed swing with countryman Miguel Cabrera. Thus far in camp, he has looked competent on both sides of the ball and both sides of the plate. That said, Sox fans are warned not to expect much more than mere competence from Sandoval this season. He was, after all, in a steady decline prior to losing effectively a full season to a torn labrum in his left shoulder. Now 30, he may be slimmer, but he's still not going to take many walks and it's unlikely that his fading power will return. At best, he'll be a league-average player on both sides of the ball, and even that may be setting expectations high.
Still, as with Leon, the Red Sox would rather give Sandoval a chance to succeed, particularly given that he's still owed $58 million for the next three seasons (plus the near-guaranteed buyout of his 2020 option). Having Sandoval at third also allows Holt to shift back into his most valuable role, as a utility man who can fill in at all four infield positions and all around the outfield on a near-everyday basis. That flexibility is particularly important as Moreland and Ramirez are expected to be part of a complex platoon at first base. The above will be the alignment against righties, but against a lefty starter, Ramirez will move into the field and Moreland will move to the bench in favor of righty designated hitter Chris Young. With Young thus occupied, Holt will be the team's fourth outfielder in those games.
As for the potential of that arrangement, effectively a platoon of Moreland and Young, Moreland is a .258/.321/.457 career hitter against righties, while Young is a .267/.365/.481 career hitter against lefties. Those two and rookie left fielder Andrew Benintendi will be tasked with compensating for the loss of David Ortiz bat. Speaking of which . . .
Outfield
RF: Mookie Betts, 24, righty
CF: Jackie Bradley Jr., 27, lefty
LF: Andrew Benintendi, 22, lefty
Backup: Chris Young, 33, righty
No issues here. The perfect season would find each of the Boston B's starting at least 150 games in their respective pasture with Young DHing against all lefty starters and drawing some extra work where needed in relief of the other three. Benintendi, whose rookie status is still intact, was named the top prospect in baseball by Baseball America and MLB.com last month (Baseball Prospectus had him all the way down at third), and is the odds-on favorite to be this year's American League Rookie of the Year.
Fourth bench spot:
The Sox will likely have a fourth man on their bench in addition to Young, Holt and Vazquez. Josh Rutledge's Rule 5 status made him the early favorite, as he would have to be offered back to the Rockies if he didn't make the roster. However, he has been slowed this spring by discomfort in his surgically repaired left knee, which has opened the door for fellow infielders Marco Hernandez, who was the utility infielder on the Sox's Division Series roster in October, or Deven Marrero, both of whom have swung hot bats in the early going this spring.
That said, given Young's likely use as a part-time DH, it might make more sense to take an extra right-handed outfielder who could occasionally spell Benintendi or Bradley against lefties while Young is DHing (or to DH while Young spells Bradley in center). Steve Selsky, plucked off waivers from the Reds in late January, is an intriguing option there, a career .295/.379/.459 hitter in the minors who swung the bat well in his first major league exposure last year. Sending Rutledge back to Colorado could also clear a spot on the 40-man for a non-roster player, such as Rusney Castillo, who is also off to a hot start this spring. Of course, the Red Sox could also buy time on a Rutledge decision by having him open the season on the disabled list. Also of note: 28-year-old righty outfielder Bryce Brentz is out of options and would have to be exposed to waivers if he doesn't make the team, but I don't expect the Sox would balk at that necessity.
Starting Rotation
Chris Sale, 28, lefty
Rick Porcello, 28, righty
David Price, 31, lefty
Drew Pomeranz, 28, lefty
Eduardo Rodriguez, 24, lefty or Steven Wright, 32, righty
The big question regarding the Sox's heralded starting rotation is whether or not the top four men listed above will all be healthy enough to avoid an Opening Day disabled list assignment. If not, one expects both Rodriguez and Wright will make the rotation. If the top four are all healthy, however, the team will have to make a decision between those two for the fifth-starter job.
The Red Sox got the best possible news on David Price's elbow on Friday, but he's still being shut down for a week or so and could be far enough behind by the time he returns to the mound that he will have to open the season on the DL. However, it's worth remembering that the minimum DL stay was shortened to 10 days by the new collective bargaining agreement. If the Sox can back-date Price's DL assignment to the day before Opening Day, he would be eligible to return for the game in which Sox need a fifth starter, on April 12 against the Orioles. Given that and the fact that Drew Pomeranz is thus far progressing nicely, the Sox may have to make that fifth-starter decision after all.
Further complicating that decision is the fact that Wright is being brought along slowly due to a late-2016 shoulder issue, while Rodriguez, who also got a late start in exhibition action due to a knee injury suffered in winter ball, is an alternate for Venezuela in the World Baseball Classic and may leave camp if his team advances in the tournament. All else being equal, the Sox would likely rather give the job to Rodriguez, who will turn 24 in April and has five team-controlled years remaining, than the knuckleballer Wright, who has four years remaining but will turn 33 in August. If the job goes to Rodriguez, Wright, who is out of options, will move to the bullpen. If Wright gets the last rotation spot, however, Rodriguez could return to Triple-A.
Bullpen
Craig Kimbrel, 29, righty
Joe Kelly, 29, righty
Tyler Thornburg, 28, righty
Robbie Ross Jr., 28, lefty
Matt Barnes, 27, righty
Fernando Abad, 31, lefty or Heath Hembree, 28, righty
Despite dreadful showings from Thornburg in his first two spring outings, the top five men listed above appear to have their bullpen spots locked up. Abad and Hembree, meanwhile, are both out of options and would have to be exposed to waivers if not included on the 25-man. Which of them gets that sixth spot, however, may depend on what happens with . . .
The final bullpen spot:
If all the starters are healthy and Rodriguez wins the final rotation spot, this will be Wright's spot, and one of Abad or Hembree will have to go, a decision that will likely be based on how well each throws the ball this spring. If any of the starters doesn't make the Opening Day roster, due to injury or, in Rodriguez's case, demotion, this spot opens up and Abad and Hembree might both make the team. The Sox could also decide to forgo the fourth man on the bench to add an extra bullpen spot, be it for Abad or Hembree or for someone like Noe Ramirez or lefty Robby Scott. Whatever the result, you can be sure there will be plenty of turnover in this spot over the course of the year. The Red Sox, meanwhile, hope this spot will ultimately go to Carson Smith, who is expected to return from Tommy John surgery around mid-season. Soon after that, the combination of Dave Dombrowski and the non-waiver treading deadline could change Boston's 25-man roster significantly.