Red Sox
Watch Rick Porcello strike out Tim Tebow on four pitches in his first spring training at-bat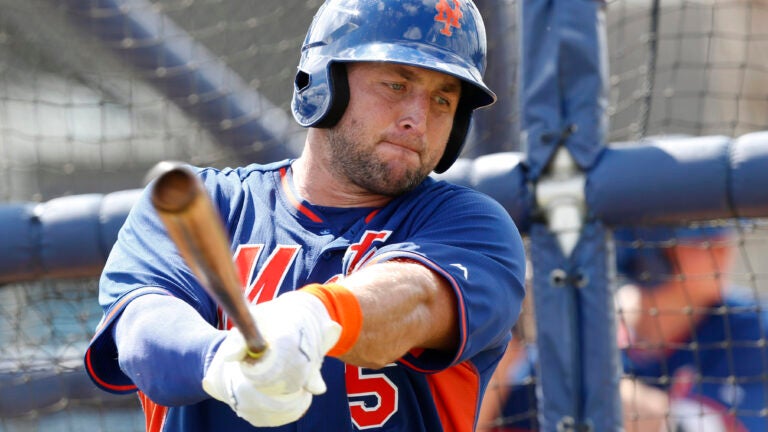 Tim Tebow made his spring training debut for the New York Mets in a Grapefruit League game Wednesday against the Boston Red Sox. The former Heisman Trophy winner-turned-NFL flameout-turned-professional baseball player's first at-bat began with a round of applause from crowd in Port St. Lucie, Florida.
It ended quickly, courtesy of Rick Porcello.
.@TimTebow steps to the plate for his FIRST at-bat in a #SpringTraining game: https://t.co/lNaAimk6Eb pic.twitter.com/a5mEv0cnR8

— MLB (@MLB) March 8, 2017
After taking a first-pitch strike and a ball inside, Tebow took a big swing (and miss) at the AL CY Young award-winner's third pitch. He went down looking at Porcello's fourth pitch — much to the home crowd's displeasure.
Tebow gets called out on strikes, and the crowd is not happy about it. pic.twitter.com/26OfjhFsxK

— (((Lichtenstein))) (@ABLichtenstein) March 8, 2017
Tebow — batting eighth as the Mets's designated hitter Wednesday — is continuing his pursuit of a professional baseball career after a rough stint last year with a Mets's affiliate in the Arizona Fall League.
He returned to the plate in the fourth inning Wednesday to face off against Red Sox pitcher Noe Ramirez with the bases loaded and no outs. The result was a 4-6-3 double play.
Tebow's at-bat did, however, produce a run for the Mets, but — because of MLB rules — he was not credited with an RBI.
In his third at-bat, Tebow was hit by a high-and-inside pitch from Red Sox lefty Brian Johnson. But was shortly thereafter doubled-off after being caught too far off first base on a line drive.
https://twitter.com/ABLichtenstein/status/839573059044589568