Red Sox
What's the new ballpark food at Fenway Park this year? Lobster poutine.
And that's not all.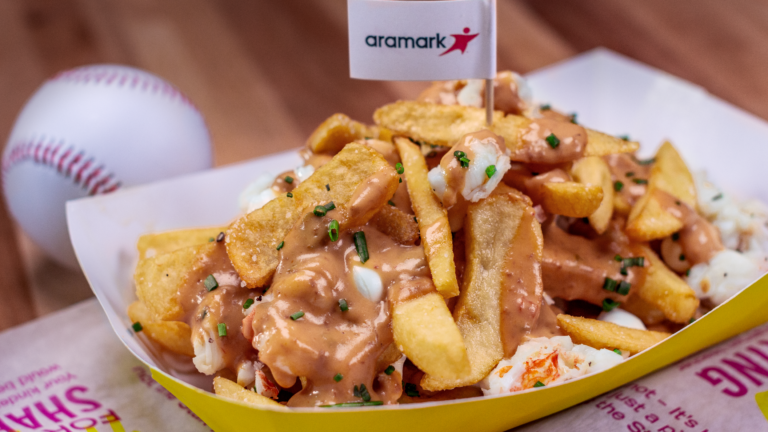 In the past, Fenway Park has refrained from indulging in the extravagant ballpark food trend, opting for tradition over Guy Fieri-esque creations.
But that might be changing this year, if ever so slightly. In addition to Chris Sale, Red Sox fans can look forward to a slate of exotic seafood concessions this season at Fenway.
The new 2017 menu includes a "Lobster Poutine Stak," a New England take on the French-Canadian delicacy. According to Fenway Park food vendor Aramark, the dish (pictured above) consists of steak fries, covered in fresh lobster meat, cheese curds, bisque, and chives.
Fenway Park is also throwing some high cheese this year with its new "Lobster Melt."
The sandwich is essentially a grilled cheese, elevated with lobster meat, muenster cheese, and sliced tomato.
The third menu addition this year is Aramark's "Surf & Turf Kebab," which includes skewered shrimp, lightly marinated steak tips, and fresh green and red peppers, served on a long roll.
Fenway Park will also continue to make use of its rooftop farm, which was established in 2015 and has been used to grow produce for the stadium concessions. According to Aramark, Fenway Farms hopes to grow over 7,500 pounds of organic produce this season.
The rooftop farm will also provide "different seasonal offerings" for new make-your-own salad and fruit bars at the ballpark's concessions.
In recent years, the park has added a Tasty Burger stand, sushi, and meat supplied from a local butcher shop.
There's no burgerizza, but Fenway Park's evolving menu might surprise some foodie Red Sox fans this year.