Red Sox
10 takeaways from the Red Sox' offseason
From an unforeseen October sweep to some unsettled Spring questions.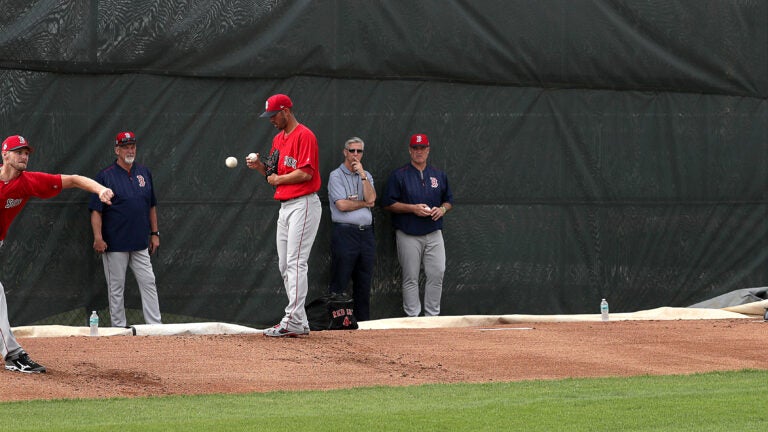 COMMENTARY
1. Good move to pick up Farrell's option
The offseason began with Red Sox president of baseball operations Dave Dombrowski casually mentioning that the club would retain John Farrell for 2017. As it continued, the club announced it had exercised its option to extend the manager's contract through 2018, as well. Regardless of what you think of Farrell's in-game abilities, once the first was decided it was essential to also do the second.
Picking up the option suggests that Sox ownership has learned a lesson from 2011, when it let Terry Francona linger as a lame duck in the dugout, and by September the chicken-and-beer-defined malcontentedness had sabotaged a promising season. Failing to formally support Farrell beyond this season could've put him in a similar position of undermined authority, and that might've been particularly dangerous considering that injuries to David Price and others on the pitching staff could create some early struggles. Questions about the manager's job security are sure to arise anyway if the club lags behind lofty expectations, but guaranteeing Farrell his money for next year at least projects the message to players that the front office and the field boss are unified.
2. Sale the savior
In announcing the deal for Chris Sale, Dombrowski acknowledged that the Sox weren't necessarily seeking high-end starting pitching, and adding the lanky lefty seemed a luxury with Price and Rick Porcello already leading the way. But with an arm injury sidelining Price for an undetermined period, the acquisition of Sale suddenly looks more like a potential season-saver than a cherry atop the rotation.
Even if Porcello regresses slightly from his Cy Young form, a vintage Sale season figures to be what separates Boston from the rest of the AL East. His consistency, his sustained excellence, and his ability to dominate are exactly the types of reliable assets this rotation needs at this point.
3. Eighth-inning insufficiently addressed
Boston's most glaring issue last season regularly showed up in the seventh and eighth innings, as Farrell never seemed to identify a setup man he could trust. Koji Uehara, Junichi Tazawa, and Brad Ziegler all had opportunities to seize that role. After they didn't, it makes sense that the Sox moved on from each.
However, Dombrowski may not have gone far enough to replace them. He traded for the Brewers' Tyler Thornburg, whose stats and stuff make him a stellar candidate to be the bridge to Craig Kimbrel, but otherwise that slot went unaddressed. So when Thornburg opens the season on the disabled list with a shoulder impingement, the role appears as vacant as it was last summer. With Carson Smith out until at least June, Farrell is left with Joe Kelly and Matt Barnes, each of whom is a heart attack waiting to happen given their command issues, or Heath Hembree, who doesn't have much high-leverage experience and is vulnerable to lefties.
The Red Sox may pay for not giving the manager more alternatives to work with.
4. Is Ortiz's absence being underestimated?
If you were paying attention to the final weekend of the 2016 regular season you may wonder how this could even be possible. But while David Ortiz's retirement is certainly being widely acknowledged, it remains to be seen if the Sox have done enough to replace the production of a slugger who created more runs than all but four AL hitters last season.
If their players perform to last year's level, they'll be fine — especially if Andrew Benintendi and Pablo Sandoval can improve the left field and third base numbers in a lineup that returns eight players whose adjusted OPS was better than the league average in 2016. But regression is a concern in some spots. So is replacing Ortiz with a hitter whose OPS was 301 points lower last year (Mitch Moreland, 1.021-.720).
It's also worth noting that part of the reason they posted an AL-best 878 runs last season was that their seven best hitters all played at least 150 games, including the playoffs. If the loss of Ortiz is combined with a key injury or two it could present the type of trouble Boston's offseason activities don't appear to have guarded against.
5. The luxury tax threshold
There's a justifiable reason for the shortcomings of the Red Sox roster, of course. Boston finds itself with little money to spend before reaching MLB's luxury tax threshold, and the sport's new collective bargaining agreement increased the tax penalties for teams that cross that threshold in consecutive seasons. If the Sox' payroll pushed beyond $195 million, they'd pay a 50 percent tax on every dollar spent over that next season.
Especially with long-term considerations at play — including eventual raises for guys like Mookie Betts and Xander Bogaerts — it makes sense to weigh the benefits of adding depth externally against trusting what might be available within the organization. Though when it comes to the eighth inning, or Ortiz's replacement, or a right-handed compliment for Moreland if Hanley Ramirez can't play first base, those holes could still be killers. Even if they're decisions dictated more by the bottom line than the baseball ramifications.
6. Buchholz trade came too early
After trading Clay Buchholz on Dec. 20, the Sox signed six low-cost players to minor-league contracts and claimed another off waivers. They didn't make another trade. Nor did they reach agreements on long-term raises for their young stars. So even after reporting to Fort Myers and having questions raised about the health of Price, Stephen Wright, Eduardo Rodriguez, and Drew Pomeranz — likely options 3-6 in the starting rotation — it was clear why the Sox wanted to trade the team's longest-tenured starter. They didn't want to pay him $13.5 million for 2017.
What remains unclear is why Boston was in such a hurry to ship Buchholz away for practically nothing. Had the Sox been more patient they could well have increased his value by preying on the desperation of another pitcher-starved team, or at least left open other possibilities of using Buchholz to address holes on their own roster. In a year where the free-agent pitching market was thin, a proven — albeit enigmatic — major-league starter with a reasonable salary could've been utilized more effectively.
7. Lingering injuries
The shoulder injury that ended Steven Wright's 2016 remained a concern into spring training 2017. So did the knee issues that plagued Eduardo Rodriguez for parts of last season. So did Pomeranz's forearm and elbow ailments. And so did the shoulder injury that Ramirez told the Globe he's been dealing with for a couple of years now.
All four are expected to be contributors by mid-April, if not immediately. But that four key pieces — plus Smith, who could eventually be a huge factor out of the bullpen — are still at some level of concern after an entire offseason to get healthy doesn't seem to bode well for the ability of their bodies to hold up to the rigors of the campaign.
8. Sandoval is back
The early part of the offseason offered a tease from Pablo Sandoval, with pictures suggesting he'd lost a noticeable amount of weight. Then that tease provided a payoff in the spring, when he hit five Grapefruit League homers and won the starting job at third base.
Sandoval has a long way to go in proving himself worthy of the contract the Sox gave him prior to the 2015 season, but it should be remembered that when he's committed he typically plays hard and can do a variety of things to help his team win. (As evidence, remember back to April 2015, when he raised opponents' eyebrows with a couple of hard takeout slides.) If his offseason investment translates over a full season he has the potential to transform from a pariah back into the Panda.
9. Prospects are prospects
After the Red Sox sent two top prospects to Chicago for Sale — following up the significant farm capital previously paid for Kimbrel, Pomeranz, and Thornburg — some expressed concerns that Dombrowski's aggressiveness might have gone too far in depleting his organization's top-end minor-league resources. But as that conversation was being debated, this offseason provided another reminder that prospects, even good ones, are far from a certain commodity.
As the Sox played out the string in 2014, their roster featured a handful of up-and-comers looking to establish their big-league bona fides. This winter, six of them who'd at least once been listed among baseball's 100 best prospects were freely available to any club interested. All are 29 or younger. None of them signed a major-league contract, or will break camp with a major-league job.
Will Middlebrooks, granted free agency by the Brewers, will go to the Rangers' Triple-A affiliate. His teammate there will be Allen Webster, who returns to the United States after pitching in Korea last season. Anthony Ranaudo will pitch in Korea this season after being released by the White Sox. Non-tendered after 2016, Rubby De La Rosa will work through an elbow injury, and likely be converted to a reliever, in the Diamondbacks' minor-league system. Garin Cecchini was designated for assignment by the Brewers, then given a minor-league pact by the Royals, who sent him to Triple-A. And Drake Britton remains unsigned by an affiliated team after being suspended 50 games for amphetamine use late last season, while pitching at Triple-A.  Remember: prospects are just that.
10. They haven't gained on Cleveland
The Indians are the team the Red Sox need to catch in the American League, after Cleveland finished a game ahead of Boston, sweeping the Sox in the Divisional Series, and capturing the pennant. But even with the addition of Sale, the Red Sox don't seem to have made any ground on the Tribe.
The Indians team that eliminated the Sox was missing Carlos Carasco and Danny Salazar, two starters with the potential to be among the AL's better arms. They added slugger Edwin Encarnacion to the heart of their order, and they're also awaiting the return of former All-Star Michael Brantley.
Especially with the uncertainty surrounding Price and Thornburg, it's hard to say Boston is better than it was last October. For the reigning AL champs, though, making that case is fairly easy.