Red Sox
Breaking down the Red Sox' Opening Day roster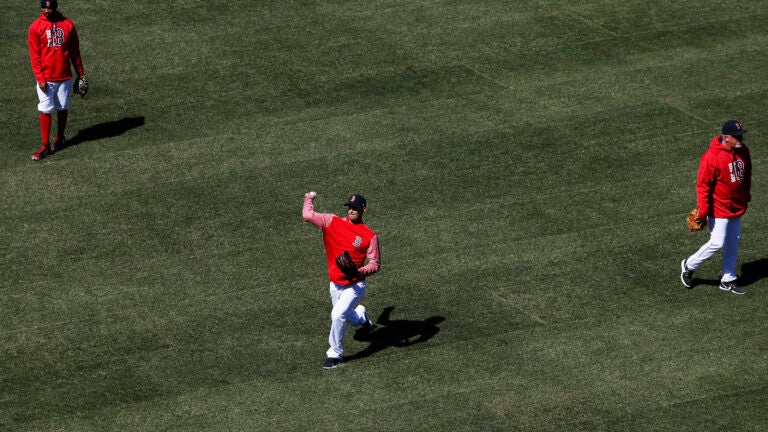 COMMENTARY
The Boston Red Sox's 2016 season was an odd combination of success and disappointment. After last-place finishes the previous two seasons, the Sox surged back to the top of the American League East thanks in large part to the blossoming of their most talented young hitters. From July 1 through the end of the regular season, Boston compiled a 51-33 (.607) record that was the best in the AL over that span and second-best in the majors, just 1 1/2 games behind the Cubs. However, the eventual pennant-winning Cleveland Indians quickly dispatched the Sox in the Division Series, bringing Boston's season, and David Ortiz's career, to a seemingly premature end.
Favorites to repeat as division champions heading into the 2017 season, the Red Sox have good reason to expect, not only another division title, but the deep postseason run that eluded them last year. Yet, no team starts a new season exactly where it left off the last, and as good as the Red Sox are, they're unlikely to match their 98-win pace from the final three months of last season. With the regular season set to start Monday afternoon with a 2:05 game at Fenway Park against the Pirates, here is a closer look at the team the Red Sox are taking into battle this season.
Lineup
2B – Dustin Pedroia (R)
LF – Andrew Benintendi (L)
RF – Mookie Betts (R)
DH – Hanley Ramirez (R)
1B – Mitch Moreland (L)
SS – Xander Bogaerts (R)
CF – Jackie Bradley Jr. (L)
3B – Pablo Sandoval (S)
C – Sandy Leon (S)
Boston's bats were the engine that powered the Red Sox's success last year, as the team led the majors with 878 runs scored and 5.42 runs per game. This year's team will have to be more balanced, as a repeat of that performance is extremely unlikely. The primary reason for that is, of course, Ortiz's retirement. The flip side of Ortiz having one of the greatest final seasons in major league history is that his retirement also stands as one of the greatest uncompensated losses a team has ever suffered, in terms of raw value. Ortiz was worth somewhere between 40 and 50 runs above replacement level last year, depending on the metric you consult, and the Red Sox made no direct effort to replace that production in their lineup.
With Hanley Ramirez shifting from first base to designated hitter, Ortiz's ostensible replacement is 31-year-old former Rangers first baseman Mitch Moreland, who was signed to a one-year, $5.5 million contract in December. Moreland has never been worth as many as 20 runs above replacement level in his career and is coming off a season in which he hit .233/.298/.422 and was actually below replacement level at his position. Moreland will represent a defensive upgrade over Ramirez, one worth roughly one win, but despite Moreland's undeserved Gold Glove last year, that has more to do with Ramirez's continued defensive limitations than Moreland's abilities. Speaking of which, the Sox's plan to maximize Moreland's value by sitting him against left-handed starters, with right-handed fourth outfielder Chris Young starting those games at DH and pushing Ramirez into the field, is temporarily on hold as Ramirez's sore right shoulder is preventing him from playing the field.
The Sox could experience additional regression elsewhere. The erratic and fragile Ramirez is 33 and opening the season with a bad shoulder. Dustin Pedroia is also 33 and coming off his best performance of the last three years. Mookie Betts, who was the runner-up for the AL's Most Valuable Player in 2016, and Jackie Bradley Jr., who joined Betts as a first-time All-Star, both exceeded expectations last year and could experience some course correction.
One player who is guaranteed to regress is 28-year-old catcher Sandy Leon, whose .310/.369/.476 line in 283 plate appearances last year stands out like a sore thumb in a career of sub-.700 OPS seasons. However, the Red Sox catching corps as a group hit just .250/.310/.355 last year, and with Blake Swihart waiting in Triple-A to replace Leon should he stumble, it's not unrealistic to believe that the Red Sox could repeat that performance as a team. Similarly, the .242/.306/.380 line compiled by Boston's third basemen last year is a realistic target for the surgically repaired, slimmed-down, and rededicated Pablo Sandoval.
Still, the only likely upgrade in the lineup is the one represented by rookie left fielder Andrew Benintendi, whom Baseball America named the top prospect in baseball in February. Boston's left fielders hit .268/.337/.423 last year, a line that included Benintendi's .295/.359/.476 in 34 big league games. The 22-year-old should equal or surpass that debut performance this year in a season that could easily net him the AL's Rookie of the Year award.
Though it is encouraging that manager John Farrell has decided to bat him second to maximize his opportunities, Benintendi alone won't be able to compensate for the Red Sox's other losses at the plate. Still, while the Red Sox's lineup won't be the juggernaut it was last year, and Ortiz's absence will be glaring, Boston outscored the next-best team in the AL by 101 runs last year and should once again boast one of the most potent offenses in the league.
Bench
UT – Brock Holt (L)
OF – Chris Young (R)
OF/1B – Steve Selsky (R)
C – Christian Vazquez (R)
Sandoval's return and Benintendi's arrival will allow Holt to return to his most valuable role, as a utility man who can play anywhere in the infield or outfield to both rest the team's regulars and prevent those positions from dropping to replacement level in their absence. Young is an excellent fourth outfielder who will draw his share of starts against lefties, be it as part of the Moreland platoon or by spelling lefties Bradley and Benintendi in the outfield, though he is also a candidate for regression at the plate after posting a career-best OPS+ in his age-32 season last year. Vazquez, who was the starting catcher for most of the first half of last year, is also back in his proper role as a good-field/no-hit backup. Injuries to veteran Rule 5 pick Josh Rutledge (left hamstring strain) and Hanley Ramirez's shoulder opened the door for 27-year-old rookie Steve Selsky to take the final bench spot. Plucked off waivers from the Reds in January, Selsky hit .314/.340/.471 in 24 games for Cincinnati last year and is a career .295/.379/.459 hitter in the minors. He will spell Moreland against lefties until Ramirez's shoulder heals, at which point his performance will decide whether or not he is farmed out for a utility infielder such as Rutledge or 24-year-old Marco Hernandez. Altogether, this is a better bench than the Red Sox opened the season with a year ago.
Rotation
R – Rick Porcello
L – Chris Sale
L – Drew Pomeranz
R – Steven Wright
L – Eduardo Rodriguez
L – David Price (DL)
When the Red Sox acquired White Sox ace Chris Sale during the winter meetings in December, the Boston rotation looked like it could be the best in baseball. After all, it boasted last year's AL Cy Young Award winner in Opening Day starter Rick Porcello, last season's big left-handed addition David Price, who won the Cy Young in 2012 and was the runner up in 2015, Sale, who has finished in the top 6 in the Cy Young voting in each of his five seasons as a major league starter, and last year's deadline addition Drew Pomeranz, a former first-round pick who made his first All-Star Game with the Padres earlier last year.
Injuries have cast doubt on the Boston rotation, however. An elbow issue interrupted Price's spring after his first exhibition start, and he is expected to miss at least the first month of the season, with no clear timetable for his return. Pomeranz will also open the season on the DL, though that's mostly a procedural move designed to sneak an extra player onto the roster for the first five games of the season. Pomeranz is scheduled to start on April 9 in Detroit, but there are lingering concerns about the health of his arm. Knuckleballer Steven Wright has also had some injury issues in camp, most recently some soreness in his left knee.
Still, even with those concerns, Porcello and Sale represent a tremendous 1-2 punch. Sale should be the ace Price struggled to be last year. Porcello won't go 22-4 again this season, but I believe he can otherwise replicate his breakout season this year. Pomeranz and Wright, both late-blooming first-time All-Stars last year, are better than their respective third and fourth slots in the rotation, and 24-year-old Eduardo Rodriguez is a fifth (or, really, sixth) starter with considerable up-side.
Unfortunately, it's difficult to know how much to expect out of Price or Pomeranz. If they can get a full season out of Pomeranz and a strong half-season out of Price, this might yet be one of the better rotations in baseball. Even if those two merely combine for 30-odd starts and 200-plus innings, this will be a strong rotation. However, as with everything pitching related, there is an ever-present chance of collapse, proving once again, that you can never have enough pitching.
Bullpen
R – Craig Kimbrel
R – Joe Kelly
R – Matt Barnes
L – Robbie Ross Jr.
L – Fernando Abad
R – Heath Hembree
L – Robby Scott
R – Ben Taylor
R – Tyler Thornburg (DL)
R – Carson Smith (DL)
The bullpen was Dave Dombrowski's bugaboo in his final years in Detroit, and one could argue that those struggles are already beginning to bleed into his Red Sox roster. I'll admit to being excited to see what Joe Kelly can do pitching exclusively in relief, as he was dominant in that role down the stretch last year; and Kelly and Kimbrel should be a solid finishing move for Farrell. However, there is some cause for concern given Kimbrel's decline in recent seasons. If it wasn't then, it's clear now that Dombrowski overpaid for Kimbrel, who walked more than five men per nine innings last year and is no longer clearly among the best closers in the game. He also overpaid for Thornburg, something that seemed evident even before a shoulder impingement pushed the former Brewers righty, a 28-year-old who has had just one outstanding major league season, to the DL. The rest of the pen is appropriately middling, and while a mid-season return from Smith, who is working his way back from May 2016 Tommy John surgery, could provide a welcome in-house upgrade, he can't be counted on to recapture his 2015 form. On the other end of things, Ben Taylor is the player keeping a roster spot warm for Pomeranz. A 2015 draft pick out of the University of Southern Alabama, he is a live arm who topped out at Double-A last year and will likely head to Triple-A next Sunday, though he could have an opportunity to return later in the year.