Red Sox
The Red Sox Opening Day All-Stars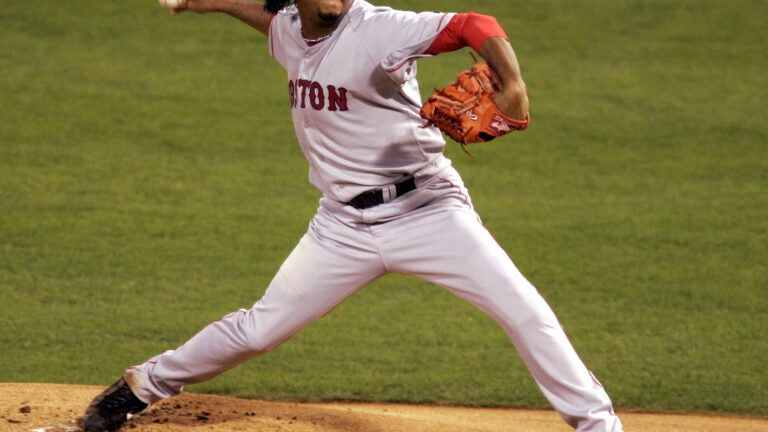 The greatest moment in Red Sox Opening Day history? It has to be everything about the ring ceremony in 2005, right? I don't think that can be argued. But the greatest individual moment? Now that's a matter of debate. So let's break it down by position – here is the best Opening Day performance by a player at every position in Red Sox lore.
C – Carlton Fisk
April 6, 1973
Red Sox 15, Yankees 5
The Red Sox overcame an early 3-0 deficit, piling up 12 runs through the first four innings largely due to reigning Rookie of the Year Fisk, who hit a two-run homer off Mel Stottlemyre in the second inning en route to a three-hit, four-run, six-RBI day. It should be noted with a sigh that Fisk also had success against the Red Sox on opening day – he hit a three-run, eighth-inning home run in his debut with the '81 White Sox to beat the team that let him walk away as a free agent over the winter.
1B – Tony Clark
April 1, 2002
Blue Jays 12, Red Sox 11
I know, I can't believe it either. But baseball-reference deals in nothing but real news, and in this instance it tells us that Clark went 3 for 5 with a homer and three RBIs. It was easily his best performance as a member of the Red Sox – in 298 plate appearances that season, he had three homers and a .556 OPS. And this is allegedly a power-hitting first baseman in the heart of the PED era! He killed them that year. It's funny, for all of the great first basemen the Red Sox have had, there haven't been many opening day performances that were exceptional. Dick Hawblitzel did have a homer, a steal and four RBIs in the 1917 opener, but I'm suspicious that Dick Hawblitzel might be an alias. I nearly went with Mo Vaughn's walk-off grand slam as the Red Sox rallied from five runs down in the ninth to beat the Mariners at Fenway in '98, but that was the home opener, and rules are rules.
2B – Dustin Pedroia
April 6, 2015
Red Sox 8, Phillies 0
Pedroia treated Phillies ace Cole Hamels like he were Jeff Francis in the 2007 World Series or another lesser lefty, homering in the first inning – the second batter of the season — and again in the fifth. So yes, I suppose you can ask Cole Hamels who he is as well.
3B – George Kell
April 16, 1953
Red Sox 11, Athletics 6
The future Hall of Famer delivered RBI singles in the first and fifth innings and a two-run double in the eighth during a four-hit, four-RBI performance. I'm personally partial to Butch Hobson's game-tying home run in the ninth inning against the Brewers in 1980, but the Red Sox lost that game on a Sixto Lezcano grand slam in the bottom half. And yes, I just mentioned this to get Sixto Lezcano into this column.
SS – Joe Cronin
April 15, 1941
Red Sox 9, Senators 8
Batting sixth in a starting lineup that did not include Ted Williams, Cronin went 1 for 3 with a home run and three RBIs. But it was his bases-loaded walk in the ninth – five batters after pinch-hitter Williams singled in the first run in a three-run rally – that gave the Red Sox a walk-off win. Not that they had that term then, of course. A close second: Rico Petrocelli's 3 for 3, 4-RBI performance, including a home run, that in a 5-4 win over the White Sox in '67, a season that would deliver so many other impossibly thrilling moments. Nomar Garciaparra, by the way, went 0 for 5 on his first Opening Day in '97.
LF – Hanley Ramirez
April 6, 2015
Red Sox 8, Phillies 0
Two homers and five RBIs.  Of all of the great left fielders, it's the worst left fielder of all – defensively, at least – who had the biggest day. In his first game with the Red Sox in 10 years, Ramirez joined Pedroia in homering twice, once off Hamels in the fifth inning and again against Jake Diekman in the ninth, en route to a five-RBI performance. Honorable mention goes to roughly a half dozen Ted Williams performances, the best of which was a three-hit, five-RBI gem in an 8-3 win over the Athletics to kick off the '42 season.
CF – Ira Flagstead
April 14, 1925
Athletics 9, Red Sox 8
Going old school on you here. I actually thought the answer would be Carl Everett, who was wildly popular for about a month or two with the 2000 Red Sox before he started headbutting umpires and brawling with teammates and generally doing things that will lead to you becoming unpopular. But the big game I was thinking of was actually the home opener that year, when he clubbed a pair of homers in their eighth game of the season. So it's actually Flagstead, who had four hits – including a homer and a steal – in the loss to the A's. The Red Sox leadoff hitter followed up with another four-hit game in the '26 opener.
RF – Dwight Evans
April 7, 1986
Tigers 6, Red Sox 5
It's impossible to resist Evans's first-pitch-of-the-season home run christening what would be a memorable 1986 season against Jack Morris and the Tigers. But it's forgotten that the Red Sox actually lost that game, with Kirk Gibson homering twice. Solet's also acknowledge a very tempting runner-up:  Tony Conigliario's comeback performance. Tony C. missed the entire '68 season after his gruesome beaning the previous August. But in the '69 opener, he reminded Red Sox fans, as if any had forgotten, of what they were missing, delivering two hits, including a two-run homer in the top of the 10th inning in an eventual 5-4, 12-inning win over the Orioles.
LHP – Babe Ruth
April 12, 1916
Red Sox 2, A's 1
Allowed four hits and one unearned run in 8.1 innings, striking out six. Went 0-for-2 at the plate, however, batting from the No. 9 spot. Guy just could not hit a lick.
RHP – Pedro Martinez
April 10, 1998
Red Sox 2, A's 0
There have been more than a few superb Opening Day starts in Red Sox history. Wes Ferrell threw a two-hit shutout of the Yankees in 1935.  Eck shut out the Orioles in '82. Heck, in a sign that hope truly does spring eternal, even Aaron Sele ('95) and Clay Buchholz ('15) pitched shutout ball, though not in complete games. But this choice here has to be the first of Pedro Martinez's seven straight Opening Day starts, because of the anticipation fulfilled. It was a West Coast game, against the A's, so we had to wait a little longer to see him make his Red Sox debut after the offseason trade that brought him from the Expos. It wasn't the most masterful performance of his career – he pitched three-hit, shutout ball for seven innings, striking out 11 – but it was a confirmation that the Red Sox had a real ace again, and a delightful harbinger of the sparkling brilliance to come.
RP – Bill Lee
April 7, 1970
The artist eventually known as the Spacemen earned the save in relief of Gary Peters, allowing just one hit in 3.2 innings of relief.
DH – David Ortiz
April 5, 2016
Red Sox 6, Indians 2
The first game in one of the most spectacular farewell seasons in baseball history, Ortiz had a homer, double and a walk in the win. I could have gone with Jack Clark's grand slam in the '91 opener, but no one remembers Jack Clark ever hit a home run for the Red Sox and probably wouldn't believe it if I insisted.