Red Sox
Pablo Sandoval back contributing to Red Sox and his own redemption story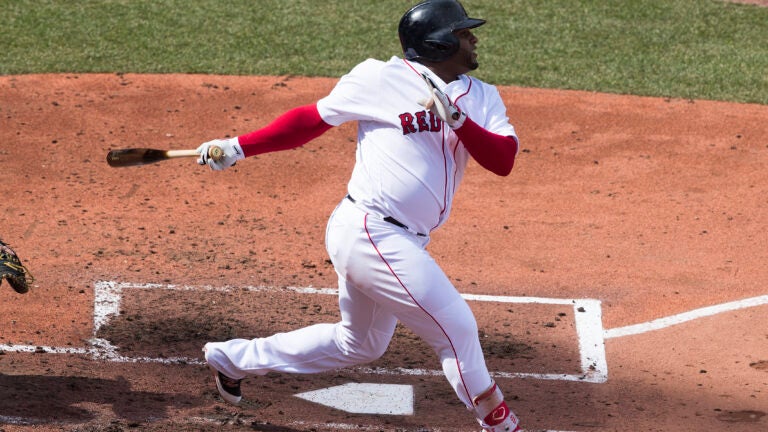 COMMENTARY
One game into the new season is hardly a large enough sample to determine whether Pablo Sandoval will author a redemption story in 2017. But this much we do know: He came up with a decent opening line.
The box score tells us that Sandoval, playing his first regular-season major league game since last April 10 when a shoulder injury abruptly abbreviated his second season with the Red Sox, went 1 for 4 with a run scored and one batted in a season-opening 5-3 victory over the Pirates.
He drove in the Red Sox' first run of 2017, legging out an infield single to score Jackie Bradley Jr. in the fifth inning in what was still a scoreless game. That's one more RBI than Sandoval had in seven plate appearances during his lost 2016 season.
He acknowledged afterward that it was fulfilling not just to be back on the field, but to have immediately found a meaningful way to contribute.
"It feels good, especially since we got the opening win,'' said Sandoval, who smiles easily but doesn't say much. "I've been waiting for this moment for the last year. So it's exciting."
Sandoval has been a polarizing figure since signing a five-year, $95 million contract with the Red Sox in November 2014 after seven seasons with the Giants. Nicknamed Panda for reasons that shouldn't require much elaboration, he was a well-known and popular player nationally, having hit .294 with an .811 OPS in the regular season for the Giants.
He was especially potent during the Giants' three World Series championships during his tenure — he owns a lifetime .426 batting average, with a 1.167 OPS, in 50 plate appearances in the Fall Classic.
But his offensive performance declined for three consecutive seasons in San Francisco, and career-long weight issues were presumed a culprit. His OPS fell from .909 in 2011 to .739 in 2014 — and it outright collapsed during his first season in Boston, falling to .658 in '15. He hit just .245 with 10 home runs, and his defense significantly declined as well. Redemption was supposed to come last year. Instead, injury put his hopes of winning over Red Sox fans on a year-long hiatus.
Sandoval received a lukewarm cheer from Red Sox fans — who were encouraged to applaud him by co-emcee Joe Castiglione — during pregame introductions. But that was an upgrade on the boos he heard a year ago. To his credit, he seems determined, in actions rather than words, to redeem himself to Red Sox fans and live up to that steep contract as best he can. He arrived at spring training down an estimated 40 pounds, and he swung the bat like his old self, hitting .339 with a team-high five homers in Grapefruit League action.
The Red Sox led the majors in runs last season (878), but with David Ortiz apparently intent on staying retired, Sandoval is among those who will be called upon to pick up the slack.
"We have a great lineup and everyone does their part,'' said Sandoval, whose next game will be the 1,000th of his career. "It was good to be able to be a part of that today."
He did his part, though it should not be suggested that it was anything resembling a spectacular performance. It did have its imperfections. He struck out twice and left three runners on base, including a pair with two outs in the eighth inning after the Pirates had climbed within two runs in the top half.
And it remains uncertain whether he will return to his steady defensive form from his Giants days at third base. Monday, he made a throwing error on Pirates leadoff hitter Adam Frazier's grounder to begin the sixth, slinging a throw to first that hopped and ate up first baseman Mitch Moreland, a Gold Glove winner a season ago.
It was not Sandoval's throwing shoulder that was injured, but his left one. He underwent surgery, performed by renowned Dr. James Andrews, to repair a torn labrum last May. But it's taken him some time to rebuild his comfort level defensively. He indicated that his errant throw was not the byproduct of any lingering effects from the injury or discomfort with his shoulders in general.
"The arm feels good,'' said Sandoval. "The shoulder too. I'm not complaining. I'm confident. It's part of the game."
For Sandoval, it was satisfying after a year in injury limbo to be part of the game again. That he was a fairly important part of it meant a lot as well. "It was a good day,'' he said. "I'm happy I could help. It's been a long wait."