Red Sox
Pablo Sandoval could be an unexpected bonus for the Red Sox this season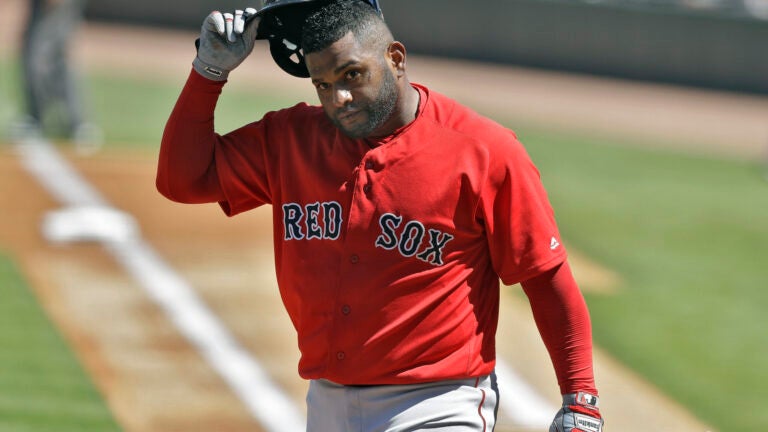 COMMENTARY
Red Sox fans are excited for the start of another season, but excitement comes in many shapes and forms.
In real life, excitement can be jumping out of an airplane or walking down the aisle on your wedding day. It can be the pizza guy ringing the doorbell when your stomach is on empty or a kid unwrapping a giant present on Christmas. More abstractly, excitement can be walking into the kitchen after a long, sweaty jog in the dead of summer, and seeing a glass of water on the kitchen table. Without thinking, almost delusional, you stumble over, grab the glass, take a swig, and just before it hits your lips, your brain wonders: "Hmm, now what did I do with that glass of vodka I was drinking during last night's game?" By now, it's too late to turn back. You're either in for a treat or a train wreck. That split second is terrifying but it's still exciting. Excitement is all about what's next. It's a rush. It's impatience. It's anticipation. It's the unknown.
Thankfully most of this year's Red Sox excitement is not of the terrifying but more the optimistic and hopeful variety. As a team, the Sox are favored to repeat as AL East champs (which they've never done, by the way). They have the second-best odds of winning the American League (behind Cleveland) and the third-best of winning it all. On an individual level, Mookie Betts is Boston's soul mate and we can't wait to walk down the aisle. Chris Sale is a giant gift sitting under the tree.
When the delivery guy shows up with pizza, we know there's a chance it won't taste as good as last time. There's also a chance it will taste better, or basically taste the same, but either way it's pizza so we know it will be good. We know Xander Bogaerts will be one of the best all-around shortstops in baseball. We know Jackie Bradley will be one of the best defensive outfielders. We know Andrew Benintendi's only scratching the surface. We know Dustin Pedroia will get it done as the leadoff man and Hanley Ramirez should do the same in the cleanup spot. On the mound, we know it's possible a reigning Cy Young will eventually be the third best pitcher in the rotation, and that while MLB bullpens are about as calm and steady as a free fall from an airplane, Craig Kimbrel is one of the game's most reliable parachutes.
In the big picture, we know the Sox are in solid shape. We know Boston has it pretty good. We know it could certainly be a whole lot worse. But for the life of us, we don't know what to make of Pablo Sandoval. Is he a bust or a beacon of hope? A luxury or a necessity? A refreshing glass of water or a nasty, unexpected swig of vodka?
Sandoval's struggles with the Sox are well-documented, but in case you're a masochist here's a quick recap of how we got here:
2014: The Sox outbid themselves for Sandoval's services to the tune of 95 million dollars over five years.
2015: Sandoval's services aren't worth five dollars over 95 million years.
2016: Sandoval shows up at Spring Training looking like Chris Farley at a Chippendale's audition.
Even worse, he's smug and defiant.
"It's not a disappointment," he tells reporters about his undeniably disappointing debut season. "I don't got nothing to prove," he later added.
Then he lost his job to Travis Shaw. Then he was shut down with a bad shoulder after only three games.
He was essentially paid $17.6M for his role in the hit comedy "Fat Guy Busts His Belt Open."
From there it sure seemed we'd seen the last of Sandoval in Boston. He'd be traded for a sack of balls and a fungo bat, or outright released to take his place alongside Carl Crawford as Boston's worst signing in 40+ years of free agency. Generally speaking, Sandoval was a bum. He was a thief. He was everything wrong with the athletes of today. Then three things happened.
1. Sandoval showed up in Fort Myers looking like a different guy.
He was slimmer. He was more defined. He no longer needed a bra.
He'd clearly put serious work in over the offseason.
2. He said all the right things.
Where last year he was in denial, this year he shot straight. He owned everything. He admitted he wasn't proud of what he'd become; that he'd grown complacent and didn't work hard enough. He talked about the birth of his son, and rekindling his fire, and the desire for Baby Panda to watch dad play well into his 30s. Sandoval was clearly a happier guy and a healthier guy but while that's great within the context of humanity, there was one lingering question — can he still play?
After all, this is a guy whose career highs in batting average (.330), home runs (25) and RBI (90) all came his rookie year. In seven seasons since, he batted over .300 only once and hit 20+ home runs only once. He never had another season with more than 80 RBI. Even his best-case scenario (in the regular season at least) wasn't that great. Add that to his discomfort in Boston and his summertime transition to the wrong side of 30, and it was fair to assume even a happy and healthy Pablo Sandoval might make for a subpar Major League player. Especially on a team with championship aspirations.
3. Sandoval took the field in Spring Training and tore it up.
He hit .350. He led the majors with 20 RBI. He hit five home runs in 61 plate appearances after hitting 10 in his previous 512. He started switch hitting again. His defense was solid. He set the bar so low those first two seasons, but he started this season doing everything expected of him and more.
So what gives?
What's next?
No one is naïve enough to pencil Sandoval in for a comeback campaign, but he's forced us to consider it. He wasn't given his starting job back. He won it. He earned it. He has a track record of performing when his mind, body and soul are aligned, and with Opening Day on the horizon, that certainly seems to be the case.
At the same time, those first three steps won't mean a thing without a fourth step, and a fifth step, and unless Sandoval never stops moving in the right direction. Anyone who's struggled with weight knows losing it is hard, but keeping it off is much harder. Anyone who's struggled with motivation knows getting motivated is no match for staying motivated. Sandoval has come a long way, and his climb has only begun, but still it's fair to wonder if this guy, once written off as a cautionary tale, might now be a vital cog in the Sox keeping pace in a post-David Ortiz world.
No one person can fill the void left by Ortiz, but the beauty is that no one person has to. It will take a group effort, and the Sox just might have the group to do it. Let's say Betts is just a little better than he was last year. Let's say Bogaerts puts in two halves closer to last year's first half. Let's say Benintendi can give more than the combination of Brock Holt and Chris Young. Let's say Pedroia and Ramirez remain stable, Jackie Bradley gets his average up just a little bit and Mitch Moreland jacks a cool 25 home runs. In that case, how much would they even need from Pablo Sandoval? Forget the expectations of that silly contract. Ignore what the Sox are giving him and focus on what he'd have to give them in order to keep scoring at the rate they're accustomed and buy the rotation some time.
Would it take more than the .242/16/71 Travis Shaw posted last season? That seems doable. That's at least a start. That's an expectation where until recently there were none. That's a guy contributing instead of straight up stealing. That's some of the $95M assumed already flushed down the toilet, getting plunged out and put to use. But right now, even that's not set in stone. Even that is wishful thinking. Pablo Sandoval hasn't earned the benefit of the doubt in Boston, so there's no reason to give it to him.
All we can do is close our eyes and pray for water, brace for vodka, and bask in the excitement of the truth finally revealed.