Red Sox
Here are all the Red Sox players who have been affected by the flu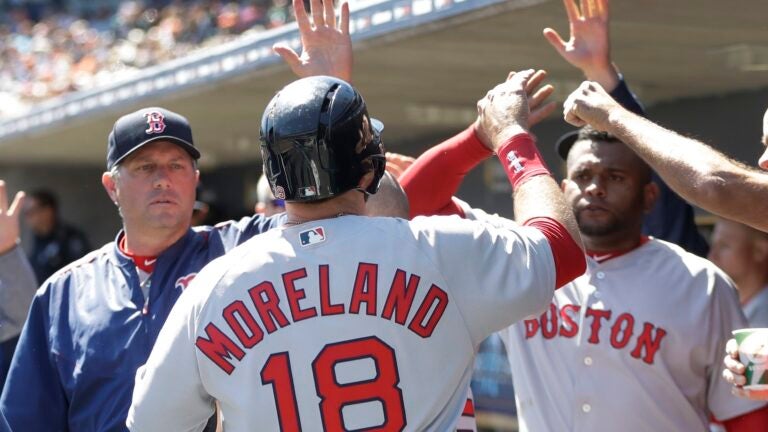 Give the Detroit Tigers credit, but the Red Sox's losses this season can be attributed as much to their opponent on the field as it can be their opponent off it.
The team's roster has been ravaged by sickness, primarily a strain a flu, during the opening week of the 2017 season. Even play-by-play broadcast Dave O'Brien had to leave mid-game Saturday due to flu-like symptoms. In fact, the entire state of Massachusetts has seen a recent uptick in flu cases.
"This hasn't been able to be contained from one certain group to another or a couple of guys," manager John Farrell recently told the Providence Journal.
"There's three different things that are going around — one's a respiratory one, one's flu-like symptoms, and one is the full-blown flu," Farrell said.
Here are all the Red Sox players who have fallen ill in the past week:
Mitch Moreland
The Red Sox newcomer was reportedly one of the first to go down with the virus. According to The Boston Globe, Moreland stayed in Fort Myers after testing positive March 28 and missed the team's preseason trip to Washington, D.C. Moreland told ESPN he had a fever of 103.2, or "something like that."
"And I think I dropped close to 12 pounds in a week," he said.
Mookie Betts
Betts went down with the flu early last week and, after playing in Opening Day, was kept out of the Red Sox starting lineup every game until Sunday.
Robbie Ross Jr.
The lefty reliever also caught the sickness early on, and was actually placed on the 10-day disabled list Thursday (retroactive to Monday).
Brock Holt
Holt also sat out Wednesday's game, but according to ESPN, tested negative for the flu. Rather, the 28-year-old utility man, who returned to the lineup Friday, said he contracted some sort of stomach bug.
Hanley Ramirez
After surviving through the week, the Red Sox designated hitter has missed the last three games due to the flu. Neither Ramirez nor Betts initially traveled Thursday with the team to Detroit.
Joe Kelly
The latest victim of the clubhouse epidemic, Kelly was reportedly kept back at the team hotel before Saturday's loss with the flu. At least, as the Journal notes, his case was well-timed, since the reliever was slated for a day of rest anyway.
Andrew Benintendi
While Benintendi has soldiered through without missing a game, the left fielder was vomiting during the sixth inning Saturday, manager John Farrell told reporters Sunday.
"We're hopeful that was just a one-time deal," Farrell said, according to the Boston Herald.
Benintendi played again and went 1-5 in Sunday's win.