Red Sox
Red Sox player power rankings: Mitch Moreland off to a surprising start
That Chris Sale guy has been pretty good, too.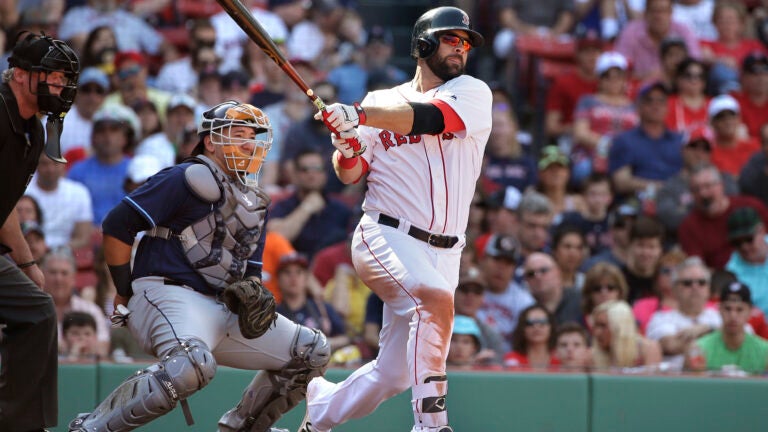 COMMENTARY
All things considered, the Red Sox came out of the first two weeks OK. For a minute, it seemed as though Captain Trips was originated not in a remote Army base in Stephen King's fictional world, but in the Red Sox clubhouse. Fortunately, the SuperFlu seems to have faded, and the Sox are back to business, as they won three out of four to close out the weekend. It was rarely pretty, but the team is 7-5, and things could always be worse. At least they're not 2-10 like Toronto is. To the rankings!
31. Josh Rutledge (Last: 31): He's nearing a return, but the team doesn't need him.
30. Steve Selsky (30): He's still on the active roster, but the team doesn't need him either. He should be the player who goes down when Jackie Bradley Jr. returns.
29. Roenis Elias (27): Still on the disabled list, the Sox are hoping they don't need Elias at any point this season. But since he's currently injured, it's a moot point for now.
28. Fernando Abad (28): Matt Collins wrote about Abad over at Over The Monster on Wednesday. In his piece, he pointed out that Abad doesn't have much utility on the roster, as to that point, Abad hadn't pitched at all. He did manage to get into two games subsequently – in the sixth inning with the Sox down four, and in the eighth with the Sox down eight. He's in a mop-up role, but the role doesn't really suit him, since he can't pitch multiple innings at a time, and his days on the roster could be numbered.
27. Brock Holt (22): He's started just four of the first 12 games, and with both Pablo Sandoval and Marco Hernandez playing capably, it's not clear that Holt is more deserving of playing time than any position player on the current roster, outside of Selsky.
26. Tyler Thornburg (25): He's just started throwing, and doesn't seem close to returning. Good times.
25. Robbie Ross Jr. (20): He missed the first 10 days of the season with the aforementioned flu, and only pitched once – Friday, when the Sox were getting killed. He gave up two runs. Ross will get on track eventually, but he'd probably like to forget this fortnight.
24. Joe Kelly (15): Kelly too. His stock dropped sharply after his disastrous outing on April 7th in Detroit, though he began the road to redemption on Sunday, stepping in for Drew Pomeranz in the fifth and pitching well for nearly three innings. Still, the strikeouts are not there. Kelly has faced 30 hitters and struck out just one. That's not going to cut it.
23. Steven Wright (14): His outing Wednesday against Baltimore was about as bad as it gets. Let's never speak of it again.
22. Pablo Sandoval (18): The good news is that he has looked pretty decent in the field, and he's hit three homers. The bad news is that he only has three other total hits.
21. Chris Young (19): He's about as steady a player as you can possibly have. His power isn't there yet, but the lefty masher has maintained a .372 on-base percentage at a time when he's had to face more right-handed pitchers than the team would prefer thanks to Bradley's injury. That'll do.
20. Matt Barnes (24): Ostensibly the eighth-inning man now, Barnes ranks behind Robby Scott, Craig Kimbrel, Heath Hembree and Joe Kelly in terms of his average leverage when he enters the game (known as gmLI).
19. Sandy Leon (13): He notched seven hits in his first four starts, and then just one in his second four starts, and he may be in more of a job share with Christian Vazquez than he was on Opening Day.
18. Carson Smith (17): He can't get back fast enough.
17. Heath Hembree (23): Last season, Hembree didn't get into a game until April 19th. This season, he was pitching in a set-up role from jump street, and handling it decently.
16. Eduardo Rodriguez (9): Neither of his first two outings were shimmering beacons of hope, but he has struck out 13 batters in 10.1 innings pitched.
15. Marco Hernandez (Not Ranked): He's played good defense at both shortstop and third base, and he's hitting .300 in his first 20 plate appearances. If he keeps this up, he's going to horn in on Sandoval's playing time.
14. Drew Pomeranz (12): In his first outing, he was marvelous. In his second outing, he was less so, as he allowed five runs and didn't escape the fifth inning, but he also struck out 10 hitters. There have been worse starts to the season for sure.
13. Robby Scott (26): He still hasn't been charged with a run as a major league pitcher, and he's rapidly becoming the most important lefty in the 'pen. He's also the only Red Sox pitcher who has pitched in multiple outings this season without walking a batter.
12. Rick Porcello (5): Between Porcello and Wright, Red Sox starters have already allowed four or more homers in a start more times than they did all of last season. That's not a stat you were hoping to read, especially this early in the season.
11. Hanley Ramirez (8): He's been fine.
10. Craig Kimbrel (11): As always, the hysteria over Kimbrel is overblown. He's walked just two of the first 24 batters he's faced (and hit one other). People who compare Kimbrel to Heathcliff Slocumb, who struck out 36 hitters and walked 34 for the Red Sox in 1997 when the team traded him, sound very, very ignorant.
9. Jackie Bradley Jr. (6): He had been the team's most reliable player while everyone else was under the weather, and then he tripped rounding first base and landed on the disabled list. Hopefully he'll be back soon.
8. Dustin Pedroia (4): He hasn't hit yet, but he will.
7. David Price (7): All of the news these past two weeks has been encouraging. Let's hope it stays that way.
6. Andrew Benintendi (10): Benintendi, Pedroia and Mitch Moreland are the only three players who have started every game. Benintendi gets a little extra credit for being able to slide over and play center, which was his natural position before he made it to the Show. His .364 OBP isn't too shabby either.
5. Christian Vazquez (21): Well, alrighty then! After only racking up three or more hits in just three games in his first three major league seasons, Vazquez has already done so twice this season.
4. Mookie Betts (1): One of Captain Trips' victims, Betts is back in good spirits, and still maintaining his improbable strikeout free streak. He hasn't struck out in his last 124 PAs, dating back to last Sept. 12.
3. Xander Bogaerts (3): He missed some time, though not due to the flu. When he has played, he's been as good as ever, as exemplified by his .375 average and .412 OBP. The power hasn't come yet, but it will.
2. Mitch Moreland (16): He has as many doubles in 12 games this season as he did in 52 games in 2014 with the Rangers. And that's after going 0-for-9 in the first two games of the season. It's safe to say that Moreland is absolutely on fire right now, and the Sox have needed every last extra-base hit.
1. Chris Sale (2): He has been as good as advertised. He's gone at least seven innings in his first three starts, and he's struck out at least seven hitters in each. His 29 strikeouts lead the majors. In short, he's been one of the best pitchers in the majors. Welcome to Boston, Mr. Sale.