Red Sox
Mookie Betts' no-strikeout streak ends at 129 plate appearances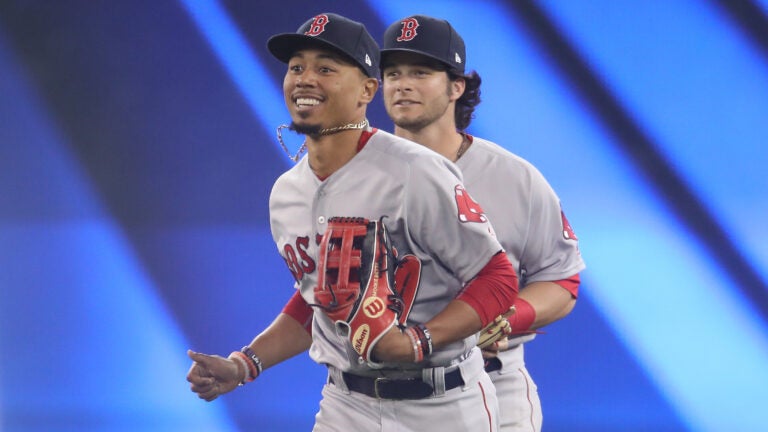 The box score from the Red Sox-Blue Jays game on Wednesday, contains a statistic that hasn't been seen in a regular-season game since September 12, 2016: A strikeout from Mookie Betts.
In the top of the fourth inning against Toronto's Francisco Liriano, the Red Sox' right fielder struck out for the first time in 129 plate appearances — a streak that spanned over 30 games.
Mookie Betts has snapped a streak of 129 PA without a strikeout, the longest by a Red Sox since Denny Doyle (159 in 1975; via @EliasSports).

— Red Sox Notes (@SoxNotes) April 20, 2017
During that period, Betts faced 57 different pitchers and batted an impressive .353.
During his streak of 129 plate appearances without a strikeout, Mookie Betts batted .353 (41-for-116) and faced 57 different pitchers: pic.twitter.com/zpaYfy83X6

— Red Sox Notes (@SoxNotes) April 20, 2017
His streak is the longest of its kind since 2004, when Juan Pierre went 147 straight plate appearances without recording a K. The last player to eclipse 100 plate appearances without a strikeout was Jeff Keppinger in 2010.
Betts didn't sound overly impressed with his streak, calling it "pretty irrelevant" in an interview.
https://twitter.com/PeteAbe/status/854547430423109634