Red Sox
Adam Jones got a standing ovation from Red Sox fans before his first at-bat Tuesday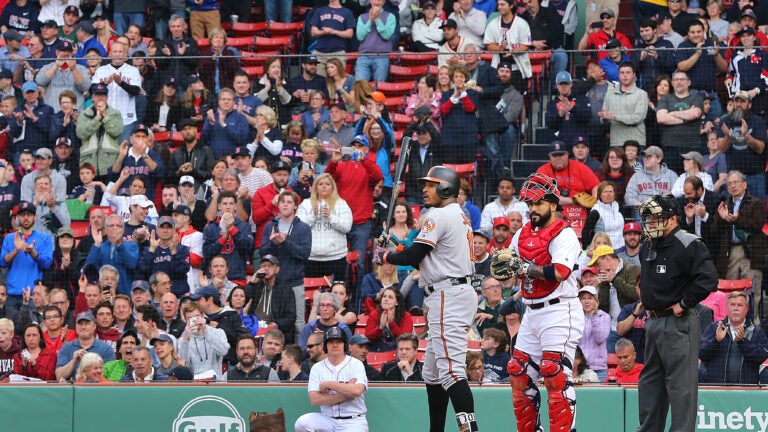 After Adam Jones was subjected to racist taunts during Monday's game at Fenway Park, Red Sox fans quickly sent the message Tuesday that a few bad apples were not representative of the whole.
As the Baltimore Orioles center fielder stepped up for his first at-bat in Tuesday's game, he received a standing ovation from the partially filled home crowd.
The Fenway crowd cheers @SimplyAJ10. #MLBNShowcase pic.twitter.com/F5mZK4Atep

— MLB Network (@MLBNetwork) May 2, 2017
Red Sox pitcher Chris Sale even stepped off the mound as the cheers continued to grow around the park. According to those at the game, even some Fenway beer vendors joined in the applause.
Mookie Betts, who had urged Red Sox fans hours before the game to support Jones following Monday's episode, took off his cap and applauded from his spot in right field.
Fenway Park stands for @SimplyAJ10. pic.twitter.com/QGV6cH8fgA

— MLB (@MLB) May 2, 2017
Several fans also caught footage of the ovation from different parts of the park.
For what it's worth, big ovation for Adam Jones at Fenway pic.twitter.com/u1xgRMuwfg

— Alex Putterman (@AlexPutterman) May 2, 2017
Adam Jones said he wanted Fenway Park fans to boo him. Instead they come to their feet cheering. pic.twitter.com/D8rLuz313l

— Chris Mason (@ByChrisMason) May 2, 2017
Not a of people in their seats yet but some applause for Adam Jones at Fenway #RedSox pic.twitter.com/qBcGzw98mU

— Neal J. Riley (@realdealneal) May 2, 2017
Jones told reporters that he was the target of racial slurs — and a thrown bag of peanuts — during Monday's game. The Red Sox organization issued both public and private apologies to Jones.
"I think it's tremendous how the Red Sox, how MLB, they got ahead of it as soon as possible, as soon as they heard about it," the 31-year Orioles player told reporters Tuesday.