Red Sox
CC Sabathia says black baseball players expect racist taunts in Boston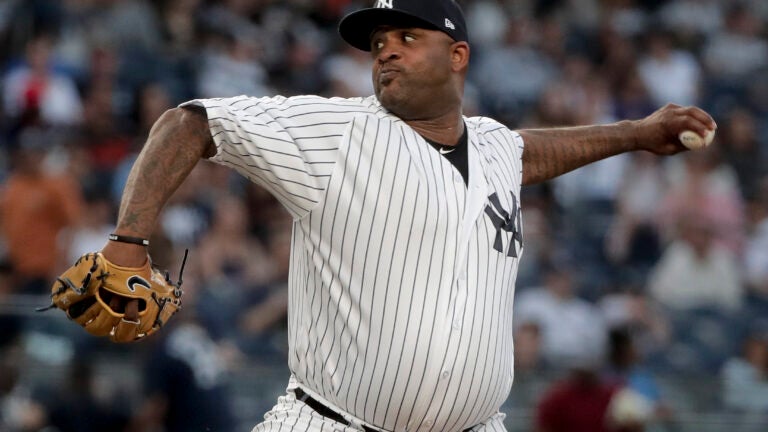 New York Yankees pitcher CC Sabathia says he can sympathize with Adam Jones, after the Baltimore Orioles center fielder said he received racist taunts Monday night at Fenway Park. In fact, Sabathia say he expects it when he goes to Boston.
Additionally, according to Newsday reporter Erik Boland, the 36-year-old pitcher said the only place he has been called the "N-word" during his 17-year career is in Boston.
"When you go to Boston, expect it," he said, referring to Boston's reputation among other black baseball players.
Sabathia said in his big league career "I've never been called the N word" anywhere but in Boston

— Erik Boland (@eboland11) May 2, 2017
Sabathia said it's talked about among black major leaguers: "we know. There's 62 of us. We all know. When you go to Boston, expect it."

— Erik Boland (@eboland11) May 2, 2017
Sabathia said he hasn't experienced the type of racial abuse Jones did Monday since he joined the Yankees in 2009, due to the team's security presence in the bullpen.
Red Sox president Sam Kennedy told reporters that there would be increased law enforcement Tuesday night at Fenway Park. The team also issued public and private apologies to Jones, who said he was "called the 'N' word a handful of times" and that one fan threw a bag of peanut at him during Monday's game.
The episode plays into the long-running narrative of Boston's fraught history of racism and sports.
According to Kennedy, other Red Sox players acknowledged hearing racial slurs at Fenway, as well as other ballparks.
"Our players acknowledged in our meeting that they have heard inappropriate remarks in this ballpark, in other ballparks," the team president told reporters Tuesday.
Earlier this year, pitcher David Price told The Boston Globe that he was the target of racist taunts during the 2016 season — though he said it didn't phase him.
"Your ignorance is not going to affect what I'm trying to do," Price said. "But I feel sad it's still out there."