Red Sox
Morning sports update: Dan Duquette takes John Farrell to task over Machado pitch
"The manager needs to be in charge of his ballclub."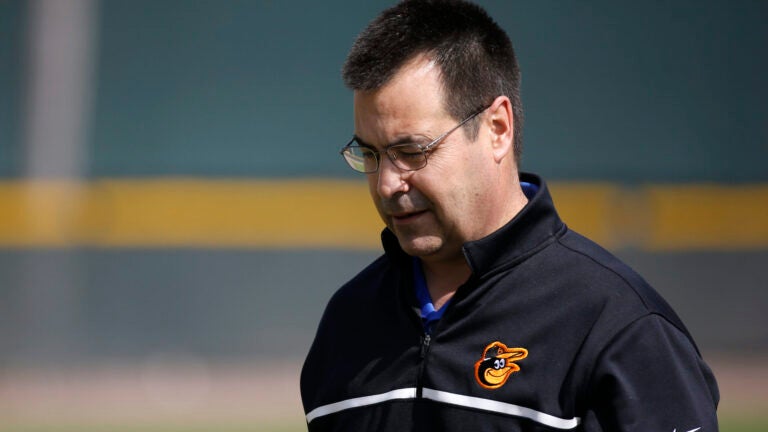 It was an eventful night at Fenway Park Monday as the Red Sox and Orioles began their four-game series.
Orioles' Dan Duquette holds Red Sox's John Farrell accountable for pitch near Manny Machado's head: Orioles GM Dan Duquette appeared on 98.5 The Sports Hub's Baseball Reporters today. He told Tony Massarotti he holds both reliever Matt Barnes and Red Sox manager John Farrell accountable for the pitch thrown near Manny Machado's head.
"Well, the pitcher threw the ball. The pitcher threw the ball. But the manager needs to be in charge of his ballclub," Duquette said. (MassLive)
Orioles' Adam Jones says Fenway crowd's verbal abuse included racial slurs: "A disrespectful person threw a bag of peanuts at me and I got called the 'N' word a handful of times," Jones said following the Orioles' 5-2 victory over the Red Sox. (Boston Globe)
Manny Machado homers in Orioles' 5-2 win over Red Sox: Manny Machado put on quite a show. The Orioles third baseman slugged a long homer out of Fenway Park, drove in two runs and made three solid plays in his first game against Boston since a dustup with the Red Sox just over a week ago, carrying the Baltimore Orioles to a 5-2 victory Monday night. (Boston.com)
This retaliation drill has run its course: Dylan Bundy waited until the sixth inning Monday, with a 2-0 lead, to do what everyone had waited for him to do all game — he drilled Boston's best player, Mookie Betts, in the hip/thigh area with a fastball. Now we're even, right? (Boston Globe)
Spurs spin out of control while trying to match red-hot Rockets: The Rockets knocked down 22 of 50 shots from 3-point range, setting NBA postseason records for the most 3s attempted and made against the Spurs. (ESPN)
LeBron James pretends to drink fan's beer after getting fouled, doesn't appear too worried about the Raptors: During the third quarter, James was fouled by Raptors forward Serge Ibaka on a fastbreak. James blew through the foul and had a chance at and-one layup, but missed the bunny. Afterward, mad at himself for missing such an easy opportunity, he strolled over to the sideline, caught a waitress walking by and pretended to take a sip of the beer she was bringing to a fan. (Business Insider)
How much is LeBron worried about Toronto? This much pic.twitter.com/DeAcc1TMhL

— Michael Lee (@MrMichaelLee) May 2, 2017
Major hops: LeBron scores 35, grabs beer as Cavs top Raptors: The Cavs hadn't played since April 23, when they completed a four-game sweep of Indiana. But the defending champions didn't show signs of rust and were well-prepared to face the revenge-seeking Raptors, who lost to Cleveland in last year's conference finals. (Boston.com)
Claims of liberal media bias hit ESPN, too: An unusual strain of partisanship — at least in the sports corner of the news media — emerged last week after ESPN announced it was laying off dozens of employees. The public reaction included jeers toward the network for what some viewers perceived as a leftward slant in ESPN's coverage, a reflection of how the country's raw political nerves and cultural divisions have spilled over into a world that many value as a pristine redoubt from worldly concerns: sports. (Boston.com)