Sports Q
Who will be the Red Sox' third baseman a month from now?
Debate the answer with Chad Finn and Boston sports fans at The Sports Q.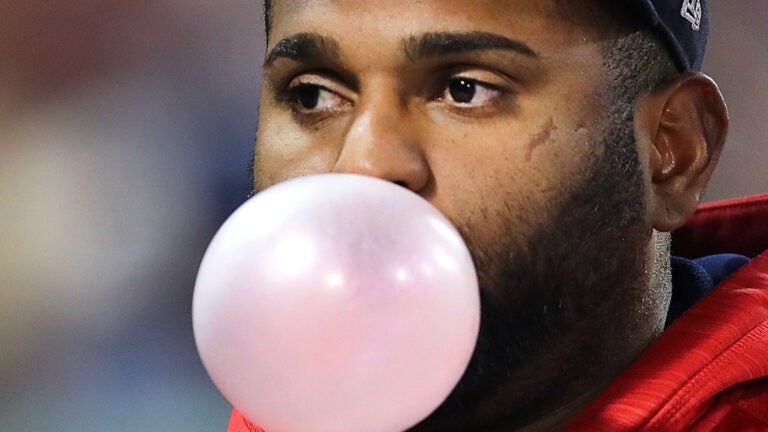 Welcome to Boston.com's Sports Q, our daily conversation, initiated by you and moderated by Chad Finn, about a compelling topic in Boston sports. Here's how it works: You submit questions to Chad through Twitter, Facebook, email, his Friday chat, and any other outlet you prefer. He'll pick one each day (except for Saturday) to answer, then we'll take the discussion to the comments. Chad will stop by several times per day to navigate. But you drive the conversation.
So is third base going to be a Marco Hernandez/Josh Rutledge platoon for the rest of the season? What a black hole that position has turned out to be. Signing Pablo Sandoval might end up being as awful as the Carl Crawford contract, and that might be the worst contract in the history of sports. What's the solution? Who will be the Red Sox third baseman in a month? – Will P.
Well, I don't think Manny [expletive] Machado is planning on [expletive] signing here when he becomes a free [expletive] agent in two years, so they should probably find a solution sooner than that …
Yeah, it's a mess. Hernandez is a going to be a decent utility guy, maybe more than that on a second division team, but he doesn't hit with much power and looks out of place over there defensively. He's much better at short and second. Rutledge is a 26th man. He's no answer either.
I don't agree that the Sandoval deal is quite as bad as Crawford's – he's out of baseball, and he's getting paid $21,857,000 this year in the last year of that deal. Sandoval makes less money, and he is – goodness this is damning with faint praise – second on the Red Sox in homers this year.
I imagine they'll go patchwork over there until they know for sure whether Sandoval's knee injury is going to keep him out beyond a few weeks. There might be some semi-interesting names eventually available on the trade market – Mike Moustakas, who at least is a brilliant fielder, or occasional slugger Todd Frazier – but that's probably not materializing any time soon, and it might not be the best allocation of resources.
Rafael Devers isn't ready. Who else? I don't know. Is Wilton Veras still at Pawtucket? Butch Hobson's elbow has probably healed by now. Wade Boggs could probably still work a walk every now and then, in between crushing Miller Lites.
So I'd say in a month, barring a miracle recovery from Sandoval or a return to health from Brock Holt, it's … the Hernandez/Rutledge combo! Enjoy. Suddenly two-time All-Star Scott Cooper doesn't sound so bad, does it?
What do you guys say? Who will be the Red Sox' third baseman going forward? How do they fix this? Have at it in the comments.