Red Sox
Why the Red Sox have been less than the sum of their impressive parts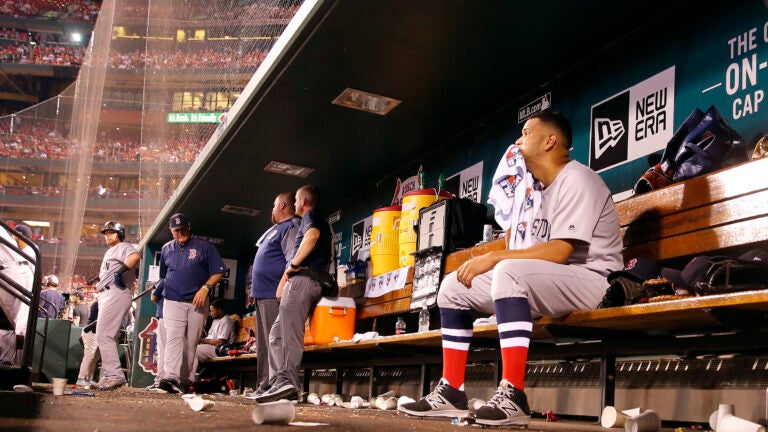 COMMENTARY
The Red Sox seemed like they could be a juggernaut heading into Spring Training. But things haven't worked out quite that way. Their record is not indicative of failure, but locally, where our expectations are always very high, they seem like failures to some, even after sweeping the Texas Rangers this week.
Plenty has gone right of course. Chris Sale and Craig Kimbrel are dominant. Mookie Betts is one of the best players in the game as well, and is on his way to becoming one of the best two-way players in team history. Xander Bogaerts is hitting .335 swinging with one hand. Eduardo Rodriguez has been a big success story. But everything isn't wine and roses. Many solutions have been presented as possible fixes for the team, but before we take that step, let's first diagnose what hasn't gone well.
Baserunning – Specifically Dustin Pedroia
In Betts, the Red Sox have one of the best baserunners on the planet. Last season, he was the third-best baserunner in the majors; his baserunning was so good that FanGraphs estimated that it was worth a win above replacement all by itself. He has been similarly great this season — FanGraphs has him as the 10th-best baserunner, and he only rates that low because he missed some time in April. But by FanGraphs' calculations, the team also has the worst baserunner in the majors in the person of Dustin Pedroia. He has been worth -4.6 runs on the bases this season, a full run worse than any other player in the American League. That's half a win Pedroia has cost the team just on the basepaths. That's pretty bad. His failure has been total. He's been bad at not hitting into double plays, he's bad on stolen base attempts (one for three) and he's been bad at taking extra bases. His Speed Score of 1.6 (on a scale of 10, with 2 being awful, 4.5 being average and 7 being excellent) is easily the worst full-season mark of his career. It's even slower than several pitchers, and is the same as old friend Jon Lester. He may be a touch faster when/if his knee injury heals, but Pedroia is no longer fast. Someone needs to tell him.
Of course, it's not just Pedroia, but there isn't much the team can do about several of the other culprits. Hanley Ramirez, Pablo Sandoval, Sandy Leon and Christian Vazquez all have negative baserunning numbers, and probably won't improve. But Pedroia has been the biggest culprit, and may be able to adjust his strategy. Overall, a season after being the seventh-best baserunning team, the Sox are currently the 26th-best in the majors.
Third Base
This isn't breaking news. The hot corner has been ice cold all season. Defensively, the Red Sox rank 28th this season. By WAR, they rank dead last. It has been a horror show. Red Sox third basemen have combined to hit .216/.267/.323. That's not quite as bad as Will Middlebrooks in 2014, but it's close. In 2014, Middlebrooks hit .191/.256/.265, and then was launched into the proverbial baseball sun (also known as San Diego) that offseason, and the same may happen to Pablo Sandoval, Josh Rutledge, Deven Marrero and Marco Hernandez the second Rafael Devers is ready.
Jackie Bradley Jr.'s Hitting
Bradley has posted just a 68 wRC+ this season — in other words, his hitting has been 32 percent worse than league average. Last season, he posted a 118 wRC+ (18 percent better than league average), and in 2015, 121. The good news is that he is still hitting the ball hard. As Mike Petriello noted this week at MLB.com, Bradley has had the biggest gap between hard-hit and productive batted balls. Manager John Farrell has to commit to playing him everyday, as his hitting will turn around, and his defense in center is still sparkling.
Hanley Ramirez's Slugging
The designated hitter needs to notch extra-base hits. So far, thanks to his shoulder woes cropping up again, Hanley Ramirez has not done that. Of the 10 Red Sox hitters who have played the most, Ramirez's .416 SLG ranks seventh. While it's true that his six homers rank second on the team, he only has 10 extra-base hits total (four doubles), leaving him tied with Pedroia for fifth on the team in extra-base hits. That's simply not cutting it. Last year, he slugged .505, which was good for third on the team and 18th in the AL. This year, his .416 SLG ranks 51st in the AL, and is the second-worst mark of his career. He actually had a better SLG in his first year with the Red Sox, when he really messed up his shoulder.
Position Player Mediocrity
Nothing is really wrong with the players on the team, it's just that a bunch of them are not as a whole playing well. Positionally, here is how the Red Sox rank in terms of WAR at the positions on the diamond:
Catchers: 15

th

First Base: 18

th

Second Base: 21

st

Third Base: 30

th

(last)

Shortstop: 3

rd

Right Field: 4

th

Center Field: 8

th

Left Field: 24

th

Outfield: 11th
(One thing to keep in mind here is that in these rankings, Andrew Benintendi is split between center and left field, so I put in the general outfield ranking to compensate for that.) What you have here is three spots propping up the other five. None of the performances outside of third base are a real cause for consternation, but they haven't exactly been bright spots either. For the Sox to move forward, that'll have to change — there is only so much Betts and Bogaerts can do.
Middle Relievers Regressing Back to the Mean
In April, the bullpen was bulletproof. As a unit, it posted a 2.34 ERA. These relievers allowed just 20 runs in 73 innings pitched. Notably, they only allowed four home runs, which is a pretty low number; but their 3.99 xFIP (which is FIP but scaled to a league-average home-run rate) showed that they had been a little homer lucky. Fast forward to May, and the 'pen has allowed nine homers in 69 innings pitched. As a result, the 'pen's ERA this month is 3.78. To be clear, they are still among the better bullpens in the game. Their FIP in both months is 3.23. But with the margins between victory and defeat being so thin, the regression in terms of actual runs allowed in May has been felt.
Individually, the pitcher who has regressed the hardest is Ben Taylor. In April, he posted a 1.17 ERA in 7.2 innings pitched, but now the league has a book on him, and he's been tuned up for a 13.50 ERA in 6 innings pitched. Overall, he's allowing a .394 on-base percentage, and has an unsightly 6.59 ERA. Taylor skipped Triple-A on his way to the majors this season. It's probably time for him to ride the Pawtucket Shuttle back down there.
… And The Fifth Starters? 
Given how badly the team's fifth starters have been, you'd probably think I'd also list that spot as a definite problem, but I don't see it that way. Nearly every team has trouble filling out the bottom of its rotation, especially when a frontline starter gets injured. But the fact is that Chris Sale, Rick Porcello and Eduardo Rodriguez have been so good (and Drew Pomeranz has racked up so many Ks in the innings he actually pitches, including 11 on Thursday) that as a unit the Red Sox have the best starting rotation in the AL this season. Depth may be a problem for the Boston rotation, but it's a universal problem. The Red Sox rotation is doing just ducky.