Red Sox
Brian Johnson throws shutout in first start at Fenway Park
"The last time I walked off the mound here was 2012 and I made two pitches. Today I went nine innings."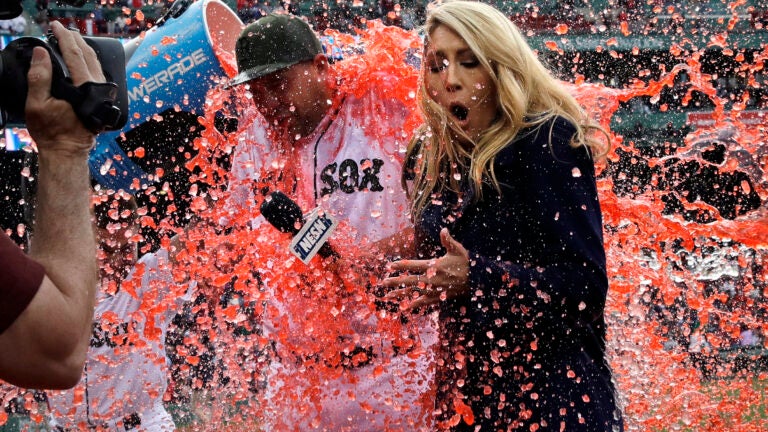 BOSTON (AP) — Brian Johnson had quite a turnaround in his second time on Fenway Park's mound.
Johnson pitched a five-hitter in his first big league appearance at Fenway, and the Boston Red Sox stretched their winning streak to a season-high six games with a 6-0 victory over the Seattle Mariners on Saturday.
The 26-year-old left-hander became the first Red Sox pitcher to throw a shutout in his first Fenway start since Pedro Martinez on April 11, 1998. In Johnson's first start in Fenway — his fourth as a professional — he sustained a season-ending facial fracture when he hit by a line drive while pitching for Class A Lowell in 2012.
"The last time I walked off the mound here was 2012 and I made two pitches," Johnson said. "Today I went nine innings. Today was pretty cool."
Johnson left Triple-A for a little over a month last season to get treatment for an anxiety issue.
"Obviously with some stuff that I've been gone through in my career, it's an awesome feeling" he said.
But despite the stellar outing, Johnson was optioned back to Triple-A after the game.
"That's the reality of the game," Red Sox manager John Farrell said. "We had a chance to congratulate him and yet option him back to Pawtucket, with David Price coming here Monday."
Brought up from the minors for the start, Johnson (2-0) gave up five singles, struck out eight and walked none. His only previous big league starts were at Houston on July 21, 2015, and at Toronto on April 18 this year.
Johnson was helped by a semi-leaping catch by center fielder Jackie Bradley Jr. at the wall in the sixth, Bradley's diving grab of Nelson Cruz's sinking liner in the ninth and Bradley's game-ending running catch of Kyle Seager's drive.
Xander Bogaerts' RBI single triggered a three-run first inning and Bradley hit a two-run homer in the sixth
Shut out for the second straight day, Seattle has lost seven of eight.
"Their guy threw the ball over the plate. He threw strikes," Mariners manager Scott Servais said. "I won't take anything away from what he did, but we're not swinging the bat very well."
Rob Whalen (0-1) gave up five runs and seven hits over 5 1/3 innings in his Mariners' debut, his first big league start since Aug. 23 for Atlanta. He is Seattle's 12th starting pitcher, the most in the major leagues.
Andrew Benintendi and Sandy Leon also had RBI singles in the first, when the Red Sox had two batters hit by pitches, two walks and two runners thrown out on the bases – Dustin Pedroia at third for the first out and Hanley Ramirez at the plate for the last.
SWEEP
The Red Sox can complete their second straight three-game sweep and a 6-0 homestand with a win in the finale Sunday. Boston took three from Texas before Seattle came in.
TRAINER'S ROOM
Mariners: RHPs Hisashi Iwakuma and Felix Hernandez, both on the DL with right shoulder inflammation, threw bullpen sessions. Hernandez said he "felt really good."… LHP James Paxton (strained forearm) is set to come off the DL and pitch at home Wednesday.
Red Sox: Pedroia was back at second base after getting Friday off to rest his sore left knee and not play on a wet field. He was hit by a pitch on the right forearm his first time up and went 1 for 3. … 3B Pablo Sandoval, on the DL with a sprained right knee, was expected to play nine innings Saturday night in a rehab assignment with Triple-A Pawtucket. Farrell didn't rule out that he could be activated next week.
UP NEXT
Mariners: RHP Christian Bergman (1-2, 6.30 ERA) gave up 10 runs and 14 hits over four innings in a 10-1 loss Tuesday at Washington.
Red Sox: RHP Rick Porcello (3-4, 4.35) has gone at least six innings in eight of nine starts.