Red Sox
Sandoval gets 3 hits as Pomeranz, Red Sox top White Sox 4-1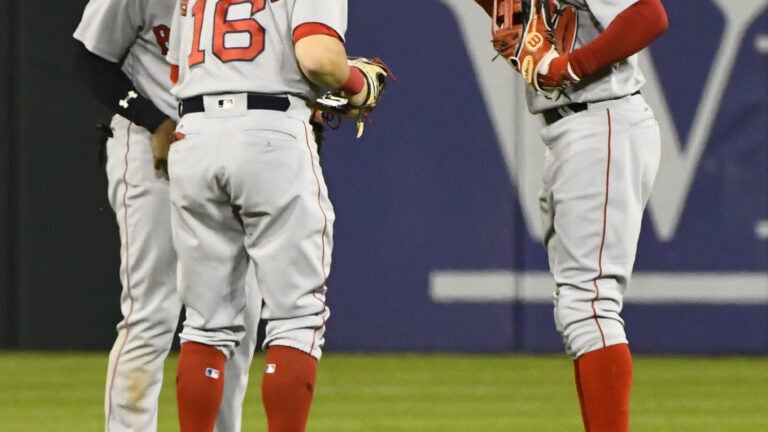 CHICAGO (AP) — It was just a game, Pablo Sandoval said. Nothing more, nothing less.
What comes next is more important for the one-time slugger and his Boston Red Sox.
Sandoval hit a tiebreaking single in Boston's four-run sixth inning and Drew Pomeranz struck out eight in his second straight win, helping the Red Sox beat the Chicago White Sox 4-1 on Wednesday night.
Sandoval went 3 for 4 in his first game since he was activated from the disabled list Tuesday after being sidelined by a sprained right knee. It was an encouraging sign for the Red Sox, who could use some help at the plate with Dustin Pedroia on the DL due to a sprained left wrist.
But Sandoval, hampered by issues with his weight and injuries since he signed a $95 million, five-year contract with Boston before the 2015 season, deftly deflected questions about what his fourth multihit game of the season meant about the state of his game.
"I just want to do my job," he said. "I don't want to think and then the personal stuff, I just want to help my team to win games. That's the most important thing for me."
Chicago wasted a spotless start by Mike Pelfrey in its second consecutive loss after winning four of five. The big right-hander struck out five while pitching five scoreless innings of two-hit ball, leaving him with a 1.13 ERA over his last three games.
"I feel good about where I'm at, but need to find a way to maybe eliminate some wasted pitches here and there and be a little more efficient to stay in the game," he said.
Pelfrey threw 83 pitches, 48 for strikes. He has thrown as many as 100 pitches this year, but manager Rick Renteria made it sound as if his workload was predetermined.
"We had gone into the game today with our game plan already set up," he said. "He was going to give us five, hold them there and we were going to give it over to the bullpen, basically. Unfortunately, it didn't work out for us in that particular inning."
Anthony Swarzak (2-1) came in and the Red Sox jumped all over him, loading the bases with one out in the sixth. Josh Rutledge beat out a potential double-play grounder, tying it at 1, and Sandoval followed with a single to left.
After the runners moved up on a wild pitch, Christian Vazquez hit a two-run double into left-center to give Boston a 4-1 lead. Swarzak had allowed just three earned runs in 23 1/3 innings this season coming into the game.
"I felt like I made some quality pitches, but at the same time, I feel like I didn't put guys away when I had the opportunity to," Swarzak said.
That was more than enough for Pomeranz (5-3), who allowed one run and seven hits in a season-high seven innings. The left-hander also pitched well in his previous start, striking out 11 over six innings in a 6-2 victory against Texas.
"You make good pitches and you pitch in the corners in the zone, that's what's it's all about," he said.
Matt Barnes tossed a perfect eighth before Craig Kimbrel struck out the side for his 15th save in 16 chances, finishing Boston's eighth win in 10 games. Kimbrel also saved Tuesday's 13-7 victory, throwing 27 pitches while pitching 1 1/3 innings.
Tim Anderson and Avisail Garcia had two hits apiece for the White Sox, who closed out a 4-3 homestand. Anderson doubled home Garcia in the second.
HE GONE
White Sox broadcaster Ken "Hawk" Harrelson announced he plans to retire after doing 20 games next year in his 34th season in the booth. Harrelson, a colorful character known for his folksy sayings and unbridled enthusiasm for his longtime team, will work primarily Sunday home games in 2018. After he finishes his TV duties, the 75-year-old Harrelson will serve as a team ambassador for the 2019 season.
TRAINER'S ROOM
Red Sox: RHP Carson Smith (Tommy John surgery) is progressing toward facing hitters Tuesday in New York, according to manager John Farrell.
White Sox: LHP Carlos Rodon (biceps) will throw another simulated game Thursday in Arizona. "He'll be getting up and down five times," Renteria said. "Hopefully it goes well, he feels good, and we'll progress him." … Renteria said RHPs James Shields (strained right lat) and Jake Petricka (strained right lat) should be getting rehab assignments soon, possibly as early as Thursday.
UP NEXT
Red Sox: LHP Eduardo Rodriguez (4-1, 2.77 ERA) faces Orioles LHP Wade Miley (1-3, 3.02 ERA) on Thursday night in the opener of a four-game set at Baltimore. After the series against the Orioles, the Red Sox finish off their 10-game trip with three against the Yankees.
White Sox: Following an off day, LHP Derek Holland (4-4, 2.37 ERA) gets the ball Friday night for the opener of a weekend series at Detroit. RHP Michael Fulmer (5-3, 2.65 ERA) pitches for the Tigers.
___
More AP baseball: https://apnews.com/tag/MLBbaseball
___
Jay Cohen can be reached at http://www.twitter.com/jcohenap