Red Sox
A pick-by-pick look at the Red Sox' selections on Day 2 of MLB draft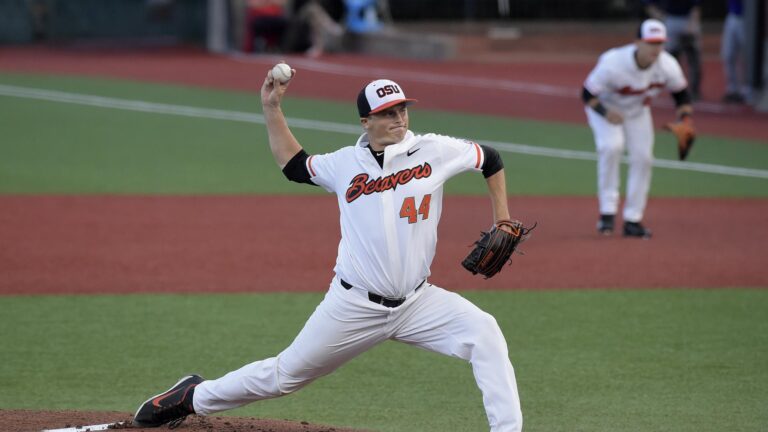 On the second day of the 2017 MLB draft, the Red Sox on Tuesday took a broad array of players, including a power high school pitcher who some thought might go in the first two rounds, one of the top performers among Division I college pitchers, a slugging college senior who majored in neuroscience, and the son of a front-office member.
One day after the Red Sox took college righthander Tanner Houck and high school outfielder Cole Brannen, the headliner of the next group selected by the Red Sox was prototypical Texas power pitcher Alex Scherff. The Sox chose him in the fifth round.
The 19-year-old combines a mid-90s fastball with a changeup that looks like a swing-and-miss offering, a combination that gives him a chance to emerge as a big league starter if he can remain healthy and develop a breaking ball.
The Red Sox expect to sign all of the players they took in the top 10 rounds, including Scherff.
That Scherff will sign is a particularly noteworthy development. He was viewed as a first- or second-round talent who fell to the fifth round in no small part due to signability concerns given that he had a potentially significant amount of leverage as a draft-eligible sophomore had he fulfilled his scholarship commitment to Texas A&M. Although he'll sign, pending a physical and other standard protocols for draftees, for considerably more than the recommended slot figure of $296,500, the Red Sox' ability to fit him within their overall draft bonus pool budget represents something of a coup.
Scherff has the highest ceiling of anyone the Red Sox selected on Day 2, though the broad array of profiles makes this crop an interesting one to dissect both individually and on the whole.
So here we examine each of the eight picks:
Brett Netzer, 2B, UNC-Charlotte
Round: 3. Age: 21. Height/weight: 6-0/192.
Briefly: Netzer, who bats lefthanded, hit .342/.425/.509 with 5 homers, 44 RBIs, 25 extra-base hits, and 5 steals as a junior for the 49ers while showing good strike-zone command. (He walked 29 times and struck out 27 times in 58 games.) He is a bat-first prospect with gap power who hit .283/.360/.424 in the Cape League last summer, a performance that elevated his prospect status considerably, as noted in this Charlotte Observer profile.
Jake Thompson, RHP, Oregon State
Round: 4. Age: 22. Height/weight: 6-2/201.
Briefly: It would be hard to imagine a more impressive line from a pitcher at a Division I school in a powerhouse conference than the one posted by Thompson in 2017. He went 14-0 with a 1.52 ERA while striking out 8.6 per nine innings and walking 2.7 per nine. That performance by the 6-2 righthander represented a breakout after two years of modest performances, first as a swingman as a freshman and then in his first year in the OSU rotation in 2016.
Baseball America describes him as a pitcher whose fastball sits at 93-94 miles per hour as a starter while topping out at 98. Although he struggled with his control earlier in his career, a simplified delivery helped him stay in the strike zone with both that pitch and a slider that elicited swings and misses. As a slightly older player, Baseball America described Thompson as a pitcher who might be willing to cut a below-slot deal in order to sign in the early rounds. Steve Mims of the Register-Guard offers an interesting profile of Thompson's later-career emergence at OSU.
Alex Scherff, RHP, Colleyville (Texas) Heritage High School
Round: 5. Age: 19. Height/weight: 6-2/205.
Briefly: Scherff was viewed as one of the preeminent power arms in the draft, a pitcher who could dial his fastball into the mid-90s and complement it with an unusually solid changeup as well as an inconsistent breaking ball. He was a star of last summer's high school showcase circuit, as noted in Baseball America, and was recognized as Gatorade's Texas Baseball Player of the Year after going 8-0 with a 0.44 ERA and 89 strikeouts in 48 innings through the end of May. At one point in the season, he threw a perfect game and a no-hitter in back-to-back starts.
Scherff is older than the typical high school arm — a fact that works against the notion of further future projection and that gives him added negotiating leverage as a draft-eligible sophomore with a commitment to Texas A&M. His control is also still developing. Nonetheless, if the Red Sox can see Scherff make the right sort of strides, he could represent considerable value.
Zach Schellenger, RHP, Seton Hall
Round: 6. Age: 21. Height/weight: 6-5/210.
Briefly: Schellenger represents the first player taken by the Red Sox this year who spent his entire college career as a reliever. Biceps tendinitis limited Schellenger to just 13 innings as a junior, with a 2.08 ERA and 23 strikeouts, and according to Baseball America, his velocity dialed back from the mid-90s to the low-90s.
Still, he continued to show a propensity for posting huge strikeout totals, something he likewise accomplished the previous summer while pitching for Harwich in the Cape League, for whom he punched out 14.2 per nine innings. Here's a look at Schellenger.
[fragment number=0]
Tyler Esplin, OF, IMG Academy
Round: 7. Height/weight: 6-3/230.
Briefly: Esplin, a lefthanded hitter, is listed at 6-foot-3 and 230 pounds. Unlike most high schoolers, he has the sort of frame that doesn't require a great deal of imagination regarding projectability — he already shows plenty of size and strength.
Though announced by the Red Sox as an outfielder, Esplin also pitched at the IMG Academy, with a fastball that reached the low-90s. Baseball America had him as its 96th-rated prospect in Florida this year. Esplin has a commitment to play at UNC-Charlotte.
[fragment number=1]
Zach Sterry, 1B, Oakland University
Round: 8. Age: 23. Height/weight: 5-11/226.
Briefly: Sterry represents the Red Sox' first college senior selection — a pool that teams often prioritize with select picks in the first 10 rounds in order to save money that they can use elsewhere in the draft. Yet as the Red Sox have demonstrated with righthander Ben Taylor, a senior taken in the seventh round of the 2015 draft who's already reached the big leagues, there are still prospects to be found in that demographic.
Sterry played in 177 games, starting 170, in his four years with the Golden Grizzlies. He finished his career with a slash line of .306/.386/.495 to go along with 24 home runs, 117 RBIs, and 73 extra-base hits. Despite missing 11 games with a broken hand as a senior, Sterry still mashed 13 homers in 48 games while batting .346/.441/.643. He also stole seven bases on eight attempts.
Tanner Nishioka, 2B, Pomona-Pitzer College
Round: 9. Age: 22. Height/weight: 5-11/185.
Briefly: Nishioka, the second college senior taken by the Sox, hit .441/.542/.888 with 18 homers in his final college campaign, leading all of Division III in both homers and slugging percentage and earning All-American honors. In addition to playing baseball, Nishioka, who studied neuroscience and earned a 3.62 GPA, also punted for Pomona's football team as a freshman, as noted in this Matt Feldman article.
Jordan Wren, OF, Georgia Southern
Round: 10. Age: 22. Height/weight: 6-1/196.
Briefly: Wren, who bats and throws lefthanded, hit .268/.383/.459 with six homers this year. Wren is the son of Red Sox senior vice president of baseball operations Frank Wren. The Sox also took him in the 36th round of the 2016 draft.
Other tidbits from the draft
■ In the third round, righthander Matt Tabor of the Milton Academy became the first New Englander taken in this year's draft when the Diamondbacks took him with the 82nd overall pick. Karl Capen recently profiled Tabor for the Globe.
■ The Sox will select 26th in each remaining round, just after the LA Dodgers at 25th and before the Cleveland Indians at 27th. Day 3 on Wednesday will feature rounds 11-40.
■ On the first day of the draft, the Sox selected Missouri righty Tanner Houck 24th overall and high school outfielder Cole Brannen at 63rd overall.
■ Here is a full list of the Day 1 picks.
Here are the third-round picks:
76. Minnesota Twins, Blayne Enlow, RHP, St Amant HS
77. Cincinnati Reds, Jacob Heatherly, LHP, Cullman HS
78. San Diego Padres, Mason House, CF, Whitehouse HS
79. Tampa Bay Rays, Taylor Walls, SS, Florida State
80. Atlanta Braves, Freddy Tarnok, RHP, Riverview HS
81. Oakland Athletics, Nick Allen, SS, Francis Parker HS
82. Arizona Diamondbacks, Matt Tabor, RHP, Milton Academy
83. Philadelphia Phillies, Connor Seabold, RHP, Cal State Fullerton
84. Milwaukee Brewers, KJ Harrison, C, Oregon State
85. Los Angeles Angels, Jacob Pearson, CF, West Monroe HS
86. Colorado Rockies, Will Gaddis, RHP, Furman University
87. Chicago White Sox, Luis Gonzalez, CF, New Mexico
88. Pittsburgh Pirates, Dylan Busby, 3B, Florida State
89. Miami Marlins, Riley Mahan, 2B, Kentucky
90. Kansas City Royals, Daniel Tillo, LHP, Iowa Western CC
91. Houston Astros, Tyler Ivey, RHP, Grayson County College
92. New York Yankees, Trevor Stephan, RHP, Arkansas
93. Seattle Mariners, Wyatt Mills, RHP, Gonzaga
94. St. Louis Cardinals, Scott Hurst, CF, Cal State Fullerton
95. Detroit Tigers, Joey Morgan, C, Washington
96. San Francisco Giants, Seth Corry, LHP, Lone Peak HS
97. New York Mets, Quinn Brodey, RF, Stanford
98. Baltimore Orioles, Mike Baumann, RHP, Jacksonville University
99. Toronto Blue Jays, Riley Adams, C, University of San Diego
100. Los Angeles Dodgers, Connor Wong, C, Houston
101. Boston Red Sox, Brett Netzer, 2B, UNC Charlotte
102. Cleveland Indians, Johnathan Rodriguez, OF, Carlos Beltran Baseball Academy
103. Washington Nationals, Nick Raquet, LHP, College of William & Mary
104. Texas Rangers, Matthew Whatley, C, Oral Roberts
105. Chicago Cubs, Keegan Thompson, RHP, Auburn
And the draft order for rounds 4-40:
Minnesota Twins
Cincinnati Reds
San Diego Padres
Tampa Bay Rays
Atlanta Braves
Oakland Athletics
Arizona Diamondbacks
Philadelphia Phillies
Milwaukee Brewers
Los Angeles Angels
Colorado Rockies
Chicago White Sox
Pittsburgh Pirates
Miami Marlins
Kansas City Royals
Houston Astros
New York Yankees
Seattle Mariners
St. Louis Cardinals
Detroit Tigers
San Francisco Giants
New York Mets
Baltimore Orioles
Toronto Blue Jays
Los Angeles Dodgers
Boston Red Sox
Cleveland Indians
Washington Nationals
Texas Rangers
Chicago Cubs