Red Sox
Red Sox cut losses, designate Pablo Sandoval for assignment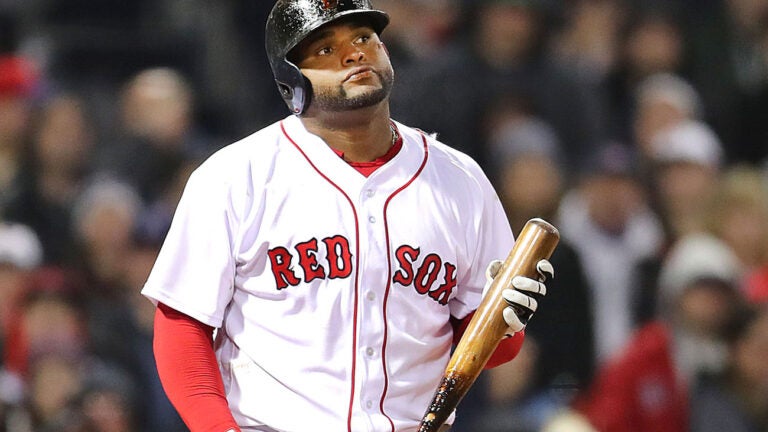 BOSTON (AP) — Panda-mania is over in Boston before it ever really began.
The Red Sox designated third baseman Pablo Sandoval for assignment on Friday, cutting their losses on the $95 million free agent who was never productive or healthy enough to replicate the popularity — or World Series success — he had in San Francisco.
The Red Sox have seven days to trade or release the 30-year-old Sandoval, who was activated from the disabled list (inner ear infection) and returned from an injury rehab assignment with Triple-A Pawtucket. Unless they can find a taker for part of his salary, they will have paid $95 million for a total of 161 games, 575 at-bats, 136 hits and 14 homers — and not a single one of them in the postseason.
''It really came down to us feeling we were not a better club if he was on our club at the major league level,'' Boston president of baseball operations Dave Dombrowski said.
Dombrowski said conversations have been going on for the past few weeks with Red Sox ownership about Sandoval. He said a possibility of a minor league assignment was discussed with Sandoval and his agent, but that Sandoval declined that option in a conversation on Thursday.
Both manager John Farrell and Dombrowski said that Sandoval showed a lot of improvement during spring training after shoulder surgery caused him to miss all but three games last season.
It just didn't translate enough on the field in the regular season.
''You're talking about a lot of money. I give ownership a lot of credit that they're willing to allow us to do this,'' Dombrowski said. ''Yet, I would also say from a playing perspective, Pablo just wasn't playing as well as we'd hoped.''
The MVP of the 2012 World Series after batting .500 with three homers in four games against Detroit, Sandoval was a star again while helping the Giants win the 2014 championship. Beloved in the Bay Area, where he was dubbed ''Kung Fu Panda,'' he chose to leave San Francisco and sign with the Red Sox that winter.
''I want a new challenge. I need a new challenge,'' he said during a news conference at Fenway Park in November before frolicking in front of the snow-covered field with a person in a panda suit. ''I know that I had a great career in San Francisco. But I'm going to have a new one here.''
It proved more challenging than he imagined.
Sandoval hit .245 with 10 homers in his first year with the Red Sox, posting career lows in nearly every offensive category. In 2016, after losing his job to 25-year-old Travis Shaw, who had never played a full season in the major leagues, Sandoval wound up having left shoulder surgery and missing almost the entire season.
This year didn't start off much better.
Hopeful that a healthy Sandoval could still help the team, the Red Sox gave him his job back at third base. But that lasted just three weeks before a knee injury landed him on the disabled list for 32 games. Last month, he went back on the DL with the ear infection.
Sandoval played in 32 games this season and managed just 21 hits — six for extra bases. With Shaw traded to Milwaukee last winter for reliever Tyler Thornburg, the Red Sox have mostly been using Deven Marrero at third base.
Farrell said there is confidence in both Marrero and Tzu-Wei Lin and that he believes the team as constituted has the ability to compete for the pennant.
''(With Sandoval) we just felt like the objective evaluation was we had other alternatives in house,'' Farrell said.
___
AP Sports Writer Kyle Hightower contributed to this report.
___
More AP baseball: https://apnews.com/tag/MLBbaseball