Red Sox
Rafael Devers breaks out big-time in Pawtucket debut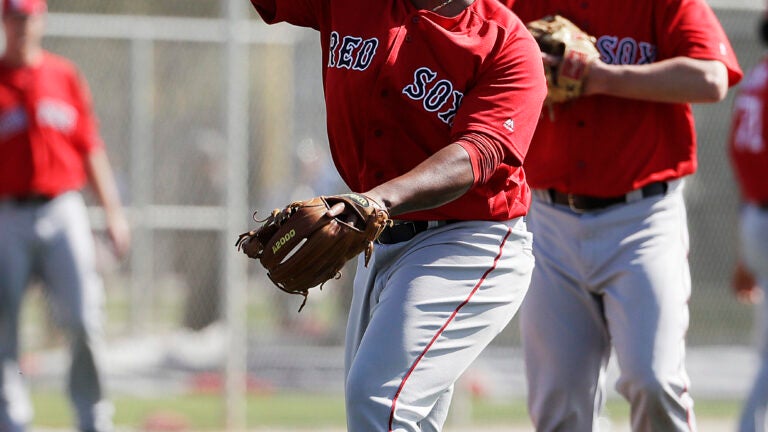 It didn't take long for Rafael Devers to get accustomed to Triple A baseball.
The Red Sox prospect played his first game for the Pawtucket Red Sox on Saturday night in Syracuse, N.Y., and the kid did all right — 4 for 4 with a homer and a double, two RBIs and two runs in the PawSox' 7-4 win over the Chiefs.
The 20-year-old Devers, ranked the No. 6 overall prospect by Baseball America, was promoted from Double A Portland on Friday. As the major league trade deadline approaches, he may make it harder on the Red Sox to decide if they need to go outside the organization to bolster their third base production.
He hit a hard single to left in his first at-bat. He pulled a sharp single to right in the fifth and lined a double to right an inning later.
In the eighth he crushed a two-run home run off the right field light tower off veteran major leaguer Neal Cotts.
The only negative on the night for the third baseman was a throwing error.
Double A: Portland, New Hampshire split
Portland and New Hampshire split a doubleheader Saturday in Manchester, N.H.
Sea Dogs starter Taylor Grover (2-5) allowed three runs and six hits over 3⅓ innings as the Fisher Cats won the nightcap, 3-2. Portland held a 2-0 first-inning lead, but the Fisher Cats rallied.
Portland won the opener, 2-1. Elih Villanueva hurled six scoreless innings for the Sea Dogs.
Single A: Potomac 3, Salem 2
Host Salem fell to the Nationals' farm club on Saturday.
Tyler Spoon had a two-run homer in the ninth inning for the Red Sox, but it wasn't enough.
Salem is 7-3 this season against Potomac.
Single A: Greenville 7, Hickory 4
Bobby Dalbec hit a seventh-inning grand slam, and Darwinzon Hernandez tossed five scoreless innings for the host Drive.
Hernandez struck out five and scattered three hits.
Single A: Williamsport 4, Lowell 3 (12 inn.)
Josh Stephen's walk-off single lifted host Williamsport.