Red Sox
Justin Smoak's 2 HRs, sun help Blue Jays shade Red Sox 8-6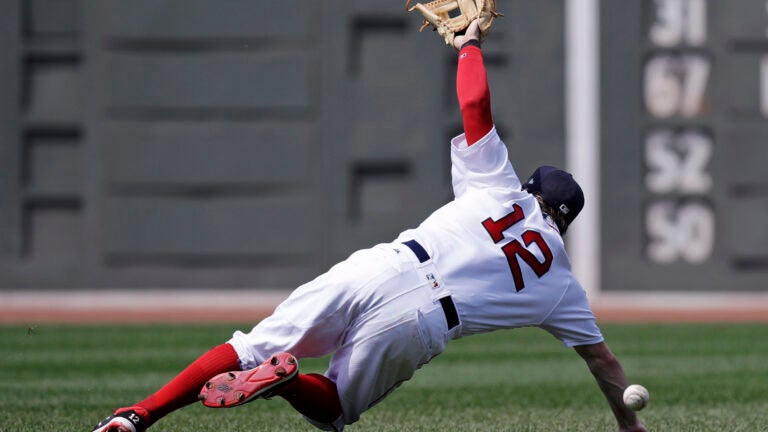 BOSTON (AP) — Steve Pearce blooped the ball to the edge of the outfield grass, and Red Sox second baseman Brock Holt was there.
He planted his feet. He raised his arm to catch it.
But something wasn't quite right.
Holt lost the ball in the sun, allowing it to glance off his glove for a two-run single that tied the game as the Toronto Blue Jays rallied from an early deficit to take the lead for good and hold on to beat the Boston Red Sox 8-6 on Thursday.
"As weakly as I hit it, I didn't" expect it to fall, said Pearce, who had three hits. "When you put the ball in the air, sometimes (the fielder) just can't do it. Day game, clear sky. It was a great time for it."
Ryan Goins followed with a two-run single to give the Blue Jays the lead. Justin Smoak homered twice, but it was a 140-foot duck snort that turned things around and allowed Toronto to leave Boston with a split in the four-game series.
"I don't care how hard it's hit, it's a two-RBI knock. Then Goins comes right behind me, keeps things rolling," said Pearce, whose team lost nine of the first 10 games of the season and haven't been above fourth place since. "We've had a lot of things going against us, so it's nice to finally have something go for us."
Dustin Pedroia had three hits, including a three-run homer, while serving as designated hitter on a 90-degree day at the end of a grinding homestand. Including the 15-inning game on Tuesday with Toronto, the AL East-leading Red Sox played 76 innings in about 144 hours — the equivalent of 8 1/2 games in six days.
But it was the sun more than the heat that was the problem, especially for the right fielders and anyone else who tried to field a popup.
"During day games it's always pretty bad for the right side of the field — second basemen, right field," Holt said. "It was one of those balls that wasn't really high enough where I could do anything to move myself and maneuver myself to get that out of the sun. … I tried to stay with it as long as I could and unfortunately couldn't make the play. So that one's on me."
Dominic Leone (2-0) earned the win. Toronto starter Francisco Liriano got just five outs, allowing three runs in the second, but the Blue Jays came back with four in the third to take a 5-3 lead against Doug Fister (0-4).
Roberto Osuna pitched the ninth for his 24th save.
Smoak has 26 homers and 62 RBIs this season. His previous career highs were 20 and 59.
"We still have 2 1/2 more months left in the season so I just try to keep my head down and keep going," he said.
Smoak's RBI single in the sixth gave Toronto a 7-3 lead, then Pedroia's homer in the seventh made it a one-run game. Smoak added his second homer in the ninth.
Mookie Betts had two hits and two RBIs for Boston.
FOR STARTERS
Liriano gave up three runs — two earned — five hits and a walk, striking out one. He gave up back-to-back doubles to Xander Bogaerts and Sandy Leon, and Betts scored two with a single to give Boston a 3-1 lead in the second.
But the Blue Jays came back with four in the third, when Fister walked four batters and also gave up run-scoring singles to Pearce and Goins. Fister allowed six runs, seven hits and four walks, striking out three in 4 1/3 innings.
SELF DEFENSE
Goins ended the fifth inning when he raised his bat to protect himself from an inside pitch and wound up grounding it back to reliever Fernando Abad. Home plate umpire Bruce Dreckman signaled a fair ball, Abad made the casual throw to first, and Hanley Ramirez, seemingly confused, paused before stepping on the base. Goins remained on his knees in the batter's box, smiling, long after the rest of the players cleared the field.
TRAINER'S ROOM
Blue Jays: RHP Aaron Sanchez left Wednesday night's game with a blister on the middle finger of his pitching hand.
Red Sox: Leon was hit in the left foot by Russell Martin's foul tip in the fourth inning. The training staff came out to look at it, and the Boston catcher remained in the game.
UP NEXT
Blue Jays: Marco Estrada (4-6) faces Trevor Bauer (7-8) in the opener of a three-game series against Cleveland.
Red Sox: Chris Sale (11-4) will start the opener of a three game series against the Angels, facing Ricky Nolasco (4-10).