Red Sox
Ted Williams used his Hall of Fame speech to advocate for African American players
"I hope that some day the names of Satchel Paige and Josh Gibson in some way could be added."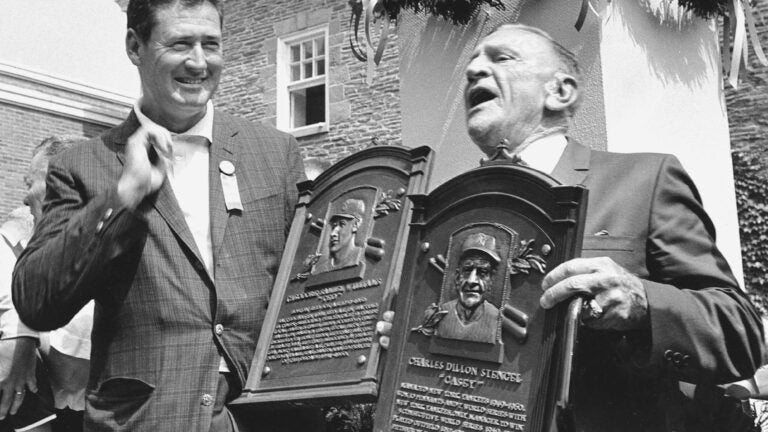 In his storied baseball career, Ted Williams was never afraid to be himself. He refused to tip his cap to fans for most of his 19 seasons in Boston, and maintained a contentious relationship with reporters.
Yet Williams's fearlessness showed in other, more noble ways. He served in two wars, even though it cost him some of the prime years of his career. And in his Hall of Fame induction speech on July 25, 1966, he advocated for the inclusion of African American players.
"I hope that some day the names of Satchel Paige and Josh Gibson in some way could be added as a symbol of the great Negro players that are not here only because they were not given the chance," Williams told the crowd.
African American players who had played in the Negro Leagues prior to Major League Baseball's integration had no representation in the Hall of Fame to that point.
In an interview with Bob Costas in 1993, Williams maintained that not only had no one prompted him to mention the issue, but that he was proud to have done so.
"That was a groundbreaking statement, and it opened peoples' eyes to the other half of baseball history," Negro League historian and author, James A. Riley said years later. "It definitely had a positive effect on getting Negro Leaguers into the Hall."
Williams was more blunt in his assessment of the league's initial response.
"It hit a little note, and the very next year they came out with – I have to say – a half-assed program for the black players to get into the Hall of Fame," Williams told Costas. "Finally, they changed that to full authenticity."
In 1971, baseball commissioner Bowie Kuhn established a commission to induct Negro League legends. Both Paige and Gibson led the list.
Another part of Williams' speech highlighted the contradiction of the Red Sox as an organization. While Williams advocated for including more African American players in the Hall of Fame, he also used part of his speech to praise then-team owner Tom Yawkey.
"I have always said it: Tom Yawkey is the greatest owner in baseball," Williams said. "I was lucky to have played on the club he owned, and I'm grateful to him for being here today."
Yawkey's legacy speaks to the opposite of Williams' advocacy for Hall of Fame inclusion. During his time owning the team, the Red Sox were last in baseball to integrate, and passed on signing both Jackie Robinson and Willie Mays. Williams never fully grappled with the contradiction, and in many ways, neither has Boston.
The crowd in attendance on that day in 1966 made it an irregular Hall of Fame induction. Given the presence of Williams and legendary manager Casey Stengel, a record number of fans flocked to Cooperstown, New York. The Boston Globe's account from the day cited an awestruck Hall of Fame director, Kenny Smith.
"I've never seen anything like it," Smith told the Globe's Will McDonough. "This will be by far the greatest crowd we've ever had here."
Befitting a star of Williams' caliber, he was the head of his 1966 Hall of Fame class. He was the only player to be elected that year. But to add context to the achievement, 19 of the 48 players on that year's ballot would eventually make it into the Hall.
Securing 93.4 percent of the vote, Williams summed it up in his own unique style.
"I received two hundred and eighty-odd votes from the writers," he noted. "I know I didn't have two hundred and eighty-odd friends among the writers. I know they voted for me because they felt in their minds and in their hearts that I rated it, and I want to say to them: Thank you, from the bottom of my heart."