Red Sox
For Red Sox fans, Jeff Bagwell is the 'one that got away'
The New England native and former Red Sox prospect is headed to the Baseball Hall of Fame this weekend.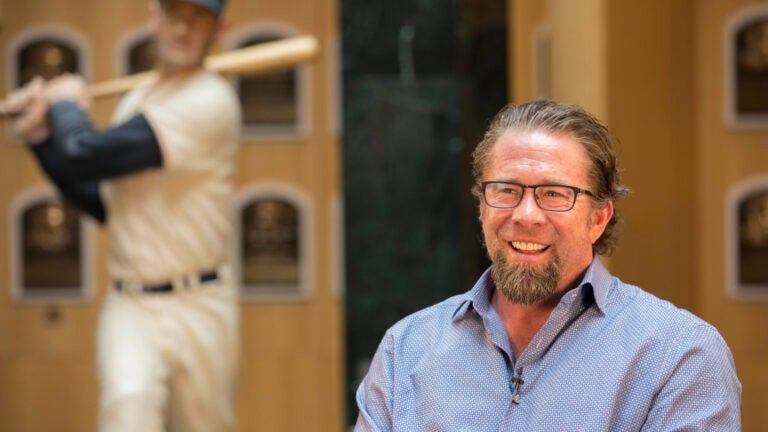 The Red Sox had enough third basemen.
So at the time, the team's decision to trade away a minor league prospect at the position — no matter how heralded — in an effort to fuel their 1990 playoff push seemed well worth it.
"We had depth at third base with Wade Boggs, Tim Naehring and Scott Cooper," Red Sox general manager Lou Gorman told The Boston Globe after the trade. "It was one area where we could afford to lose a player in order to get a pitcher who could help us win the pennant."
Someone should have told Gorman that hometown boy Jeff Bagwell could also play first base.
Fast forward 27 years and Bagwell's presence onstage Sunday afternoon in Cooperstown serves as one more reminder for Red Sox fans of what could have been.
The New England native will be inducted into the Hall of Fame this weekend following a 15-year career with the Houston Astros, during which he averaged nearly 30 home runs and over 100 RBIs a year, batted .297, and collected both Rookie of the Year and Most Valuable Player awards.
Bagwell was born in Boston to a family of Red Sox fans and grew up in rural Connecticut. After graduating from high school, he was offered a baseball scholarship from the University of Hartford.
In 1989, he was drafted by the Red Sox. In 1990, he hit .333 for the New Britain Red Sox and was named the Eastern League's MVP.
Bagwell seemed destined to break into the big leagues with the team of his dreams. But then, on August 31, 1990, the Red Sox traded him away for relief pitcher Larry Andersen.
Andersen, a well-liked, somewhat goofy veteran, was having one of the best seasons of any reliever in the National League. And it continued, at least for a short while, with the Red Sox. In 15 appearances that September, the 37-year-old gave up just three runs over 22 innings.
"If we win the pennant with Andersen, the deal is worth it," Gorman told reporters at the time of the trade.
They didn't.
The Red Sox were swept in the ALCS by the powerhouse Oakland Athletics. Andersen earned the Game 1 loss after he came in and gave up a 1-0 lead in the seventh inning. He signed with the San Diego Padres that offseason.
Meanwhile, the 23-year-old Bagwell made his major-league debut the following season with the Astros and won the 1991 NL Rookie of the Year award. In 1994, batting .368 with 39 home runs and 116 RBIs, he became just the fourth unanimous MVP in NL history.
Bagwell even won a Gold Glove Award that season — playing at first base.
But much to his family's chagrin, it wasn't with the hometown team.
"It crushed us, all of us, when we found out he wasn't going to play for the Red Sox," Bagwell's mother, Jan, told The New York Times that August, in the midst of his monster season. "We would have loved that."
Even three years removed, Bagwell himself was still stung by the trade.
"It was devastating," he told reporters that October. "But it turned out to be the best thing that could have happened to me. I'm still a Red Sox fan. I have a lot of friends on that team right now. I'll always remember being drafted out of the University of Hartford. It was a dream come true."
From his distinctively wide batting stance, Bagwell continued to slug his way through the 1990s and into the early 2000s, as a core member of the Astros' Killer B's. In his final two seasons, Houston appeared in back-to-back NLCS, reaching the World Series in 2005 (they were swept by the Chicago White Sox).
"Maybe he's not Babe Ruth, but Jeff Bagwell's name may soon occupy a similar place in Boston baseball infamy," the Globe's Larry Whiteside wrote in 1994, alluding to another infamously regrettable Red Sox trade.
Bagwell, the leading Hall of Fame vote-getter this year, joins Tim Raines and Iván Rodríguez this weekend as the only three players in the 2017 class. And even though the 1991 deal will look particularly indefensible this Sunday, Red Sox officials did their best to do so.
"All I can say is that with Andersen, we sewed up the race," manager Joe Morgan told the Globe in 1994, crediting the reliever with the team's 1991 AL East title.
Gorman concurred.
"We were in a pennant race and our bullpen was in shambles," he told the Globe's Bob Ryan in a 1991 spring training article presciently titled "Bagwell could become big one that got away."
Unfortunately for Gorman, 1991 was some time before Moneyball. Sports analytics were in their infancy. But Bill James, a pioneer of the budding field, predicted it would not be long before Bagwell became a major league star.
"You never know how good a young player will be," James wrote in his 1991 edition of The Baseball Book, "but, with some luck, Lou Gorman will hear about the Jeff Bagwell trade until the day he dies."
Gorman died in 2011 (he's still hearing about it).
"I don't think any young player has come back to haunt me yet," Gorman maintained to Ryan back in 1991, adding that the best player he'd traded away so far was a young reliever named Curt Schilling.
"He has a chance to be a major league pitcher," Gorman added.