Red Sox
A brief history of David Price's run-ins with the media this season
"It's unfortunate."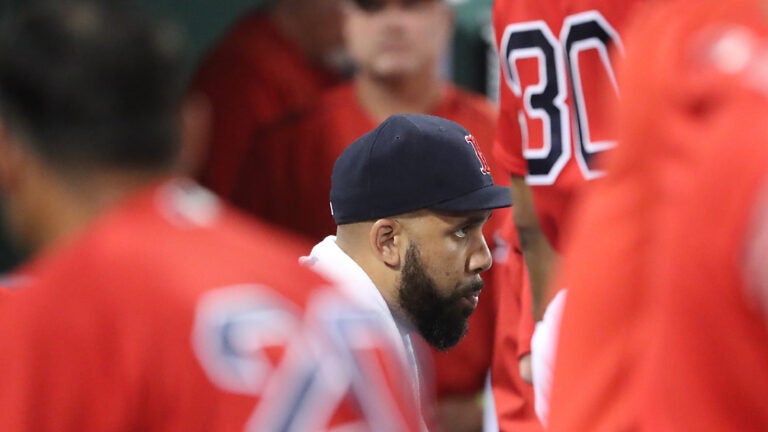 On the mound, David Price has had a pretty good year so far. Off it, it's been a bit rocky.
After missing the first two months of the season to an elbow injury, the Red Sox pitcher has posted a 5-3 record and a 3.82 earned run average alongside fellow aces Chris Sale and Rick Porcello. However, all that has been overshadowed by his clashes with the Boston media. With Price back on the disabled list with elbow soreness, here's a look at how it all started.
June 7: Just two starts into the season, Price told The Boston Globe's Dan Shaughnessy that after his at-times frustrating 2016 season, in which he was pilloried by some media members, that he was tired of getting "blown up" for what he said publicly and would only talk to reporters on days he pitched.
"I was honest with everything they asked me last year and I get blown up for that. So they did this to themselves. Talk to me on the day I pitch and that's it. There are no more personal interviews. There are no more asking me questions on a personal level. That's done.''
After the interview was published, CSN New England reporter Evan Drellich tweeted out that particular quote, as well as context regarding the league standards when in comes to players interacting with the media.
I double checked league's expectations. Per MLB, it is expected and encouraged, but not required, that any player to speak to the media. https://t.co/LZtxfz7uDu

— Evan Drellich (@EvanDrellich) June 8, 2017
June 8: Price apparently took exception. As Boston Herald's Steve Buckley described the following day, the pitcher asked to talk to Drellich in private.
"Sure," said Drellich, who fell behind as the rest of the group entered manager John Farrell's office. Price already was speaking loudly to Drellich when we entered the office. Kevin Gregg, the Sox media relations director, shooed everyone out of the hallway and into the office then closed the door. We still could hear Price yelling.
Buckley said he tried to talk to Price about what happened. The pitcher reiterated to him what he had told Shaughnessy about not talking to the media on off-days. In a more recent column, Buckley recalled that Price "had a few dismissive words for me. And then he dropped an F-bomb on MLB.com reporter Ian Browne."
From the Herald's original June 8 account:
[Price] followed with this: "Write whatever the (expletive) you want. Just write it. Whatever the (expletive) you want."

Soon Drellich was back in the room, and he and Price went at it again. When Drellich said something about Price's professionalism, [Red Sox pitcher Rick] Porcello, standing nearby, asked about Drellich's professionalism.

A few minutes later, when I spoke with Kevin Gregg about my own exchange with Price, I was told to wait around a few minutes. Gregg was going to see if Price would speak with me.

The last words I heard from David Price last night were "(Expletive) them! (Expletive) them all. All of them."
June 9: Drellich elaborated on the confrontation with Price, confirming that Price angrily confronted him.
"It was a very heated argument," said Drellich, who declined to disclose the specifics of the conversation.
"It was in my opinion an over-the-top reaction," he add. Drellich went on to say that he had defended Price's performance during the prior season, but had criticized the pitcher for being "sensitive."
"He feel the entirety of the media, of us, is in the same group, which is unfortunate," said Drellich.
June 30: Fast forward three weeks and Price was at it again with a media member — this time NESN analyst Dennis Eckersley. According to the Globe, Price verbally confronted Eckersley on the team flight following a game in Toronto.
It was unclear at the time what was behind the dispute.
"Some people just don't understand how hard this game is," Price told the Globe.
July 5: A week later, the pitcher briefly addressed the incident.
"Standing up for my teammates," he said following a win, when asked about the confrontation, according to WEEI.
"Whatever crap I catch for that, I'm fine with it."
July 23: In a follow-up column, Shaughnessy provided more details and context for the Price-Eckersley plane confrontation. And it seems it was less of a confrontation than a one-sided castigation. Per the Globe:
Players being sensitive about commentary is not unique to the Red Sox. Friends and wives of ballplayers often relay remarks heard on television. At Fenway, there has been clubhouse disgruntlement about Eckersley's style for some time.

For Price, the tipping point came when he learned Eckersley said "Yuck" when Eduardo Rodriguez's poor stats were flashed on the NESN screen after a rehab start in Pawtucket June 29.

On the day of the episode, Price was standing near the middle of the team aircraft, surrounded by fellow players, waiting for Eckersley. When Eckersley approached, on his way to the back of the plane (Sox broadcasters traditionally sit in the rear of the aircraft), a grandstanding Price stood in front of Eckersley and shouted, "Here he is — the greatest pitcher who ever lived! This game is easy for him!''

When a stunned Eckersley tried to speak, Price shot back with, "Get the [expletive] out of here!''

Many players applauded.
According to Shaughnessy, Eckersley is not often in the clubhouse, nor does he usually travel with the team, so his at-times bluntly critical commentary has particularly rankled some players. Particularly Price. When Eckersley later passed through the players' card-playing section of Red Sox plane, the pitcher reportedly again shouted, "Get the [expletive] out of here!''
According to Shaughnessy, Red Sox management — from owner John Henry to general manager Dave Dombrowski to CEO Sam Kennedy — have reached out to Eckersley in the hopes of smoothing things other.
July 29: Price, who has reportedly not apologized to Eckersley, continued to voice his frustrations at the Hall of Fame pitcher-turned-TV analyst over the weekend.
"If Eck was around, he'd know who we are. He's never in the clubhouse," Price told reporters Saturday. "He's the one guy I've seen in my career that never shows his face in the clubhouse."
Price said that he and his teammates had received texts from other players around the league about Eckersley's commentary.
"If you're going to say what he said, come around, show your face," the pitcher continued. "If guys have a problem with it, pull him aside. That ain't how it's done. That ain't the first time it's happened here regarding Eck. It's unfortunate."
Asked whether his approach to the media was "working," Price said he wasn't sure what that meant, but that the team remained close-knit.
"I know this clubhouse is a tight-knit group of guys," he said, via WEEI. "Everything that's happened has not spaced us out or done anything of that nature. If anything, we've had discussions about it, we've rallied around it. I'm standing up for my teammates. That's it. That's that."