Red Sox
These 10 Red Sox starred as midseason call-ups
Rafael Devers, take note.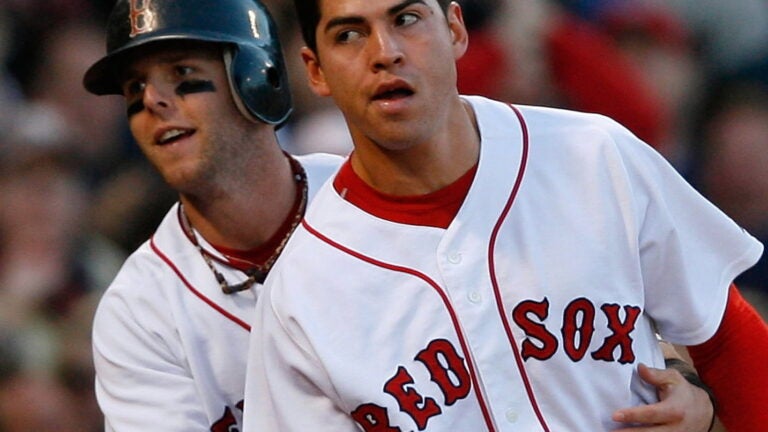 Midseason call-ups can be a tricky thing. Sometimes, players who will be great start off poorly. Dustin Pedroia, Mo Vaughn and Nomar Garciaparra all fit that bill. Sometimes, players who come up and do great in their first taste of the Show fizzle out in subsequent seasons. What type of call-up Rafael Devers becomes remains to be seen, but while we're waiting to see what kind of big leaguer he becomes, I thought we might take a trip down memory lane to see which Red Sox position players have been the best midseason call-ups.
We'll give bonus points to players who came up and helped in a pennant race. Being a first-time big leaguer is stressful enough – being one in the middle of a playoff push when your contributions are actually meaningful is even harder. Also, we're looking for players who didn't come up until the season was half over, at least. Players like Will Middlebrooks or Leon Culberson who came up in May technically were call-ups, but if we're trying to find who Devers may or may stack up against, they don't really make for apples-to-apples comparisons, since they had an extra two months of playing time.
Honorable Mentions: John Godwin (1905), Mel Almada (1933), Dwight Evans (1972), Todd Benzinger (1987)
10. Morgan Burkhart
Debut: June 27, 2000, 95 plate appearances, 4 home runs, .288/.442/.493, 141 wRC+, 0.5 WAR
Burkhart was ahead of his time. His batted ball profile – lots of walks, lots of strikeouts – has become the norm today, or at the very least it is not frowned upon. He came up in late June as the Sox started to slip out from the top of the division, and provided a shot in the arm. For a month, he was the starting designated hitter, and helped keep the Sox in the division race. A Dan Duquette special if there ever was one, Burkhart was named the Independent (Leagues) Player of the Year by Baseball America before coming to Boston, and after his 2000 big-league stint, BA would name the Winter Player of the Year for his work with the Navajoa Mayos of the Mexican Pacific League, but he would never again capture the glory in MLB.
9. Andrew Benintendi
Debut: Aug. 2, 2016, 118 PA, 2 HR, .295/.359/.476, 120 wRC+, 0.6 WAR
Surely you'll remember this debut. Last summer, Benintendi came up and rescued the strong side of the left-field job from an injured Brock Holt and a not-quite-good-enough Bryce Brentz. Together with Chris Young, the Green Monster was once again well patrolled. Just 22 at the time of his debut, he proved he was ready for his moment when he homered in his first playoff at-bat, proving to be one of the few bright spots in an otherwise forgettable playoff series. He hasn't quite lived up to the hype this season, but he has shown glimpses, and his future remains bright.
8. Fred Lynn
Debut: Sept. 5, 1974, 51 PA, 2 HR, .419/.490/.698, 226 wRC+, 0.8 WAR
If we were looking just at the rate statistics, Lynn would be No. 1 with a bullet. It'd be hard to concentrate more awesomeness into such a small space of playing time. Interestingly, Lynn's debut was the last time the 1974 Red Sox would find themselves in first place, as they went from having a 2-game lead on Sept. 1 to finishing seven games out by the end of the season. It was quite the swoon, though it certainly wasn't Lynn's fault. By the end of the following season, he'd be an All-Star, Gold Glover, Rookie of the Year, MVP and very nearly a World Series champion.
7. John Valentin
Debut: July 27, 1992, 212 PA, 5 HR, .276/.351/.427, 116 wRC+, 0.9 WAR
Shortstop Luis Rivera was always known as a good glove man, and at shortstop, the priority is the leather. But even with good defense, light-hitting players have their limits. On July 26, 1992, Rivera was hitting .220/.299/.260, with nearly as many strikeouts (48) as hits (55). Enter Valentin. Johnny V didn't take off right away – he posted just a .695 OPS from his debut at the end of July through the end of August. But in September, he would take off, as he hit .309/.389/.468. Overall for his debut season, he walked more times than he struck out, something he would repeat in subsequent, full seasons, and would go on to have a solid career on the left side of the Red Sox infield.
6. Olaf Henriksen
Debut: Aug. 11, 1911, 108 PA, 0 HR, .366/.449/.409, 141 wRC+, 0.9 WAR
We're all too young to remember this one, but the stats speak for themselves. Ole' Olaf would hit just as well on a rate basis in the subsequent two-three seasons, but he could never grab regular playing time – he never garnered more than 122 PA in a season, and after a couple of down years washed out of the majors.
5. Dwayne Hosey
Debut: Sept. 1, 1995, 77 PA, 3 HR, .338/.408/.618, 161 wRC+, 1.6 WAR
Hosey only started a handful of games in a month where the team already had the division sewn up, but he played so well he made you pay attention. Already 28 years old at the time of his debut, he would prove unable to replicate his great regular-season production either in the 1995 playoffs nor in the following regular season, which would be his last in the majors. Perhaps he got to feast on bottom rung pitching, perhaps he was just hot at the right time, but nevertheless his name still rings bells. He was part of the first Red Sox playoff team in five years, and he also played in the season that came after the player's strike that cancelled the 1994 World Series.
4. Phil Plantier
Debut*: Aug. 10, 1991, 174 PA, 11 HR, .331/.420/.615, 175 wRC+, 2.3 WAR
I put an asterisk on "debut" there, because Aug. 10, 1991 was actually the third time Plantier had been called up to the majors. He was initially called up on Aug. 21, 1990, and didn't get to do much with the chance. Likewise when he was called up June 7, 1991 — he played sparingly during both call-ups. But when he came up in August of '91, it was the real thing, and wow, did he ever take off. If that had truly been his first taste of big-league ball, he'd be No. 1 on this list, but since it wasn't, I knocked him down a few pegs. Still, if you were a Red Sox watcher in those days, you likely remember Plantier's brilliant streak. He helped propel the team back from nine games back in the division to a half-game back toward the end of September before they finally faded for good. Plantier would fade himself in 1992, before he was traded away. He would hit 34 homers in San Diego in '93, but otherwise never really lived up to this blistering stretch.
3. Mookie Betts
Debut: June 29, 2014, 213 PA, 5 HR, .291/.368/.444, 129 wRC+, 1.8 WAR
As the 2014 season came crashing down in what would end up being one of the worst World Series defenses of all-time, there was a ray of light named Mookie Betts. A second baseman turned outfielder, Betts' debut was notable for the fact that he actually did play second base down the stretch for 14 games, the only 14 games he has manned the keystone during his time in the majors. At this point, we can say that Betts is an unequivocal success story, and if he stays in Boston long-term (which is no sure thing) he may end up being one of the greatest Red Sox players of all-time.
2. Sam Horn
Debut: July 25, 1987, 177 PA, 14 HR, .278/.356/.589, 144 wRC+, 1.1 WAR
Horn gets the nod over Betts because of his prodigious power. He would become such a mythical player that perhaps the most famous baseball message board out there – Sons of Sam Horn — bears his name. Horn would go on to have a decent career, but that was mostly due to his time in Baltimore. In the '88 and '89 seasons, his offense completely fell apart, and the Sox released him. Nevertheless, he is remembered fondly, thanks in part to his stint with NESN as an analyst after he retired.
1. Jacoby Ellsbury
Debut: June 30, 2007, 127 PA, 3 HR, .353/.394/.509, 136 wRC+, 1.2 WAR
This one is hard to top. Ellsbury not only came up and excelled, but did so for a team that would go on to win the World Series in resounding fashion. In his first weekend with the team, he scored from second on a wild pitch, but he was sent back down, and didn't receive regular playing time until rosters expanded on Sept. 1. Once in the lineup full-time, he spared the team from the horror of playing Eric Hinske in the left field. When Manny Ramirez was ready to return, he moved to center field, displacing Coco Crisp. He would start all four games in the World Series, and his run-scoring double in the eighth inning of Game 3 was one of the biggest hits of the Fall Classic.