Red Sox
John Farrell makes some odd decisions. But he deserves some credit for the Red Sox' run of late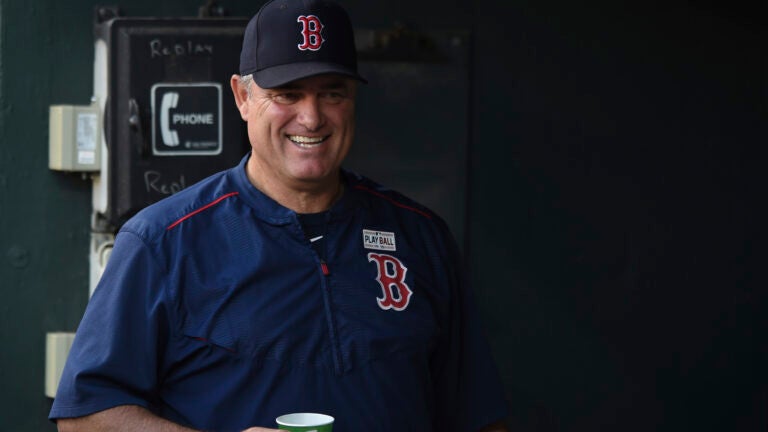 COMMENTARY
As it turns out, the eventual successor to Terry Francona probably should have been the guy who stole that base once upon a time and changed everything.
Dave Roberts, author of arguably the most famous steal in baseball history, one that surely requires no further elaboration for this audience, is doing rather well in his post-playing career.
In his rookie season as the manager of the Los Angeles Dodgers — the franchise from which the Red Sox acquired him in a fateful afterthought of a trade in 2004 — he was named the 2016 National League manager of the year.
Given that his Dodgers are a ridiculous 79-32 entering Monday, he should become just the second National League manager to win the award in back to back seasons, following the Braves' Bobby Cox in 2004-05.
Seems to me that Roberts, whom you may recall worked as an analyst for NESN after retiring in 2009, made the right decision to go into the managing life. I'm going to go out on a limb and say the Red Sox should have hired him rather than Bobby Valentine in 2012. I know: bold.
Based on my correspondence with many of you through e-mail and Twitter and whatnot, it's safe to conclude that the vast majority of you would prefer Roberts to the current Red Sox manager, John Farrell. Then again, such correspondence suggests many would prefer a turnip in a New Era ballcap to Farrell. Others think Farrell is a turnip in a New Era ballcap.
So goes the existence of a Red Sox manager, I suppose. Francona was the best manager the franchise has had in my lifetime in about half-dozen different ways, and yet every one of us knows someone — or is someone — who liked to refer to him as Francoma. The Red Sox manager can't win, even when he does win.
Farrell certainly can be exasperating. He seemed on the verge of burning out closer deluxe Craig Kimbrel early this season. He seemed more annoyed that the David Price/Dennis Eckersley confrontation became public knowledge than he was that his pitcher made a fool of himself.
This is the one that really annoys me: He continues to hit Mookie Betts leadoff for some bewildering reason, guaranteeing that Betts gets one at-bat per game (his first one) with no one on base. That also leaves arguably their most dangerous hitter — despite Betts's odd inconsistencies this season — following the worst hitters when the lineup turns over from 8 and 9 to 1. Hit Betts second or third and go from there.
Unlike Francona, who had a clear answer for every decision he made even if you didn't agree with the reasoning, Farrell often explains himself like he's reading the second paragraph of a quickie Associated Press game story: "Mookie homered and pulled out of his slump, and Chris Sale pitched seven strong innings as we took two out of three in the series . . .''
He makes himself an easy target, and Red Sox fans and various media personalities would take aim even if he didn't. I'm not much of a Farrell guy — he's an accomplished and well-regarded baseball man who seems to make an awful lot of bewildering decisions for someone who has lived the game from so many different perspectives.
If Francona is the best manager I've seen with the Red Sox and Joe Kerrigan is the worst, Farrell is right there in the mediocre middle, shoulder to shoulder with Don Zimmer and John McNamara. They've done better, and they've done much, much worse.
He deserves much of the grief he gets, whereas Francona did not. But I do wish Red Sox fans had it in their DNA to acknowledge when a manager they do not like is on a pretty good run. This has been a weird Red Sox season so far, even by their standards. They are in first place by three games in the American League East, but they are not quite as good as they were projected to be, so there is some frustration based on thus far unfulfilled high expectations.
Yet the Red Sox entered Monday having won six straight games to move to a season-high 14 games over .500 (63-49). It should not go unnoticed — though it apparently has — that Farrell made several tactical decisions during this stretch that may not have been popular but worked out rather well. He batted newcomer Eduardo Nunez, who is not much of a power hitter, in the middle of the order. Nunez has a 1.229 OPS through his first nine games with Boston.
What else? He did not hesitate to move up sweet-swinging 20-year-old Rafael Devers to the heart of the lineup. He hit Chris Young cleanup against a righthander Sunday, and Young rewarded him by homering twice. He sat down Andrew Benintendi for a couple of clear-your-head days. Benintendi has six hits in 13 at-bats and a 1.457 OPS since.
Drew Pomeranz is having a Bruce Hurst season. The Red Sox bullpen leads the majors in ERA (2.91). Shouldn't he get credit for those things too, especially since Pomeranz and the bullpen were supposed to be weak links?
Yeah, Farrell does goofy things that don't work, too. He famously let reliever Brandon Workman, who hadn't batted since high school, hit in Game 3 game of the 2013 World Series. We hear about that one a lot, and the Red Sox did lose that game.
Three games later, the Red Sox were celebrating on the Fenway Park lawn as World Series champions. It was the first time since 1918 a manager other than Francona had guided the Red Sox to a championship.
Farrell is far from perfect. He's not Francona. He's not even Dave Roberts. But the Red Sox can win with him. They already have.