Red Sox
Ted Williams once spat at fans and defiantly declared, 'I'd spit again'
"Why the man does those things is something I can't figure out. I can't. I can't. I can't."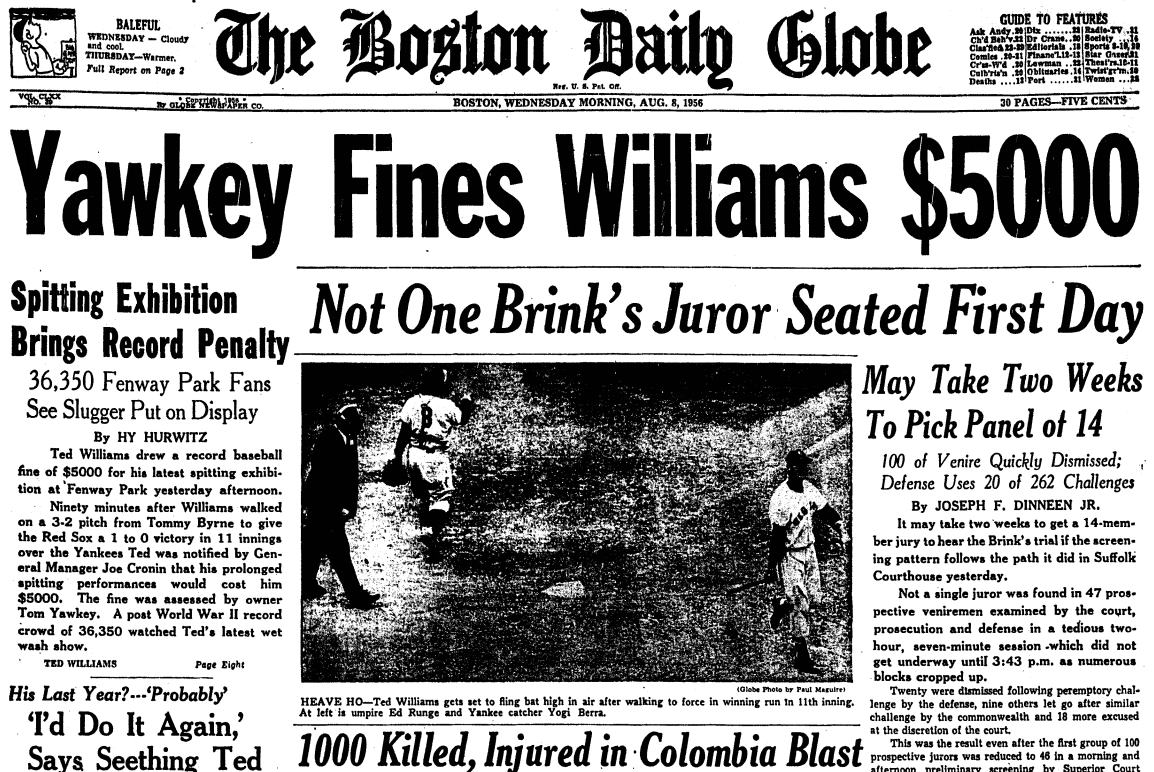 Long before David Price took issue with Dennis Eckersley, or chicken and beer became a 2011 subplot, Boston was a contentious place to play baseball. Passionate fans and a scrutinizing media are not unique fixtures of the last decade.
No one experienced this more than Ted Williams.
From 1939 until 1960 (though in reality it extended years beyond that), Williams rarely got along with reporters. And his feelings toward fans were always complicated. Arguably no incident better demonstrated this than the time he contemptuously spat in the direction of Fenway Park fans who booed him on August 7, 1956.
The incident occurred during the 11th inning of a Red Sox-Yankees game locked in a 0-0 tie. With two outs in the top of the inning, Mickey Mantle hit what a Boston Globe account described as a "routine fly ball" out to Williams in left field. Never known for his defense, Williams dropped the ball, allowing for a two base error.
Fans in left field reportedly booed Williams, who redeemed himself at the very next possible opportunity, catching a Yogi Berra shot in front of the Green Monster. As he trudged back towards the Red Sox dugout with the inning over, the theatrics began:
About halfway between first base and the Red Sox dugout, Ted went into his spitting show. He spit in the direction of the box seats back of the Red Sox dugout. As he reached the top of the dugout, he turned in the direction of the press box and did it again.
As a player who never truly exited the spotlight, Williams's role in the game proved decisive. In the bottom of the 11th, with the bases loaded, the 37-year-old slugger drew the game-winning walk. He flipped his bat "about 50 feet in the air" in frustration even as the team celebrated a 1-0 win over their rivals from New York. The real story, Williams knew, would not be about the game's outcome.
In the aftermath of the spitting, Williams drew a then-astronomical fine of $5,000 (five percent of his $100,000 season salary). The cantankerous outfielder, after initially apologizing, quickly reverted to his initial opinion of the matter.
"I'd spit again at the same peopled who [booed] me today," Williams defiantly declared to reporters after the game.
When asked if he would return to the ballpark the next day, he quipped, "Probably, because I can't afford a $5,000 fine."
"You writers are responsible for this, " he said after declaring himself blameless for the crowd's boos. "The whole thing. I'm no rock head, you know. If it didn't bother me, I wouldn't be as fired up as I am now."
Red Sox owner Tom Yawkey took responsibility for the fine while lamenting Williams's antics.
"I instigated it, yes," Yawkey explained about the $5,000 fine. "Why the man does those things is something I can't figure out. I can't. I can't. I can't. O[h], so many times I have tried to figure it all out. But I can't. I can't. I can't."
"Williams is a super-sensitive guy," Yawkey added.
An interesting twist to the spitting affair arrived in the very next game. If Williams was looking for a clue as to the feelings of Red Sox fans, it became apparent when the first pitch had to be delayed to accommodate the larger-than-average crowd.
Globe sports writer Clif Keane quoted a fan sitting next to him in the left field seats that night saying, "I never thought that man would show up tonight after what the fans and Tom Yawkey did to him yesterday. But there he is. He's a big guy. Atta boy, Ted, I'm all for you."
Williams, never shy of being the center of attention, responded. In the sixth inning, the game was tied 2-2 (thanks partly to an Orioles home run hit by Terry Francona's father, Tito). Williams ripped Connie Johnson's pitch over the right field wall, circling the bases before making a knowing gesture.
"Before Williams disappeared into the depths of the dugout he placed his right hand over his mouth in a mocking gesture which meant he was holding back another 'spitting incident,'" noted the Globe's recap.
The crowd reportedly "howled" at Williams's humor, having cheered like "wild" after his home run.
The August 7 incident was reportedly neither Williams's first nor his last spitting episode. He would be fined again in 1958 for spitting in the direction of Kansas City fans (only $250 on that particular occasion). Yet the August 7 tiff strangely helped Williams find peace with a majority of Red Sox fans.
As Williams biographer Leigh Montville noted:
A half dozen funds were started to pay his fine. A legislator from South Boston introduced a bill to have uncouth spectators at Fenway fined. Public reaction everywhere was on Williams's side and against the side of the sportswriters, his persecutors.
And a few columnists had certainly played their part, coming out against Williams following the spitting. Harold Kaese's fiery take in the Globe led with a headline: "Ted Should Quit."
But in their response the next night, the fans helped calm Williams's initial declaration that 1956 was "probably" going to be his last season. He would continue to play through the 1960 season, hitting a whopping .388 the very next year in 1957. He explained himself to Sports Illustrated shortly afterward:
They're interviewing psychiatrists now on me…. I am the spitting cobra…. I never had any trouble in any other town, only Boston. I know that 90% are for me without question, but they have such an element of writers up there—and I'm not saying all of them, just four or five. They wish they could knock me down to where I was begging for mercy. Well, they'll never see that.
For Williams, he responded to the challenges of Boston in a way that the fan Clif Keane interviewed found admirable. Instead of shying away from critics, he returned with greater motivation. This was true year after year, with his career's longevity at least partly due to this. As biographer Ben Bradlee Jr. concluded, Williams ultimately took "great satisfaction…and delight in the fact that he had outlasted the bastards."