Red Sox
Jordan Leandre on errant first pitch: 'It just kind of slipped out of my hand'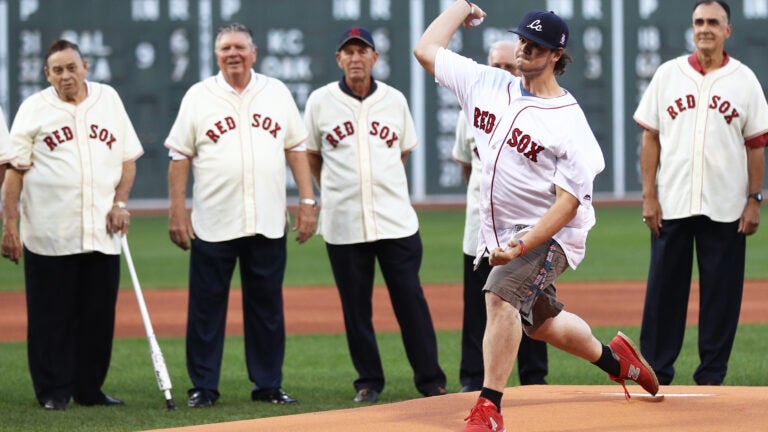 As part of the Jimmy Fund Radio-Telethon, pediatric cancer survivor Jordan Leandre threw out the first pitch for the Red Sox-Cardinals game at Fenway Park on Wednesday night.
But it didn't quite go as planned.
Leandre, who is a pitcher at Barnstable High School, launched the ball just a bit outside of the strike zone.
First pitch tonight at Fenway..missed his target, by just a little bit. #RedSox pic.twitter.com/IrPG95xYf1

— Chad Amaral (@chad_amaral) August 16, 2017
The 17-year-old took to Twitter to crack some jokes about his performance.
E-Rod struggling tonight, it's a shame they didn't leave me in. I was just getting warmed up

— Jordan Leandre (@Jordan_BBS) August 16, 2017
@Eck43 is up in the booth… probably saying something along the lines of "yuck"

— Jordan Leandre (@Jordan_BBS) August 16, 2017
On his way to the Red Sox clubhouse, The Boston Globe's Alex Speier caught up with Leandre following the memorable first pitch.
Speier: When you let the pitch go, did you realize where it was going?

Leandre: As soon as it left my hand, I literally said, "Oh, no!" in my head.

Speier: Were you having control struggles while warming up?

Leandre: I went to throw and my back cracked. It just kind of slipped out of my hand.

Speier: Given what you've been through and what the Jimmy Fund has meant to you, what did it mean to throw out the first pitch?

Leandre: It feels great. I've been part of these ceremonies before, but I love being part of the Jimmy Fund telethon.
A former patient at the Dana Farber Cancer Institute, Leandre has sung the national anthem at Fenway Park on multiple occasions. In 2004, he became the youngest person to do so at four years old.
Correction: A previous version of this article incorrectly stated Leandre is a pitcher at Dennis-Yarmouth High School. That is his former school.