Red Sox
The Red Sox-Yankees Twitter war in 8 tweets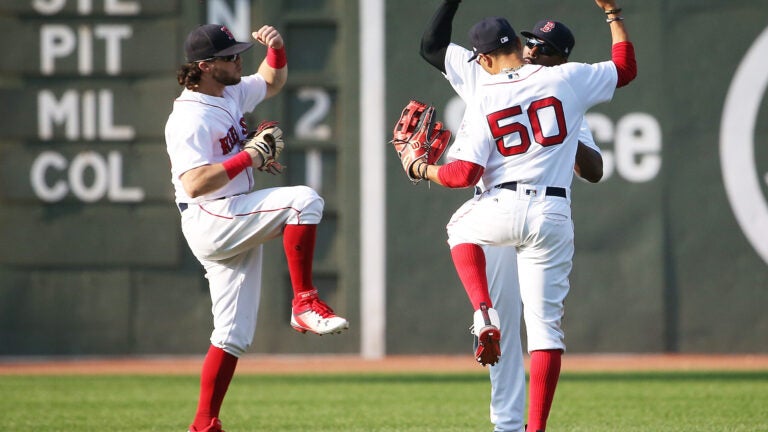 After staying relatively insipid for almost the past decade, the Red Sox-Yankees rivalry is finally back. But not only are the top two teams in the AL East going at it on the diamond, they're also taking shots at each other on social media.
Things got started back in June on Global Running Day. To celebrate, Boston shared a video of pinch-runner Dave Roberts' stealing a critical base in the bottom of the ninth inning against the Yankees in Game 4 of the 2004 ALCS. Roberts' speedy base running arguably saved the Sox from getting swept and sparked their historic World Series run.
#GlobalRunningDay ? pic.twitter.com/XuyJO9QbB7

— Red Sox (@RedSox) June 7, 2017
As the race for first place was just starting to heat up, so did the banter. To close out the pair's second series of the season, New York won two straight games in the Bronx and secured its position as the division leader. The team was not shy about sharing the news on Twitter:
Cue up Sinatra and #StartSpreadingTheNews, it's a shutout!

Final: Yankees 8, The Team In 2nd Place 0. pic.twitter.com/CjkqRsGX9Q

— New York Yankees (@Yankees) June 8, 2017
#StartSpreadingTheNews, the series is ours!

Final: Yankees 9, The Team Still In 2nd Place 1. pic.twitter.com/3prhAAJuvP

— New York Yankees (@Yankees) June 9, 2017
They even took a not-so-subtle jab at the Red Sox outfielders' classic post-game celebration, tweeting out "Win. Dominate. Repeat." The original version of that phrase is, of course, "Win. Dance. Repeat."
Win. Dominate. Repeat. ? pic.twitter.com/MmpYCpgdTE

— New York Yankees (@Yankees) June 9, 2017
Later in July, it was the Red Sox's turn to adopt one of the Yankees' catchphrases. When Jackie Bradley Jr. made a sensational home-run robbing catch over the wall, the team's Twitter account captioned the photos, "All Rise," which happens to be New York rookie Aaron Judge's slogan.
All Rise. pic.twitter.com/gI1cAWZDAH

— Red Sox (@RedSox) July 17, 2017
But the Yankees aren't holding back, despite falling to second place in the AL East. After getting pumped up over a comeback win…
Winning > ?.

Final: Yankees 5, The Visiting Team 4. #StartSpreadingTheNews pic.twitter.com/4bQ5Yyhsf3

— New York Yankees (@Yankees) August 12, 2017
…they showed no signs of discouragement upon losing the subsequent game.
Final: The Team We Have 8 More Chances Against 10, Yankees 5.

— New York Yankees (@Yankees) August 12, 2017
For the time being, however, the Red Sox appear to have gotten the last laugh. After beating the Yanks 5-1 on Sunday, they decided to make a little correction to a previous tweet sent out by their rivals.
* #WinDanceRepeat https://t.co/zq0LdDHsVT

— Red Sox (@RedSox) August 20, 2017
The two teams will meet for one last regular-season series, Aug. 31-Sept. 3.