Red Sox
Indians beat Red Sox on bunt-error walk-off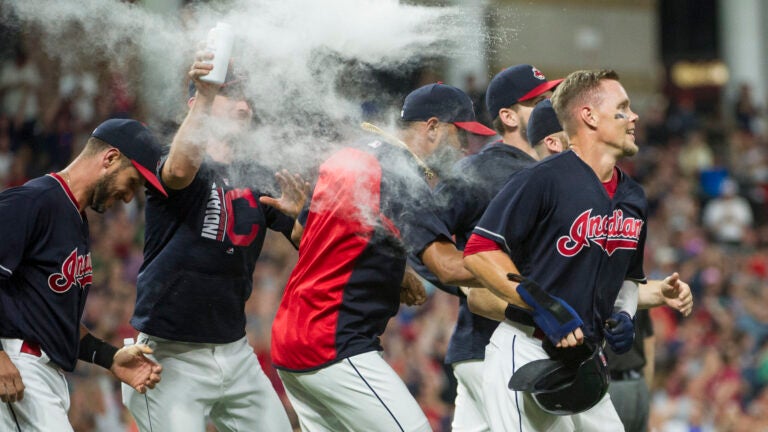 CLEVELAND (AP) — Andrew Miller wasn't among the Cleveland Indians chasing Roberto Perez around the infield, flinging water and white powder to celebrate a wild win over an American League rival.
The Indians relief ace — a pivotal piece during Cleveland's run to the World Series last season — may miss a few more big moments this season, too.
Miller's injury put a damper on a 5-4 walk-off victory Monday night over the Boston Red Sox, a game that ended when first baseman Brock Holt threw away Perez's bunt in the ninth inning, allowing Brandon Guyer to score from second base.
Miller left in the seventh after aggravating the patellar tendinitis in his right knee. Miller spent over two weeks on the disabled list with the injury before returning Friday. This was his second appearance since.
Manager Terry Francona said Miller will be evaluated Tuesday, but it seems likely that he'll return to the DL.
"Hope for the best and hope that it's not a big deal," Miller said. "It stinks missing any time. I've already missed 12 days or something like that. I don't want to do it again. We'll find out more (Tuesday). See how I wake up."
"That's not what we were hoping for, but we'll let the medical people put their heads together and see what they can do," Francona said.
Miller began the seventh by walking Red Sox star Mookie Betts on six pitches — including a number of fastballs that failed to reach 90 mph — and then threw one pitch to Andrew Benintendi before walking off the mound. Francona and a team trainer had a brief conversation with Miller, who then left the field.
Miller said he was optimistic that he had turned the corner with the injury, but that changed when he entered the game.
"It was kind of not really crisp the first pitches," he said. "But the pitch I pulled inside to Mookie, I kind of felt it. And I threw one more and it was the same thing."
The left-hander is 4-3 with a 1.65 ERA and has 79 strikeouts in 54 2/3 innings.
After Guyer's leadoff double against Brandon Workman (0-1) in the ninth, Holt fielded the bunted ball and tried to throw out Guyer at third. Guyer slid into the bag as the throw skipped past third baseman Rafael Devers, then got to his feet and raced across home plate.
Hammy, anyone? #RallyTogether pic.twitter.com/B7AxVkM9zG

— Cleveland Indians (@Indians) August 22, 2017
"It was just a routine play," Holt said. "I couldn't get it out of the glove, fumbled it a little bit, and then tried to rush the throw, and made a bad one."
Holt replaced Mitch Moreland, who was a late scratch because of a sore neck. Moreland took a forearm in the back of the head from Holt on a play Sunday. Manager John Farrell said Moreland passed concussion tests, but he decided to hold him out of the lineup.
Perez also had a three-run homer in the second inning.
Cody Allen (1-6) allowed Christian Vazquez's leadoff single in the ninth, but retired the next three hitters. The inning ended when shortstop Francisco Lindor ran down Betts' popup in center field with his back to home plate.
Boston led 4-3 behind two-run homers by Hanley Ramirez and Andrew Benintendi before Edwin Encarnacion tied the game in the eighth with an RBI single.
Eduardo Rodriguez allowed three runs in 5 2/3 innings for Boston. Mike Clevinger allowed both homers and gave up four runs in 4 1/3 innings for Cleveland.
Jay Bruce was 1 for 4 in his first home game since being acquired from the New York Mets on Aug. 9.
MORE NOTABLE INJURIES
Plate umpire Hunter Wendelstedt was struck on the mask by a warmup pitch in the sixth inning from Red Sox reliever Joe Kelly. Wendelstedt finished the inning, but left while Miller was warming up, which led to a 10-minute delay as second base umpire Alan Porter changed his gear.
Indians first baseman Carlos Santana also left the game with an injury, exiting in the eighth inning with lower back tightness.
TRAINER'S ROOM
Red Sox: LHP Drew Pomeranz (back spasms) says he's on schedule to start Wednesday after a bullpen session Monday. He left his start against the Yankees on Friday in the fourth inning. "I feel pretty good," he said. "The progression is a little better every day, so I'm looking to keep getting that improvement."
Indians: OF Michael Brantley (sprained right ankle) is hitting and playing catch but hasn't started running. He's on the disabled list for the second time this season with the injury.
UP NEXT
RHP Doug Fister will face Cleveland for the third time in his last four starts Tuesday. He defeated the Indians on July 31, allowing two runs in 7 2/3 innings, but gave up five runs in 4 1/3 innings and got the loss Aug. 14. RHP Carlos Carrasco didn't make it out of the second inning against Boston on Aug. 2, allowing five runs.
___
More AP baseball: https://apnews.com/tag/MLBbaseball