Red Sox
What we've learned about Rafael Devers after his first month in the majors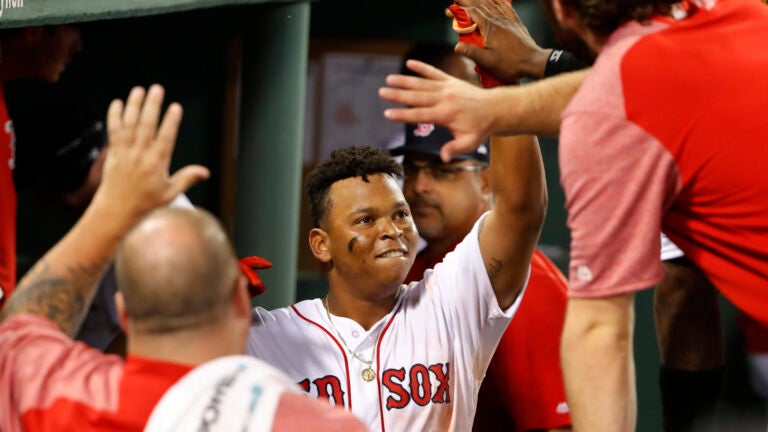 While Rafael Devers now might seem like an integral part to the Red Sox offense, he joined the team as a question mark. After playing just nine games with Pawtucket's squad, he was called up to the major leagues at the end of July to fill Boston's void at third base. Did he have a hot bat back in the minors? Certainly. But his inconsistent fielding and lack of experience were also worries at the worries.
Here are some things Devers has proven in his first month with the Red Sox:
He's adequate defensively
It's hard to imagine that the same player who struggled with infield gaffes in Triple-A threw this dart to home plate against the Blue Jays on Monday night.
ICYMI: @Rafael_Devers has a cannon for an arm. #RedSox pic.twitter.com/XOvmCnUxaX

— Red Sox (@RedSox) August 29, 2017
Though he has committed six errors with the Red Sox, Devers's fielding percentage has improved from .810 with the PawSox to a respectable .914. Where he's really shined, however, is at the plate.
His bat is something special
The rookie got off to a fast start, becoming the team's only batter in the last 100 years to record a base hit in 17 of his first 20 games. He also fired off eight home runs during that time period, becoming just the second Red Sox (George Scott, 1966) to do so in the past century. And if that's not enough, Devers notched 28 hits within that time span to match Johnny Pesky for most hits in team history through 20 games.
At the end of his first month in the majors, his batting average is .286 and his on-base percentage is .344. While his 17 RBI are certainly also notable, there's a side to the story that those cumulative statistics don't necessarily cover.
During the team's recent series against their longtime rivals, Devers launched homers in three consecutive games. The last Red Sox player to achieve such a feat under the age of 21? Babe Ruth.
20-year-old Rafael Devers: HR in 3 straight games vs Yankees. Last player to HR in 3 straight vs NYY before 21st birthday: Babe Ruth, 1915. pic.twitter.com/4dXKM69GsA

— ESPN Stats & Info (@ESPNStatsInfo) August 20, 2017
He's clutch
Just one week prior, Devers was responsible for a devastated Yankees fan's reaction after crushing a game-tying solo shot over the centerfield wall in the top of the ninth inning. He became just the second left-handed batter ever to hit a home run against closer Aroldis Chapman. Oh, and Chapman's pitch? A 102.8 mph fastball.
Red Sox-Yankees never disappoints. pic.twitter.com/4A3FeUuCgF

— ESPN (@espn) August 14, 2017
His manager is impressed
It might be hard to imagine the Red Sox without their beloved rookie sensation, and the fact that two players fit that description gives the team all the more promise if the team elects to hang on to both youngsters for the long haul. While there's no indication regarding what the team plans to do, Devers's superb performances haven't gone unnoticed by the fans or the coaching staff. In July, manager John Farrell pegged him as a "rare" commodity.
"It's the best way I can describe it," Farrell said. "He's a unique talent … The bat speed and the calmness combined with the power and the overall approach, those are things I don't think you teach. That's hand-eye coordination and instincts to stay behind the swing and drive the pitch where it's located. For a young hitter, that is rare."