Red Sox
Eduardo Nunez, once a friend to the Yankees, is now a thorn in their side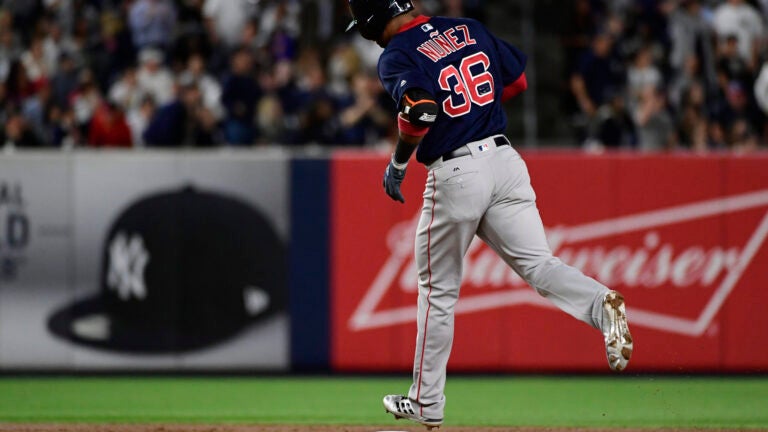 NEW YORK — During Eduardo Nunez's four seasons as a New York Yankee, he was part team mascot, part punch line.
His teammates laughed at the way his helmet would fly off every trip from home to first, and they delighted in his high-pitched giggle, which often rang through their clubhouse.
Nunez would occasionally exasperate them, too, with a fielding miscue or a base-running gaffe, but he was also the guy who could be relied upon to be a good sport when his teammates teased him, as Derek Jeter did a couple of seasons ago in Toronto by drawing a chalk outline of Nunez's body at the spot in the infield where he fell, in exaggerated fashion, after straining a hamstring.
Always, he was good old Nunie.
But while Nunez may still be a friend to some of the Yankees, he is no longer a teammate. Even worse, he is a member of their most intense rival, the Boston Red Sox, who also happen to be the team the Yankees are chasing in the American League East.
And after the first two games of a crucial four-game series between the teams this week, no one on the Yankees has been laughing with, or at, Eduardo Nunez.
On Thursday, Nunez infuriated Yankees pitcher C.C. Sabathia with a batted ball that barely made it to the pitcher's mound. And on Friday, Nunez took a different approach, helping beat the Yankees with a ball that traveled almost 400 feet.
If Sabathia and the Yankees were upset with Nunez on Thursday night, after a game they wound up winning, one can only imagine how they felt about him after Friday's 4-1 loss.
Nunez's home run, a line drive off a Sonny Gray fastball that buzzed into the lower-left-field seats with a man on base in the third inning, gave the Red Sox a 2-1 lead that they did not relinquish.
When Andrew Benintendi launched another Gray fastball deep into the right-field seats in the fifth inning to make it 3-1, the lead became as good as insurmountable. And by the time Hanley Ramirez clouted yet another Gray fastball into the Yankees' bullpen leading off the seventh, it had the look and feel of piling on.
That is because the Yankees' offense has scored only 13 runs in Gray's six starts since he was acquired from the Oakland Athletics for two minor league pitchers at the trade deadline, and only twice has it scored as many as four in one of his games.
With the exception of those three pitches, Gray — as he has in all of his Yankee starts — performed well enough to win. He worked seven innings, allowed five hits, struck out nine and walked one.
"It's one of those games you kind of scratch your head when you look at the line score," manager Joe Girardi said. "He just made some mistakes."
In fact, only two of those pitches were mistakes, fastballs up and over the plate to Benintendi and Ramirez. The pitch to Nunez, however, was another story, a 92-mph fastball down and away. Somehow, Nunez went down and got it, the ball jumping off his bat for his eighth home run.
"I don't think that was a bad pitch," said Gray, who dropped to 8-9 overall and 2-4 as a Yankee.
For a time, it appeared that this Gray start would be different. Back-to-back first-inning doubles off Boston starter Doug Fister by Brett Gardner and Aaron Judge, who had not had an RBI since Aug. 23, gave the Yankees a 1-0 lead.
But the next three hitters — Gary Sanchez, Didi Gregorius and Starlin Castro — grounded out. Jacoby Ellsbury singled with two out in the second, after which Fister held the Yankees hitless until Chase Headley bunted for a hit with two outs in the seventh.
The loss was especially costly for the Yankees because, after having gained a game on the AL East-leading Red Sox with Thursday's win, they returned to 5 1/2 games back Friday night, with only two more games, on Saturday afternoon and Sunday night, between the teams for the rest of the regular season.
And in the hunt for an AL wild-card berth, the Minnesota Twins, the Los Angeles Angels and the Baltimore Orioles — whom the Yankees will face for three games at Camden Yards starting Monday — are breathing down their necks. Pending the outcome of later games, the Yankees held a one-game lead over the Twins for the first AL wild-card spot, a 2 1/2-game edge over the Angels and a 3 1/2-game advantage over the Orioles.
With the division race slipping away from the Yankees, now even a wild-card berth is on thinning ice.
"I think our mentality was that we needed to come in and win this series," Headley said. "Now, crazy things happen. I've seen leads disappear in a hurry. I wouldn't say there's no shot if we don't, but we're starting to feel the urgency that we need to win this series."