Red Sox
Fans drape 'Racism is as American as baseball' sign over Green Monster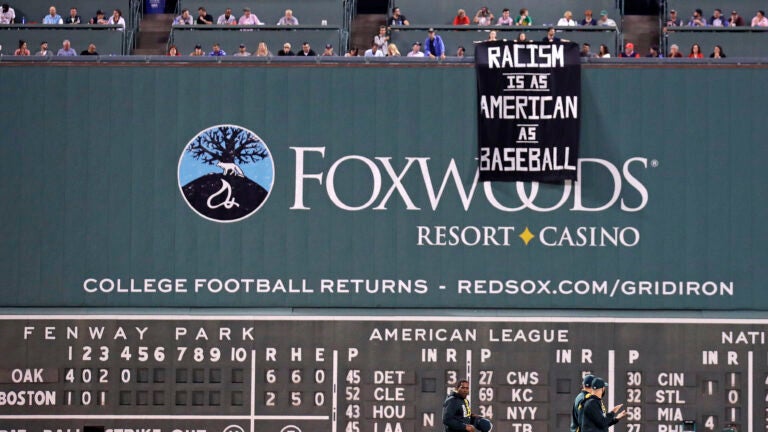 Fans draped a sign reading "Racism is as American as baseball" over the Green Monster at Fenway Park during the Red Sox-Athletics game Wednesday night.
Some fans in the Monster Seats hung a banner over the wall that said, "Racism Is As American As Baseball." Security removed them. pic.twitter.com/tVSai9XocY

— Pete Abraham (@PeteAbe) September 14, 2017
Red Sox spokeswoman Zineb Curran replied with the following statement via email when asked about the incident:
"During the 4th inning of tonight's game, four fans unfurled a banner over the left field wall in violation of the club's policy prohibiting signs of any kind to be hung or affixed to the ballpark. The individuals involved were escorted out of Fenway Park."
According to The Boston Globe, the sign was visible for about two minutes and no arrests were made in connection to the incident.
Red Sox president and CEO Sam Kennedy told the Globe that the group involved told ballpark security guards they "felt connected to the Black Lives Matter movement."
"Saw it was draped over the Monster," Red Sox manager John Farrell said after the game, according to the Associated Press. "From the dugout, you see someone expressing their opinion and it looked like it was withdrawn relatively quick."
Red Sox fan David Ryan, of Boston, whose seats the banner was unfurled from, told the Globe he was approached by two men and a woman between innings, requesting to take in the view from his front-row Monster seats.
"They hung it out there and all the boos came in. We said, 'That can't be good,'" Ryan said. "We're vets. We don't want no [bull] out there. So I asked [one of the women in the group] at least three times clearly, 'What does the sign say?' She wouldn't even turn her head to look at me. I said, 'That's cowardly. You won't even tell me what it says.'"
One member of the group spoke to CSNNE anonymously Wednesday night, telling the network they expected to be kicked out of Fenway but were surprised by some people's interpretation that their message wasn't clear.
"I guess we should have seen that coming, but we also didn't think of it as an ambiguous message," the group member said. "It's kind of telling that it is being interpreted as one."