Red Sox
Fenway banner's message sparks debate over organizers' intent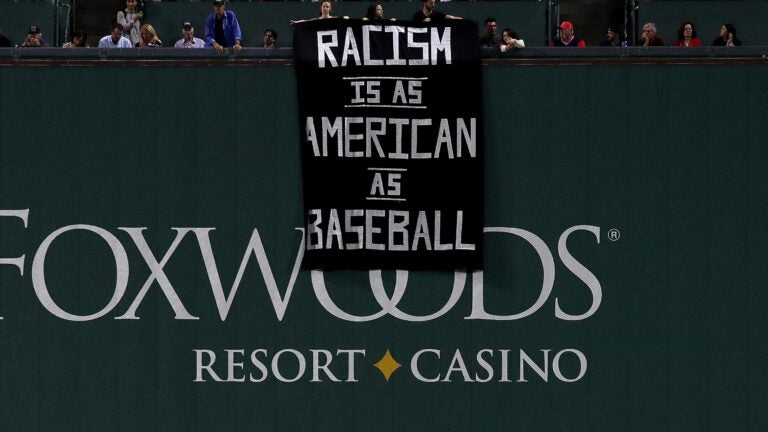 After unfurling a large banner that read "Racism is as American as baseball," four people seated in the Green Monster were ejected from Fenway Park on Wednesday night. According to a Red Sox statement, the group was removed for violating the club's policy that prohibits "signs of any kind to be hung or affixed to the ballpark."
Following the game, one of the individuals involved spoke anonymously with CSNNE's Evan Drellich about their motives behind the act. In addition to citing the incident with Orioles center fielder Adam Jones, the group member referenced systemic issues they noticed in the city as a whole.
"We see Boston continually priding itself as a kind of liberal, not racist, city and are reminded constantly that it's actually an extremely segregated city," the planner told Drellich on the phone. "It has been for a long time, and that no white people can avoid the history of racism, essentially. So we did this banner as a gesture towards that, to have a conversation about that."
Taking inspiration from the Black Lives Matter movement and other organizing groups in the local area, the person said the group was in touch with those who planned a similar occurrence back in June.
Young Jews from @IfNotNowBoston drop banner on #greenmonster at @fenwaypark #50YearsTooMany pic.twitter.com/YZvyen2Zqo

— IfNotNow Boston (@IfNotNowBoston) June 14, 2017
While the individual told Drellich that the group didn't find their message to be ambiguous, the reaction on Twitter may speak otherwise. Unable to discern whether the sign was anti- or pro-racism, a large contingent of users expressed their confusion via social media.
IMPORTANT QUESTION: Did they mean the banner as a wake-up call about the prevalence of racism, or as a message of *support for* racism? pic.twitter.com/tP5nU0JjpB

— Liam Martin (@LiamWBZ) September 14, 2017
Do you think the message behind the "Racism is as American as baseball" banner was ambiguous? https://t.co/HOnh3Ejbpl

— Nicole Yang (@nicolecyang) September 14, 2017
I'm all for what people think. Was that sign a racist sign or an anti racist sign. Am I the only one confused?

— Lou Merloni (@LouMerloni) September 14, 2017
The Fenway banner people probably should have used less ambiguous phrasing…

— Lindsey Adler (@lindseyadler) September 14, 2017
Hopefully the sign at Fenway was written with the right intent/message in mind…but the fact that's not clear means it was a bad idea.

— Adam Kaufman (@AdamMKaufman) September 14, 2017
Bostonians spout the same rhetoric that Fenway banner did when they deflect during convos on how racist Bos is so I dont get why theyre mad

— Larry Beyince (@DragonflyJonez) September 14, 2017
Racism sign at Fenway didn't make me reflect. Already know we have serious race issues in USA. But let people kick back and enjoy the game.

— Steve Buckley (@BuckinBoston) September 14, 2017
"My message to these people is that ballparks are NOT your soapbox for political agendas"- @Jared_Carrabis on the banner displayed at Fenway

— Starting 9 (@Starting9) September 14, 2017
Btw I'm pretty sure they're anti-racism, right?

— Feitelberg (@FeitsBarstool) September 14, 2017
I think that sign at Fenway was calling out racism unfortunately being at the root of this country for a long time. At least, I hope.

— Damon Amendolara (@DAonCBS) September 14, 2017
I'm confused by this Fenway sign. Are they (the sign holders) racists or are they calling out racism? Forgive me, my brain is crap today

— Andy (@clevelAndy_) September 14, 2017
Is it just me or are most people misunderstanding the Fenway protest banner? Aren't they trying to point out America has a racism problem?

— DACA Lives On (@WilliamAHirsch) September 14, 2017
"I guess we should have seen that coming," the planner said in response to the puzzlement. "It's kind of telling that it is being interpreted as [ambiguous]."
Perhaps adding to the situation's uncertainty, an unofficial Boston Antifa account also claimed responsibility for the stunt. In the video posted on Twitter, a heavily breathing masked man poses as one of the participants to explain the evening.
"Greetings. This is Boston Antifa. So as to why we did this tonight? Our statement in simple: We were largely inspired by Howard Bryant, who now writes for ESPN" he says behind a red cloth. "His article, 'Don't expect protests in baseball — it's a white man's game by design' was inspirational."
"Red Sox' own history comes into play as well," he continues. "Going back to Tom Yawkey, the team has made its name on racism. The Red Sox were actually the last to admit person-of-color players back in the days of Jackie Robinson."
Antifa's statement on the Fenway banner and racism in the Red Sox and baseball in general. #BaseballISRacist #RedSox pic.twitter.com/Uor9NaPlZA

— Boston Antifa? (@AntifaBoston) September 14, 2017
While his speech might seem convincing, the organizers who spoke with CSNNE told the network that they are "in no way associated with Antifa nor did Antifa Boston have anything to do with the action." The group issued a new written statement later that night via email.
https://twitter.com/LiamWBZ/status/908159917248442368