Red Sox
Benintendi's single in 11th sends Red Sox over Orioles 10-8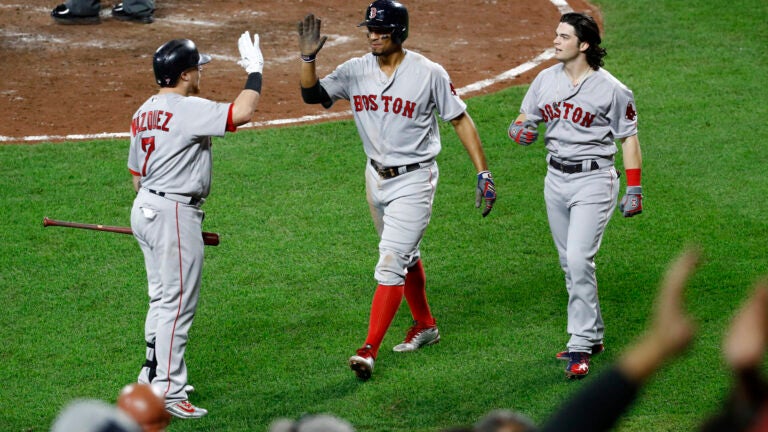 BALTIMORE (AP) — Roaring from behind and then finally winning in extra innings, the Boston Red Sox did more than merely maintain their lead in the AL East.
They showed their mettle, a characteristic that should come in handy during the postseason.
Andrew Benintendi hit a two-run single in the 11th inning, Mookie Betts had four RBIs and Boston beat the Baltimore Orioles 10-8 Monday night for their ninth win in 12 games.
Clutch Benny with the game-winner and it only took 11 innings tonight! #WINDANCEREPEAT pic.twitter.com/9l3DY3QAdE

— Red Sox (@RedSox) September 19, 2017
Xander Bogaerts homered and scored three runs for the Red Sox, who remained three games ahead of the second-place Yankees in the AL East and reduced to four their magic number for clinching a playoff berth.
3-2-1…we have liftoff! ? pic.twitter.com/yBMr6W4rGq

— Red Sox (@RedSox) September 19, 2017
Boston erased a five-run deficit with a six-run fifth inning and needed 10 pitchers to beat a skidding Orioles team that has now lost 10 of 12.
"This is a big one, being down early and coming back," Benintendi said. "Obviously it's a good win, but it's kind of a character win. Everybody contributed tonight."
After three walks — one intentional — off Miguel Castro (3-2) loaded the bases in the 11th, Benintendi hit a grounder past diving second baseman Jonathan Schoop to give Boston its major-league leading 14th extra-inning win against three defeats.
"That's one of the reasons we stand here today," manager John Farrell said.
Matt Barnes (7-3) pitched the 10th and Carson Smith got three outs for his first save.
"Our group has such grit, such determination, such competiveness," Farrell said. "There's no quit in them.
Red Sox second baseman Dustin Pedroia left in the fourth inning after being struck in the face by a foul ball he chopped off the plate. The team described the injury as a bruised nose and listed his availability as day to day.
It was the second freak injury Pedroia sustained at Camden Yards this season. On April 21, the All-Star was spiked on a late slide by Manny Machado, a play that created bad blood between the teams into May.
Baltimore built a 5-0 lead against Doug Fister over the first three innings, taking advantage of five walks and getting a two-run double from rookie Austin Hays.
After Betts hit an RBI double in the fourth, Adam Jones countered with a run-scoring single in the bottom half. But the 6-1 advantage vanished in the fifth under a torrent of six hits against Dylan Bundy and two Baltimore relievers.
The key blows in the six-run inning were a two-run double by Brock Holt — Pedroia's replacement — and a bases-loaded double by Betts that scored all three runners.
"It was just that one inning. I let things slip away from me," Bundy said. "I didn't really limit the damage very well, obviously. I was just leaving balls over the middle of the plate and they made me pay for them."
Pedro Alvarez homered in the bottom half and Tim Beckham put Baltimore back in front with a two-out RBI double .
"We find a way to build a big inning, we give it right back and then from that point on the bullpen is outstanding," Farrell said.
The see-saw leveled in the seventh when Bogaerts homered off Donnie Hart to make it 8-all.
BUNDY WILL CONTINUE
As the Orioles stagger to the end of the season, there's speculation that manager Buck Showalter might shut down Bundy, who's now at a career-high 169 2/3 innings.
"I don't think we're at that point yet," the manager said. "Stuff's fine, he feels great between starts, he's getting extra days rest."
Bundy said: "It's September. Everybody is tired right now. So, you've got to battle through it."
TRAINER'S ROOM
Red Sox: Betts was in the starting lineup despite hurting his thumb in two places Sunday. … DH Hanley Ramirez (left arm soreness) did not start but appeared as a pinch-hitter in the ninth. … 2B Eduardo Nunez will test his sore right knee running the bases Wednesday. Farrell said: "Wednesday will be a good test in terms of where he is at."
UP NEXT
Red Sox: LHP Drew Pomeranz (16-5, 3.28 ERA) looks to keep his outstanding season going in his fourth start of the year against Baltimore. Pomeranz was 25-36 lifetime before this season.
Orioles: Kevin Gausman (11-10, 4.83 ERA) makes his 32nd start of the year, the fourth against Boston. He's 1-2 with a 3.86 ERA against the Red Sox in 2017.
___
More AP baseball: https://apnews.com/tag/MLBbaseball