Red Sox
Morning sports update: Hanley Ramirez has been following some of the TB12 method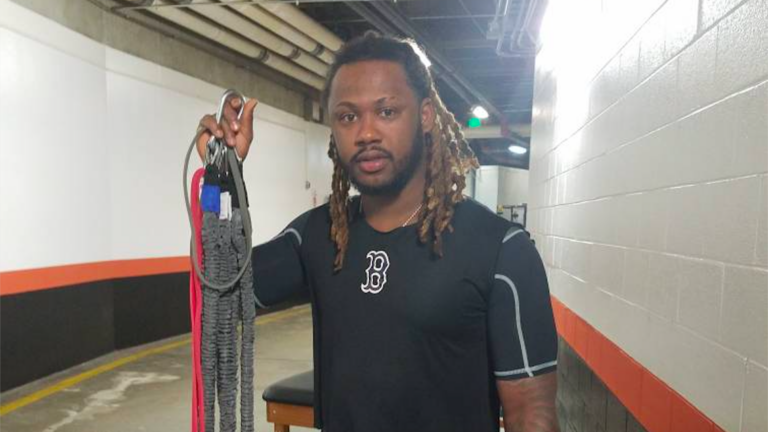 Chris Sale enters elite company with his 300th strikeout of the season, and the Red Sox are headed to the postseason.
Hanley Ramirez has been following some of the TB12 method: Tom Brady's new book, The TB12 Method, vouches for using resistance bands over heavy-weight lifting. Ramirez has not only been listening to Brady's advice, but also has been using the quarterback's products. According to WEEI's Rob Bradford, the Red Sox designated hitter owns a set of TB12-branded resistance bands to assist with the rehab process for his shoulder.
"What I've been doing this past week, a lot of bands," he told Bradford. "You get stronger and faster. You have to send the message to your brain that you work fast. Quick hands."
When asked if he thinks the tactics work, Ramirez responded: "Five championships? Yeah, it does."
Bill Belichick might get Tom Brady's book whether he wants it or not: Patriots coach Bill Belichick was dismissive when asked by reporters Wednesday whether he might consider purchasing Tom Brady's new lifestyle book.
"We see Tom every day,"Belichick replied. "I don't really feel like I need to read a book."
Some dogged Patriots beat reporter followed up with the quarterback on the subject later Wednesday afternoon. Brady, who said last year he got his favorite Christmas present from Belichick, suggested he might return the favor. (Boston.com)
? Tom Brady might have to give Bill Belichick his new book for Christmas #Patriots #WBZ pic.twitter.com/SuaWewrm4D

— Joe Giza (@JoeGiza) September 20, 2017
Chris Sale reaches 300 Ks as Red Sox beat Orioles 9-0 for sweep: Sale struck out 13 to become the first AL pitcher in 18 years to reach the 300 mark. He (17-7) reached the milestone on his 111th and final pitch, a called third strike against Ryan Flaherty to end the eighth inning. The last AL pitcher to fan 300 batters in a season was Boston's Pedro Martinez in 1999, when he set a club record with 313. (Boston.com, via AP)
This … is … HISTORY! #SaleDay pic.twitter.com/usBiCs6451

— Red Sox (@RedSox) September 21, 2017
Red Sox clinch a spot in the playoffs: October baseball will be coming to Boston. With the combination of their win over the Orioles and the Los Angeles Angels' 6-5 loss to the Cleveland Indians, the Red Sox secured a playoff berth via, at the very least, a wild card.
"Just getting into the playoffs is not our goal," manager John Farrell told reporters following Wednesday night's game. "Certainly it's a stepping stone toward other things that we have our sights set on, as many teams do. We've got a lot of work ahead of us."
Young girl hospitalized by foul ball at Yankee Stadium: A young girl at Yankee Stadium was injured by a 105 mph foul ball off the bat of Todd Frazier during Wednesday's game against Minnesota, leading some players to call for protective netting to be extended. (Boston.com, via AP)
#Yankees #Twins game stops after a Todd Frazier foul ball hits a kid in the stands. Scary moment in New York. pic.twitter.com/D4RKc4egXS

— Aldo Soto (@AldoSoto21) September 20, 2017
Patriots offer no explanation on deployment of Malcolm Butler: For the first time in 38 games, cornerback Malcolm Butler started a game on the sidelines for the Patriots. Eric Rowe started in place of Butler Sunday, which came as one of the biggest surprises in the 36-20 win at New Orleans. Since Butler secured the Patriots' fourth Super Bowl victory with his clutch interception three years ago, he has been one of the team's best defensive players. (The Boston Globe)