Red Sox
A trying finishing stretch seems fitting for these Red Sox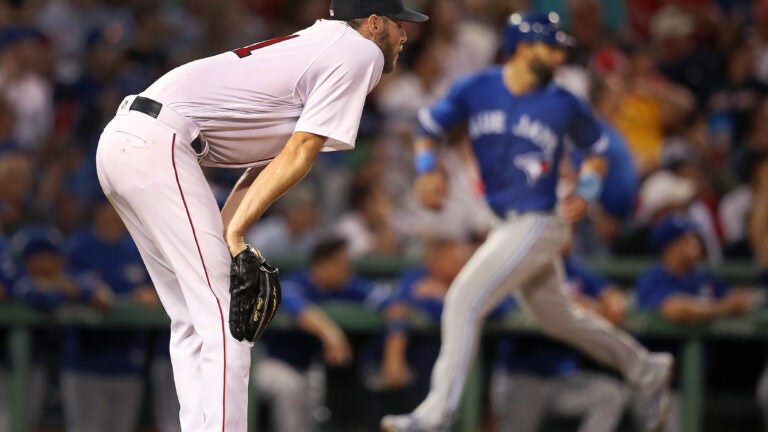 COMMENTARY
The way things have gone in these waning days of the regular season, a Red Sox fan couldn't be faulted for daydreaming that major league baseball had somehow reverted to the old 154-game schedule.
Perhaps such an abbreviation would have prevented some of the roster drama they're dealing with now. Then again, given how this unusual season has unfolded, the drama probably would have found a route to them anyway.
It's not that circumstances are bad for the Red Sox, who entered Tuesday night with 91 wins, a four-game lead in the American League East over the Yankees with six to play, and a berth in the postseason already secured.
It's just that circumstances surrounding this particular Red Sox team are . . . strange. Stressful. Always complicated somehow.
The last few days have shaped up as a microcosm of this unusual season.
It must be acknowledged that there is much to like about this group, starting with their collective resilience, whether that manifested in one extra-inning win after another or its larger achievement of countering every surge by the Yankees.
For a team that was so often accused of being boring in the post-David Ortiz hangover, they sure have been exciting lately.
To caterwaul about the lack of appeal of a team that features Chris Sale, Mookie Betts, and Andrew Benintendi — not to mention Jackie Bradley Jr.'s golden defense, Craig Kimbrel's electrifying dominance, or the enticing promise of Rafael Devers — is to reveal how spoiled the abundance of local sports riches has made us.
But it also must be acknowledged that this has been one oddball of a season, with various obstacles popping up often and unexpectedly.
Who could have figured the Red Sox would make it to the postseason while ranking as the worst homer-hitting team in the AL? Or that Drew Pomeranz would deliver the season we were expecting from David Price, while Price would suddenly be drawing very hopeful comparisons to Andrew Miller? Or that Christian Vazquez would bat roughly 30 points higher than Betts, but that Betts would be one of the most valuable players in the league anyway?
Weird year, man, even by the intrinsic unpredictability of baseball. Weird year.
Which is why the semi-trying times of the past few days are a fitting if exasperating way for this team to deploy into October.
The concerns begin with Pomeranz, who
suddenly has lost a couple of miles of velocity on his fastball. This is always alarming, but especially so when it happens to the presumed No. 2 starter so close to the playoffs.
But his failure to impress the radar gun in Monday's 6-4 loss to the Blue Jays was not the only uh-oh moment from that game. Eduardo Nunez, whose arrival from the Giants in July was essential to the Red Sox' surge, appeared to tweak a knee injury suffered Sept. 9. His capable bat, speed, and versatility would make him an important component of the postseason roster. But right now you have to wonder whether he was rushed back and if returning to his previous form is reasonable.
And we can only hope Betts is being fully forthcoming about the wrist injury that forced him to leave Monday's game in the eighth inning.
"I'm not really that concerned,'' he said afterward. "I think it will be fine.''
It had better be, or the Red Sox' stay in the postseason could be just as abbreviated as last season's, when they went three-and-out against the Indians.
Because of the relatively low batting average (he entered Tuesday hitting .265), there's a perception that Betts has had a disappointing season. In a sense it's true, at least if you're comparing it with the Mike Trout-caliber season he submitted in 2016, when he finished second to the Angels superstar in AL MVP balloting.
But if you're comparing him with baseball mortals, Betts has had a season worthy of appreciation. He entered Tuesday with 101 RBIs and 98 runs, leads the team in homers (23) and steals (24), and has saved run upon run with his sensational defense in right field. Per baseball-reference's version of WAR, he is the sixth-most valuable position player in the league at 6.4.
Betts hit just .200 in the Cleveland Fran­conas' sweep last October. The Red Sox are depending on him to be more than that this fall if they're going to have an extended stay. That wrist has to be OK.
I suppose the Red Sox do require these final games — to formally wrap up the division, to figure out who can be trusted beyond Chris Sale in the rotation (Eduardo Rodriguez over Rick Porcello and Doug Fister, please), to convince John Farrell once and for all that this is not Brock Holt's year.
Maybe having important matters to solve in a short time is how it is meant to be with this team, since that's how it has been all season. Success has never come easy for the 2017 Red Sox, even as plenty did eventually arrive.