Red Sox
Who should be the Red Sox' second baseman during the playoffs?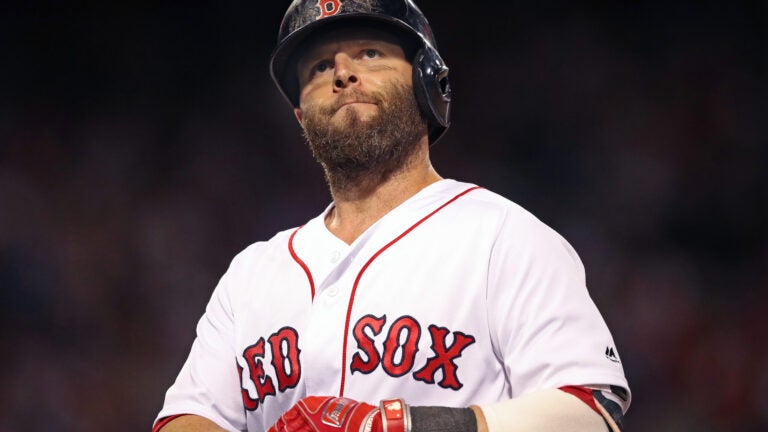 COMMENTARY
Second base used to be one position the Red Sox didn't have to worry about. For 11 straight years, including this season, Dustin Pedroia has been the team's main starter at second base. And indeed, that's how this season started. From the start of the season through Game 104 on July 28th, Pedroia started 83 games, or 80 percent of the time. Since then, it's been a patchwork. And with his health still in question, we are left to wonder what should be the plan at second base for the Sox in the American League Division Series against the Houston Astros.
First, let's look at who's been in the starting lineup since Pedroia succumbed to a knee injury on July 28 that would land him on the disabled list a few days later.
Eduardo Nunez: 25
Brock Holt: 15
Dustin Pedroia: 14
Deven Marrero: 3
Tzu-Wei Lin: 1
This overstates the case a little bit. Since Sept. 1, it's a bit different:
Pedroia: 14
Holt: 9
Marrero: 3
Nunez: 1
Lin: 1
Even this is overstating things a little bit. At one point, Holt started four straight games at the keystone, and at one point, Pedroia started three straight times. Otherwise, no one else started three times in a row all month, and no one started five games in a row all month, which is usually a pretty low bar to clear. Furthermore, in the three straight games that Pedroia started – Sept. 27-29, he didn't finish any of them, and manager John Farrell has said that the health of Nunez and Pedroia may force the team to carry an extra infielder in the ALDS.
So, what's the case for each player to start? Let's take a look. First, some relevant statistics for the five players:
Tzu-Wei Lin: Gets On Base
The 23-year-old hasn't played much, but when he has played, he's gotten on base at a very nice clip. His .369 on-base percentage is tied for the team lead with Pedroia, if you drop down to a minimum of 50 plate appearances.  Of course, you have to drop down that far because he hasn't played much, even in September after rosters expanded. While the feeling here is that he would be productive, he obviously hasn't earned Farrell's trust, and as such it would be a surprise if he earned a roster spot.
Deven Marrero: He Hits Lefties Now
In his first two major league seasons, Marrero tallied just 32 PA against left-handed pitchers, and garnered only four hits, all singles. Both the quantity of PA given as well as the results would seem to indicate a problem hitting lefties. Not that Marrero has fared much better against righties – hitting has never been Marrero's calling card; defense has. But this season has been different. In 61 PA against left-handed pitching, Marrero has tallied seven singles, five doubles, four homers, and he's drawn four walks. The resulting .291/.344/.600 line is good for 41 percent better than league average, which ranks him third on the team, behind just Rafael Devers and Pedroia. It's only 61 PA, and given Marrero's overall hitting woes throughout his career, you wouldn't project this to matter next season, but results are often more meaningful in-season. In other words, Marrero may keep mashing lefties in October.
Brock Holt: He's Seemingly Healthy
Holt has had a challenging season. He missed all but six games in the first half due to injury, and hasn't produced in the second half. He has the same shabby 51 wRC+ that Marrero does, but at least Marrero excels against lefties. Holt has been below average against both lefties and righties. In fact, if he starts a playoff game this season, he'll be the worst Red Sox second baseman to ever start a playoff game. To wit:
If you don't like WAR and would prefer a measure that only incorporates offense like wRC+, Holt grades out as fifth-worst. But none of the four who finished below him – Marty Barrett (1990), Pokey Reese (2004), Mike McNally (1916) and Mark Lemke (1998) – started a game in the playoffs in their specific seasons.
The only thing Holt has going for him at this point is health.
Eduardo Nunez: Has Been Great When Healthy
The Dominican infielder has had a big impact in Boston since being acquired midseason from the San Francisco Giants. With a .321 batting average, he was the only player on the team to hit over .300, and he plays serviceable defense at second base (though he's better at third base). But he hasn't been healthy for almost a month. Last Monday, his knee buckled as he swung the bat. It was painful to watch. He would finish that at-bat, but wouldn't play the rest of the way, and that remains the only game he's played since Sept. 9.
Dustin Pedroia: Still The Best Overall
Pedroia remains the best second baseman the team has overall, but he's shown cracks in his façade this year. Beyond the injuries that limited him to 105 games in the regular season, his baserunning – which cratered last season – remains a problem. His -4.7 BsR – a statistic that measures all aspects of baserunning – was second-worst on the team (only Hanley Ramirez was worse), and 22nd-worst in all of baseball.
Pedroia also hasn't been the same hitter since he came back from the disabled list.
April 3-July 28: 383 PA, .307/.381/.411, 110 wRC+
8-Sept. 29: 80 PA, .229/.313/.300, 64 wRC+
You can see the drop-off, plain as day. It's hard to keep Pedroia out of the lineup, and it's clear that both he and Nunez are doing everything they can to be ready for the start of the ALDS on Thursday, but it's hard to see how either can help much if they're not healthy.
Putting It All Together
On Sunday, Farrell said that he would most likely carry 11 pitchers, which leaves 14 position players for the ALDS roster. There figure to be nine locks – Christian Vazquez, Sandy Leon, Hanley Ramirez, Mitch Moreland, Rafael Devers, Xander Bogaerts, Andrew Benintendi, Jackie Bradley Jr. and Mookie Betts. Then come the second basemen and final utility players. Chris Young, Sam Travis and Rajai Davis will be in the mix. If the Sox take two of them – unlikely – they would have three spots left for the infield. The bet here is that only Rajai Davis will be chosen, and that Pedroia, Nunez, Holt and Marrero will make the squad.
Assuming this is the case, I would start Pedroia in the games where Houston uses a right-handed starter, which is all of the games not started by Dallas Keuchel. In those games, I would swap Pedroia out late for Marrero for defensive help. Marrero is a legitimately plus glove at second base. In the games against Keuchel, I would start Marrero, and hope his prowess against lefties translates to the postseason. I would keep Nunez (health) and Holt (awfulness) firmly behind the "break only in case of emergency or Dustin Pedroia injury" glass, and hope that Nunez can round into shape by the American League Championship Series, should the Sox make it that far.
Second base has long been a bright spot for the Red Sox. But the Red Sox now find themselves with four ill-fitting solutions. It's an unenviable problem for manager John Farrell, but it's one that will contribute significantly to Boston's fate this October.