Red Sox
Astros leave veteran pitchers off ALDS roster, Sox use Nunez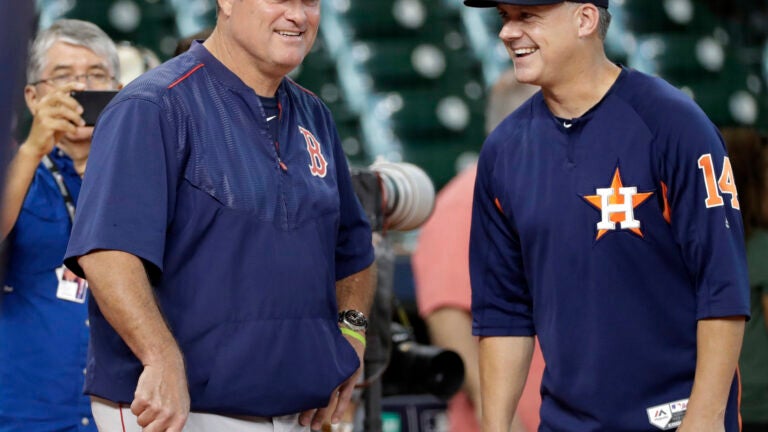 HOUSTON (AP) — The Houston Astros and Boston Red Sox have set their rosters for their AL Division Series beginning Thursday, with the Astros leaving off three veteran pitchers and the Red Sox including infielder Eduardo Nunez.
Both teams are carrying 11 pitchers and 14 position players on their rosters.
Here are the guys for the job!
The 2017 #RedSox #ALDS Roster: https://t.co/pM6o6WPp5U pic.twitter.com/q2W5LXcDkv

— Red Sox (@RedSox) October 5, 2017
The #Astros have set the 2017 ALDS roster: pic.twitter.com/Os3g69uMBY

— Houston Astros (@astros) October 5, 2017
Notable among those not on Houston's roster were pitchers Tony Sipp, Tyler Clippard and Collin McHugh. The Astros chose Francisco Liriano, who was acquired at the trade deadline, as their lefty specialist over Sipp. Sipp posted a 5.79 ERA this season. Liriano had a tough time after the trade, posting a 6.23 ERA in August, but rebounded last month when he had a 1.59 ERA in 10 appearances.
McHugh went 5-2 with a 3.55 ERA in 12 starts in an injury-plagued season.
Clippard had a 6.43 ERA in 16 appearances since being traded from the White Sox on Aug. 13.
Nunez made Boston's roster despite playing only once since Sept. 9 because of a knee injury.
The Red Sox left off left-hander Robby Scott, who had a 3.79 ERA in 57 appearances, and went with rookie Austin Maddox, who had a 0.52 ERA in 13 games this season. Also left off the roster was veteran outfielder Chris Young and reliever Matt Barnes.