Red Sox
Chris Sale's first career postseason start didn't go as planned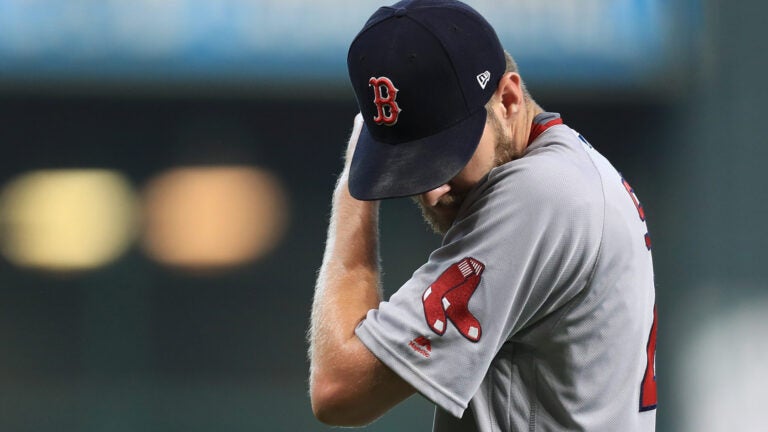 In what was slated to be an epic duel between two of the American League's strongest aces, Game 1 of the Red Sox-Astros series didn't live up to its hype Thursday afternoon on account of Chris Sale.
Justin Verlander: 1.92 ERA since All-Star Break (2nd in MLB in that span). pic.twitter.com/OH8yS4KdVB

— ESPN Stats & Info (@ESPNStatsInfo) October 5, 2017
The left-handed pitcher, who logged 308 strikeouts and a 2.90 ERA during the regular season, offered a rather inauspicious showing for the first playoff start of his career. Lasting just five innings, Sale gave up nine hits and seven earned runs on 100 pitches.
Chris Sale's line; 5+ IP, 9 H, 7 ER, 1 BB, 6 K. He threw 100 pitches, 63 strikes.

— Jake Kaplan (@jakemkaplan) October 5, 2017
Although things started off on a high note, they immediately took a turn for the worst. The 28-year-old opened the game with a six-pitch strikeout against Astros outfielder George Springer, but proceeded to give up back-to-back solo home runs on the two subsequent Houston at-bats. It was just the second time in his career that Sale has given up two homers in the first inning.
The second and third innings featured a few of the typical bright spots that the Red Sox were used to seeing from their All-Star during the regular season. Sale recorded three strikeouts over the course of two innings, featuring a 98.7 fastball to catch Brian McCann swinging. Despite acquiring another pair of K's later in the game, the rest of his time on the mound did not provide many highlights.
After Josh Reddick and Evan Gattis reached first and second off of an overturned trap play by Jackie Bradley Jr., Sale was unable to get out of the fourth-inning jam, giving up a two-run double to Marwin Gonzalez.
.@marwinGF9 drives in 2! The @Astros lead the @RedSox 4-2 in Game 1. #ALDS #Postseason pic.twitter.com/gVawXmLDmJ

— MLB Network (@MLBNetwork) October 5, 2017
Houston continued to tally up the runs in the fifth, as Jose Altuve rocked a 95.6 fastball out of the park for his second solo shot of the game. Sale became the third Game 1 starter in team history to allow three home runs, with the previous two instances coming from Matt Clement and Rick Porcello in the 2005 and 2016, respectively. Of note: The Red Sox were swept in both of those series.
.@JoseAltuve27 knocks his second homer of Game 1!

Head to https://t.co/tmrbR6Aud6 for local channel info! pic.twitter.com/Om2FWFd1bd

— MLB Network (@MLBNetwork) October 5, 2017
After the sixth inning commenced with a double and a walk, manager John Farrell made the decision to pull his starter from the game. It was just the second time in his eight-year career that the potential Cy Young Award winner had given up six extra-base hits. Both Gattis and Reddick eventually would score, bringing Sale's final earned run count up to seven.
Sale has given up six extra-base hits (3 doubles, 3 homers) for just the second time in his career. (Also 7/8/16 vs Atlanta.)

— Alex Speier (@alexspeier) October 5, 2017
Following the game, Sale said the onus was on him and acknowledged that the postseason was "a bad time to suck."
https://twitter.com/BuckinBoston/status/916089026561572864