Red Sox
Eduardo Nunez injured in his first at-bat of Red Sox playoff game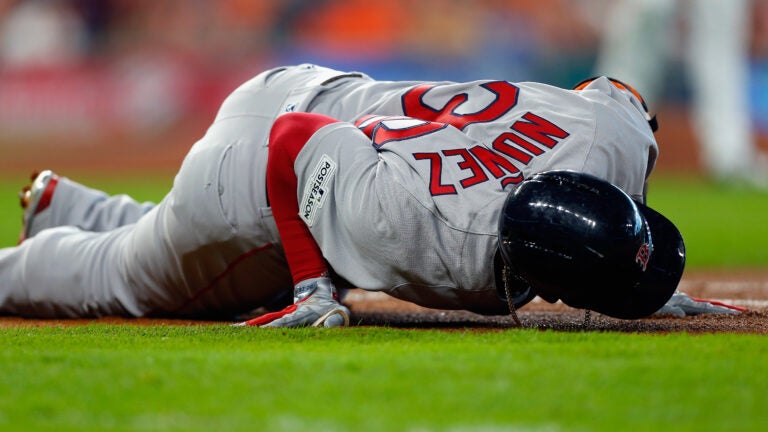 HOUSTON — Eduardo Nunez, back in the Red Sox lineup after missing all but one of the last 20 games with a strained ligament in his right knee, lasted just one pitch of an at-bat in Game 1 of the Division Series Thursday.
With one out in the top of the first, Nunez, batting second as the DH, bounced a grounder to third base. He began limping shortly after leaving the box, and after trying to make it down the line, he collapsed on the dirt in front of first base.
Manager John Farrell and trainer Masai Takahashi attended to Nunez before carrying the 30-year-old off the field. When Nunez's turn in the order came up in the third inning, Hanley Ramirez batted for him.
Nunez hit .321/.353/.539 with 8 homers in 38 games after the Red Sox acquired him from the Giants in a July 26 trade.
If he is too hurt to play, the Red Sox could remove him from the Division Series roster and replace him with a position player. They could add Chris Young, as a candidate to start against Astros lefthander Dallas Keuchel in Game 2 Friday.
After Nunez was removed from a game Sept. 25 (his only game since Sept. 9) when he aggravated the knee problem, the Red Sox expressed confidence that he'd be available against the Astros. Nunez was using a larger brace, which was expected to offer stability, and he moved well in baserunning, sliding, and fielding drills.
If Nunez is removed from the roster for this series, he would be ineligible to play in the AL Championship Series should the Sox advance.
[fragment number=0]