Red Sox
Nine Innings: The Red Sox looked bad, but that doesn't mean it's over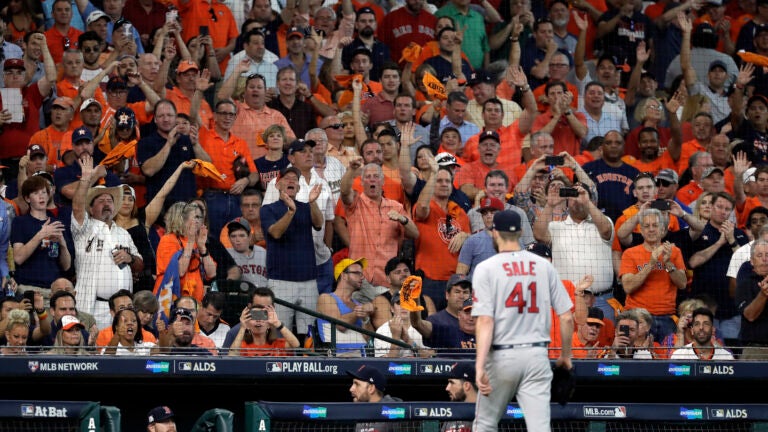 Playing Nine Innings (Game 1 edition) while no longer requiring the reminder that the Astros are an American League team …
1. That wasn't the worst-case scenario with Chris Sale. The worst-case scenario would have included the Red Sox ace walking off the mound and toward the dugout while clutching his left elbow. No, this was just a lousy-case scenario, a this-is-a-bummer scenario, and an is-anyone-surprised-by-this? scenario. In his first career postseason start, Sale was rocked for 9 hits and 7 earned runs in 5 innings of the Astros' 8-2 win over the Red Sox. He allowed three homers. And for all of his dominance this season, when for the season's first four months he looked like the certain Cy Young Award winner, the performance had an air of aggravating familiarity. In 11 starts since August 1, Sale had gone 4-4 with a 4.09 ERA, allowing 13 home runs in 66 innings. He still mixed in a gem from time to time, including an eight-inning, four-hit, 13-strikeout masterpiece Sept. 20 against the Orioles when he recorded his 300th strikeout of the season. But as the candid Jim Kaat said several times on the MLB Network broadcast, Sale just isn't the same pitcher now that he was earlier in the season. It's just too bad for the Red Sox that the Astros had to provide so much evidence.
2. Game 1 was a small sample-size of what Jose Altuve has done all season. Or perhaps it was a microcosm. OK, enough with the short jokes. The Astros second baseman is only 5 feet 6 inches, but he makes a habit of coming up huge, never more so than in Game 1. Altuve homered twice off of Sale – as the second half of a back-to-back with Alex Bregman in the first inning, and again in the fifth, then added a third off fledgling Red Sox reliever Austin Maddox in the seventh. All three were rockets.
3. Another reason for a Red Sox fan to wince: Altuve became the first player since Pablo Sandoval in 2012 to hit three home runs in a postseason game. Sandoval might have been the least-valuable player in the American League this season before the Red Sox finally sent him on his way. Altuve should be voted the Most Valuable Player. He finished his remarkable season with a .346 average, 24 homers, 32 stolen bases, 204 hits, and a .958 OPS. He's a turbo-shot version of what Dustin Pedroia was at his peak and he should edge Judge for the AL MVP award.
4. Maybe Dustin Pedroia will be fast on the base paths again, though at age 34 and with a habitually creaky knee that seems unlikely. But at the moment, it's imperative that someone on the Red Sox staff tells him he's not fast on the base paths right now and perhaps should begin thinking of himself as a station-to-station runner. I know, good luck to the coach charged with that assignment.
5. Pedroia was cut down in the second inning trying to go first to third, and it nearly cost the Red Sox their first run. It was initially ruled that the out, the third of the inning, was recorded before Mitch Moreland could touch home plate. That call was changed when replay determined Moreland, who was hustling on the play, had touched the plate before Pedroia got tagged. The Red Sox have been a mess on the bases all season, their aggressiveness welcome but too often misguided. Pedroia needs to be at the forefront of a team-wide dedication to making better baserunning decisions in this series.
6. Terrible plot-twist for Eduardo Nunez, a free-agent-to-be who brought an effervescent personality and a lively bat (.321 average, .892 OPS) upon coming over from the Giants in late July. Nunez crumpled into a heap while trying to run out a groundball in the first inning and required a cart to leave the field with what appeared to be a knee injury. He didn't look like someone who will be playing baseball again anytime soon. Perhaps we should have wondered whether the Red Sox were too willing to believe him when he said the knee, which was originally injured Sept. 9, was feeling better. After all, he had to leave the only game he had played since that date when the knee began acting up.
7. Nunez was replaced in the lineup by Hanley Ramirez. As exasperating as Ramirez has been this season, when he somehow drove in just 62 runs in 533 plate appearances while usually batting in the middle of the order, he does have a track record of postseason success befitting his hitting ability. Entering Game 1, Ramirez was a career .333/.415/.544 hitter in 16 postseason games, with nine extra-base hits in 57 at-bats. And as annoyingly enigmatic as he was this season, he did hit 23 home runs, second only to Mookie Betts among Red Sox. I'm not sure he deserves to be in the Red Sox lineup, but he belongs there for this series.
8. So what now? Actually, the Red Sox' recipe for victory in Game 2 is pretty simple. Drew Pomeranz needs to pitch like he has since mid-May onward – he's 14-4 with a 2.90 ERA since the middle of that month. Or in other words, one of the best pitchers in the American League. John Farrell needs to be fearless in deploying David Price, Addison Reed, and Craig Kimbrel from his suddenly loaded bullpen. And the lineup needs to have more than one or two hitters performing at their capabilities.
9. All of that seems reasonable. It's well within the realm of the possible. But it's funny how playoff baseball works. An opening loss – especially one when the ace does not look the part – always makes losing the series feel inevitable. And the Astros, so rich in established young talent and lifted to another level by the arrival of Justin Verlander, probably will win the series. They were the better team coming into it and certainly the better team Thursday. But that does not mean it's over. Pomeranz is capable of coming up big. And then the series shifts to Boston. There's going to be some suspense before the final verdict.