Red Sox
Here's what John Farrell had to say about his ejection, his team, and his future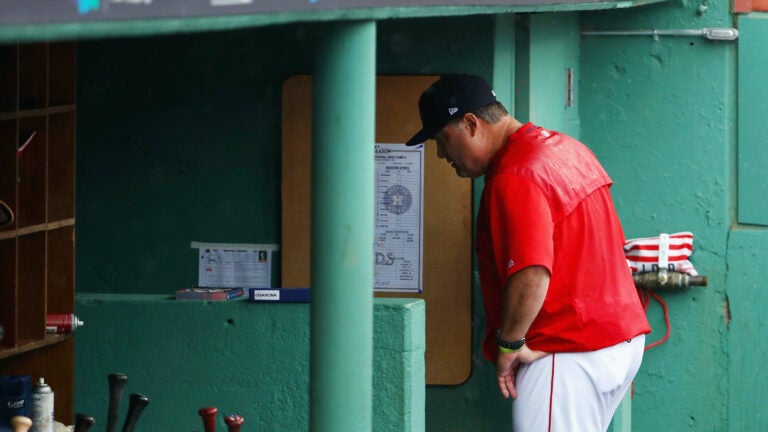 In Game 4 of the ALDS, Boston's starting pitcher lasted longer than John Farrell. The Red Sox manager was ejected in the bottom of the second inning after a spat with the home plate umpire. While he wasn't in the dugout for the remainder of the contest, Farrell still kept tabs on his team and watched them lose a closely fought battle to the Houston Astros, 5-4.
The defeat eliminates the Red Sox from the postseason, exiting at the same point they had one year prior. After the game, Farrell shared his thoughts on his team's performance — particularly from his pitching staff — and his future with the organization.
Here's everything the manager had to say:
On his comfort level using Chris Sale and Craig Kimbrel in the eighth inning with a one-run lead: "Very comfortable, especially the four innings Chris had pitched to that point. We take the lead on a big swing from Benny, and as efficient as Chris was, just the command was there, and he gets a 2-1 changeup to Bregman… Obviously we saw the result of it. But in a position with six outs to go, up a run, and Chris Sale was still strong, still throwing the ball extremely well, I felt like we were in a good position."
On Craig Kimbrel's Game 4 performance: "Even in some of the appearances we saw before the end of the regular season and in the inning of work down in Houston, they put up tough at-bats against him. Typically we're so accustomed to seeing a lot of swing and miss when Craig is on the mound. They fought off some good pitchers' pitchers to get deep in counts and then were able to put some balls in play."
On his second-inning ejection: "I went out to get Pedey away from Mark Wegner. Obviously it was a key moment. Pedey obviously disagreed with the call that was made. I did not argue balls and strikes, and yet that was a little surprising when I was ejected at that point … There was nothing derogatory or directed straight at him. I never argued balls and strikes, it was a really quick hook.
The reason he gave me is: 'I'm not going to have you stand here and yell at me.' I said I'm trying to get my player away from him. It was more important to me that Pedey remain in the game and the rest took care of itself."
On using Chris Sale out of the bullpen: "Chris was one day short of his normal rest, so he was in good shape from a physical standpoint. As efficient and as pinpoint in his control was to that point, he was still in good shape, I thought."
On whether he considered bringing in a right-hander to face Alex Bregman: "Yeah, I considered it, recognizing where his power numbers are, and his splits are left, right, and not taking anything for granted. We wanted to be left-handed through the bottom part of that order, particularly the reverse splits of Gurriel, and as well as he's been swinging the bat this series, the 2-1 changeup stayed in the middle of the plate."
On the game's momentum: "It's been high since we returned from Houston. We played a really good game yesterday. We came back in a tight ball game, Benny gives us a big swing, a big swing of the bat obviously, and a change in momentum.
And then Chris on the mound, we felt like that confidence was growing with each pitch that he threw. But even right down to the end obviously with Rafi's inside-the-park home run, there was still energy, still life that you could feel."
On his postgame message to his team: "I guess in short, it's always tough when you end the season so abruptly, but extremely proud for the way they compete, the work that they put in for seven full months, the way they care for one another.
Just wanted to thank them from that. But it's just you go a hundred miles an hour and then all of a sudden it feels like you face plant in a wall when the season's over. So that was pretty much the message."
On how he felt the season went given David Ortiz's retirement and other roster changes: "Extremely proud for the way we went out and worked … I think we're a very competitive team throughout. We won a lot of baseball games. You win the division, that's I think a major accomplishment. We didn't meet all of our goals, that's obvious by the ending here today.
But we have seen some really good young players continue to develop. We had a number of challenges thrown our way from individual injuries to performance, but as a team, they stuck together. They care for one another, and they fully compete right to the end. The resiliency we talked about, but this is a very competitive, close-knit team."
On what he feels is necessary to advance past the ALDS and whether he feels that he's the manager to lead the team: "Personally, yes, I feel confidence in that. I know that we have got opportunity to assess where we are as a team. I can't begin to talk about what the offseason plans are and what changes may be realized, but still there's a lot of good things that are going here."
On whether he expects to be back for the 2018 season: "We just walked off the field 10 minutes ago."
On the Houston Astros as an opponent: "Very deep. Tremendous offense. Their performance all year long showed that, proved that. They're a quick-strike offense, two-out capability. You're never out of an inning. They're a very good team. I think we showed that we are, too, in this series as it returned here to Fenway."